It is with great excitement that we announce the acquisition of Bantam Live. This marks a key step in Constant Contact's plans to build a complete engagement marketing platform for small businesses, nonprofits and member organizations. Building highly-engaged customer relationships is a critical success factor for small organizations. To do this, they need a unified view of their contacts across all channels, from email addresses to social media connections, to event registrations. We are incorporating Bantam Live's innovative social CRM technologies with our own development initiatives to create a platform that gives small organizations the ability to see how their customers share, refer, endorse and engage with their brand across all channels.
Why social CRM is important
Ongoing customer engagement drives business success. Social media channels offer a significant opportunity for small businesses to continually engage with their customers and prospects.
Simply put, social CRM enables small businesses to keep track of who their customers are, and how best to interact with them, especially the most engaged ones. It also provides insight into how well relationships are built and maintained along the way.
The Constant Contact Engagement Platform comes together when contacts, content and insight are delivered through the right channel at the right time to the right customer.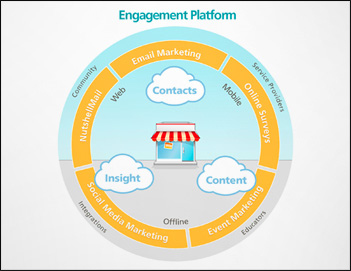 We are committed to helping our customers build relationships with their customers that drive business success. The planned addition of social CRM capabilities into all Constant Contact products will help our customers better track, measure and increase customer engagement — giving them an additional leg up on the competition.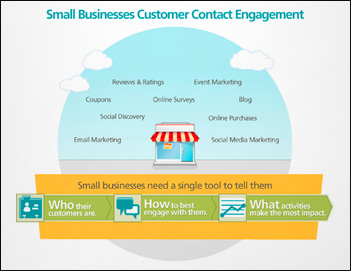 Download the illustrations presented above.
Download as a single PDF file »
Press Release
Constant Contact Adds Social CRM Capabilities with the Acquisition of Bantam Live
Acquisition of highly scalable technology marks a key step in the company's evolution to an engagement marketing hub for small businesses and nonprofits.
WALTHAM, MA — February 16, 2011 — Constant Contact (Nasdaq: CTCT) today announced...
Find out more
Looking for more information about this acquisition or other things Constant Contact has been up to? Check out these links.
Twitter
Follow us on Twitter at hashtag #CTCTscrm for the latest on this announcement and other news
Visit Twitter »
Facebook
Like us on Facebook and see what our fans have to say about the news.
Visit Facebook »
Constant Contact Blog
Read what our CTO thinks about the acquisition.
Visit the blog »
Get updates
Want to know about future updates to the Bantam Live technology? Sign up for our Bantam Live email list and follow us on Twitter @ConstantContact.