Franchise marketing with a
local flavor
Want to drive sales and grow your franchise with targeted promotions?
Use Email Marketing, to create email newsletters, send special offers or promotions, announce new locations, and more.
Online Survey lets you easily and cost-effectively get to know your franchisees better, gaining new insights into what your franchisees—and their customers—want.
With EventSpot you set up, promote, manage, and track the success of events at a single location, or across an entire territory.
---
In minutes, you can:
Create branded emails for your franchise brand
Customize emails with local messages
Measure the success of different promotions
Email templates for Franchise Owners: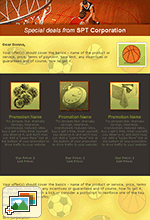 Let us design email templates exclusively for your franchise. Learn more about our Franchise program.
---
Watch how franchises succeed with us.
Playing this video requires Adobe Flash player 9

Our company is very dependent on Constant Contact. I don't know what we'd do without it.

Kristen Horler
Founder & CEO, Baby Boot Camp