Online marketing to meet your quality standards
Want your customers, partners, and suppliers to actually see the quality and fine detail of your products?
With Email Marketing by Constant Contact, you can build and send image-rich emails that display crisp visuals and bring instructions and diagrams to life!
Online Survey makes it easy—and affordable—to get feedback on your products and services to gauge customer and supplier satisfaction.
EventSpot lets you set up, promote, manage, and track the success of live events to show your quality products in person.
---
In minutes, you can:
Present your products with professional images
Enhance supplier communications with monthly business updates
Feature new products and services with professional emails.
Track email results to gauge success and shape future programs
Email templates for Manufacturing and Distribution: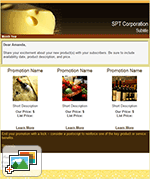 You'll get a wide selection of newsletter templates, including product promotions.