Communication for Nonprofits — Easy and Affordable
Over 100,000 nonprofits use Constant Contact to reach out with email, events, surveys and social media marketing. Start for FREE.
Constant Contact makes it easy for nonprofits to create compelling email newsletters, online event registrations, surveys, and social media marketing campaigns.
We give you the KnowHow and personal coaching that make your job easier. Get started today:
Nonprofit Discounts
Constant Contact saves you time and money with our nonprofit discounts.
---
In minutes, you can:
Inform members of the latest organizational news and information
Generate low-cost, high-impact fundraising appeals
Promote conferences and events
Gather feedback on your services, conferences, and events
Spread the word on social sites by sharing and tweeting your organization's emails, events, and surveys
Email templates for Nonprofits: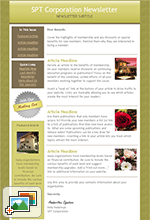 Save time with professionally designed email and event templates for nonprofits — choose from eye-catching newsletters, event invitations, continuing education announcements, and more.
---
See how other nonprofits are using Constant Contact
Playing this video requires
Adobe Flash player 9

From a cost perspective, Constant Contact has really saved us a great deal of money, mostly in our expenses for printing costs.

Elizabeth Hollingsworth
Principal, Carver Elementary School