Create a buzz about
your business
Referrals—they're the key to building your business.
Use Email Marketing by Constant Contact to generate buzz with low-cost, professional email newsletters your customers can easily forward to others.
Online Survey makes it easy and cost effective to measure client satisfaction, gather feedback, and test pricing or products.
With EventSpot, you set up, promote, manage, and track the success of events such as demos or seminars to drive more customers to your door.
---
In minutes, you can:
Promote upcoming sales, promotions, and events
Deliver exclusive savings and coupons to repeat customers
Offer discounts for last-minute appointments
Track email results to gauge success and shape future programs
Email templates for Personal Services: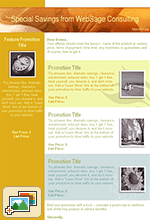 You'll get a wide selection of email templates–including newsletters and event invitations.
---
Watch how service businesses succeed with us.
Playing this video requires
Adobe Flash player 9

I love Constant Contact. I love the ease of use. I love the template selection. I love that it tracks who opens, who forwards, who deletes. Those are all things I couldn't do through my regular email.


Jessica Dolan
Room to Breathe; State College, PA