Emails as professional as
your business
Your emails reflect directly on your business. Do yours meet the standards you set for your company?
With Email Marketing, you can easily send professional, affordable communications that build awareness and credibility, and generate referrals.
Online Survey gives you valuable insights into how your clients perceive your services.
EventSpot lets you set up, promote, manage, and track the success of seminars and events that drive more traffic to your door.
---
In minutes, you can:
Share important news and insights on industry trends
Build an ongoing dialogue with clients
Establish yourself as a thought leader in your field
Track email results to gauge success and improve your online communications
Email templates for Professional Services: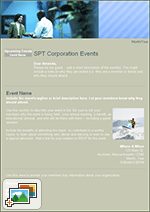 You'll get a wide selection of email templates—including newsletters and event invitations.