Fill your seats with
loyal customers
Imagine your restaurant filled to capacity—
every day of the week.
Email Marketing by Constant Contact is the easy and affordable way to make it happen. Reward your loyal customers with enticing emails about early-bird specials, wine and food tastings, new menu offerings, and other special promotions.
Online Survey gives you feedback on your customers' dining experience, new menu items, and more.
EventSpot lets you set up, promote, manage, and track the success of events such as cooking classes, wine tastings, or theme dinners.
---
In minutes, you can:
Introduce seasonal menus
Generate repeat business with coupons and early-bird specials
Reward loyal customers with special events or themes
Email templates for Restaurants: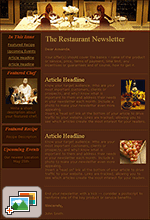 You'll get a wide selection of newsletter templates—designed exclusively for restaurants, caterers, and food service providers.
---
Watch how this restaurant succeeded with us.
Playing this video requires
Adobe Flash player 9

Email is the most crucial part of our business. By staying in touch with our guests, we've almost doubled the business here.

Larkin Hammond
Owner, Larkin's On The River