Whether you've been using email marketing automation for years, or have just started to dip your toes in, you've probably come across the concept of "drip campaigns".
What is an email drip campaign?
An email drip campaign is a series of automated triggered emails that are sent in a specific order after a specific user action takes a triggering action.
What about drip campaigns caught your attention? Was it the fact that they have 80 percent more opens than single send emails? Or a 300 percent higher click-through-rate? Or was it their "set-it-and-forget-it" capability? Regardless, we can all agree that they are worth testing out if you're looking to grow your business.
Wondering how to get started? We've put together a list of email drip campaign examples that you can follow when building out your drip campaign strategy.
Ready to do more business with email marketing?
Learn more
.
Email drip campaign examples for growing your business
When deciding which type of drip campaign to start with, think about your goal for that campaign. Drip campaigns can be used to support different strategies and outcomes, from customer retention to nurturing leads. Check out each of the email marketing examples below and see which ones match what you're trying to accomplish for your business.
Note on open rates: Apple's Mail Privacy Protection feature, which was released on September 20th, 2021, has made email open rates less reliable. While historical open rate data can still provide valuable insights, we recommend marketers focus on other email marketing metrics, like click-through rates and conversions, when measuring their success going forward.
1. Lead nurturing drip campaigns
You know the value of your business. But sometimes, your prospects need some convincing, or just aren't ready to make an immediate purchase as soon as they learn about you. In fact, 50 percent of prospects are not ready to buy when you first interact with them. They may need some time or education to realize how your business is the right fit for them. When new prospects, or leads, sign up for your email list, you can trigger an email drip campaign to nurture or influence them until they're ready to make a purchase.
When creating an email drip campaign for lead nurture, you should map out the flow of how to best show leads how your business can help them. For example, the first email in the campaign can provide helpful and educational content, the second can be a great review from one of your best customers, and the third could include a special discount code.
Drip campaigns can migrate these relationships from leads to customers. And because nurtured leads make 47% larger purchases, sometimes the best things are worth the wait.
2. Welcome new contacts
Sending email drip campaigns is a great way to build relationships with your email contacts — especially the brand new ones. In fact, email subscribers that receive a welcome note following subscribing for an email list show 33 percent more long-term brand engagement.
But why do drip campaigns for welcoming new contacts work so well? Because when a new contact signs up to your email list, it's important that your business reaches out right away, thanking them and "showing them around" your business. These emails can include an introduction to your staff and hours of operation, some educational content about your business, and can even include a "welcome" discount code off their first purchase.
When it comes to communicating with these new subscribers, there is a window of opportunity to begin the process — albeit a short one. But don't worry. Automating the welcoming process guarantees you'll never miss the opportunity to start these new relationships off on the right foot.
Welcome email #1: The "Thank you for subscribing" email
Welcome #2: The "Tell us about yourself" email
Welcome email #3: The "A little something to get you started" sale email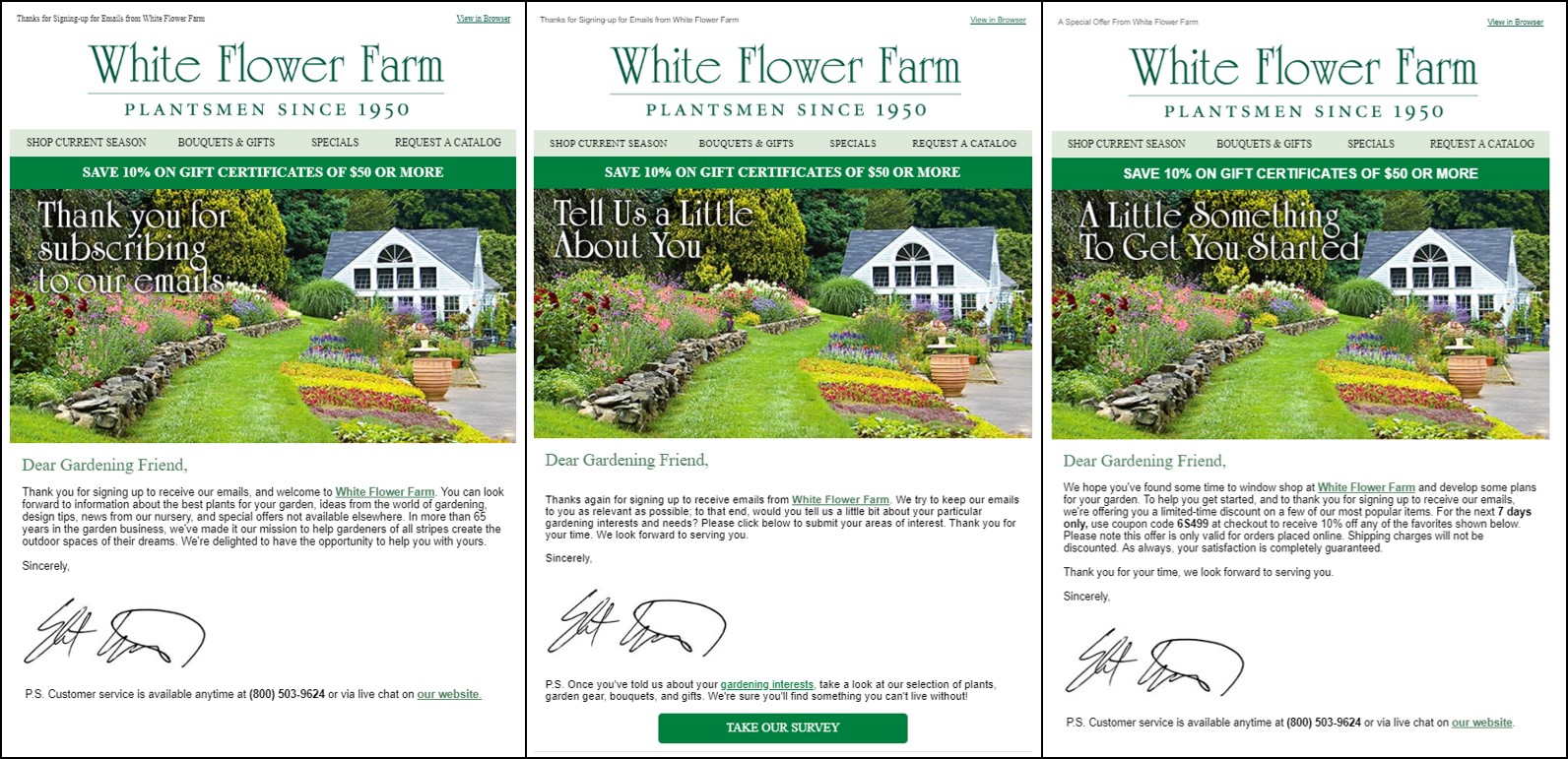 3. Welcome new customers
After customers make their first purchase, keep them coming back by building a relationship using a series of onboarding emails. The last thing you want to happen is for a customer to make a one-time purchase and never come back.
By creating a series of emails to welcome them as an official patron, thank them for their order, provide them with tips on how to make the most of their new purchase, and keep them posted on upcoming sales or events, they'll stay engaged as your business stays top-of-mind.
But why the need to create and send an entire drip campaign as opposed to just a "thank you for your purchase" email? That's because retailers that send a series of welcome emails see 13 percent more revenue than those that send just one. Plus, when open rate data was still reliable, the average open rate for automated welcome emails was a whopping 50 percent, making it the perfect opportunity to open up the lines of communication and keep those customers engaged.
4. Engagement
Email drip campaigns are a great way to reach your best customers and keep them … well … your best customers. By staying constantly engaged with the customers that spend the most money at your business, buy from you most frequently, or heavily engage with your marketing efforts often, you'll only be making your relationship with them stronger.
For example, you can automatically trigger a drip campaign when someone spends over a specific threshold in the time they have been a customer. Offer them a special incentive for being a "VIP" customer, keep them in-the-know with brand new product releases, and give them access to sales before the general public.
5. Educational
Another way to keep customers engaged using email drip campaigns is to offer them valuable, actionable, and original content related to your business. Many brands accomplish this with educational content, such as online courses or workshops. This approach makes your business more credible and seen as an expert in your industry.
Here is an example of the first email from a series of automated emails offering a multi-session course: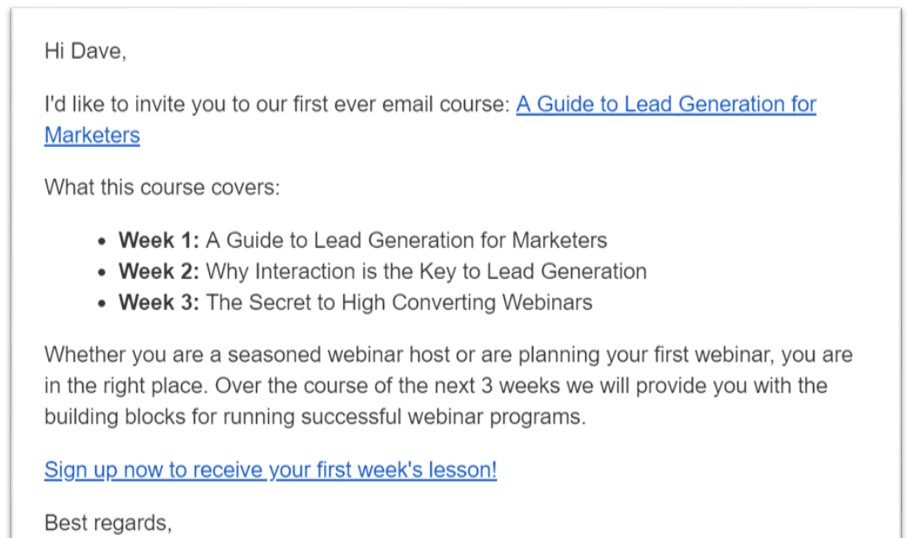 Once the reader signs up for the first session, they'll be entered into the drip campaign making sure they receive information on the rest of the sessions and stay engaged.
6. Abandoned cart
One of the most common and recognized email drip campaign strategies for ecommerce businesses are abandoned cart emails. These emails are triggered when a contact adds items to their virtual cart, and then leaves your site without purchasing those items.
According to Shopify, roughly 60 – 80 percent of online shopping carts are abandoned before the customer completes a sale. This implies that your ecommerce business may be missing out on two-thirds of potential sales. Abandoned cart emails remind, even nudge, the contact to return to their cart and finalize the sale.
Here is an example of two emails from an abandoned cart email drip campaign: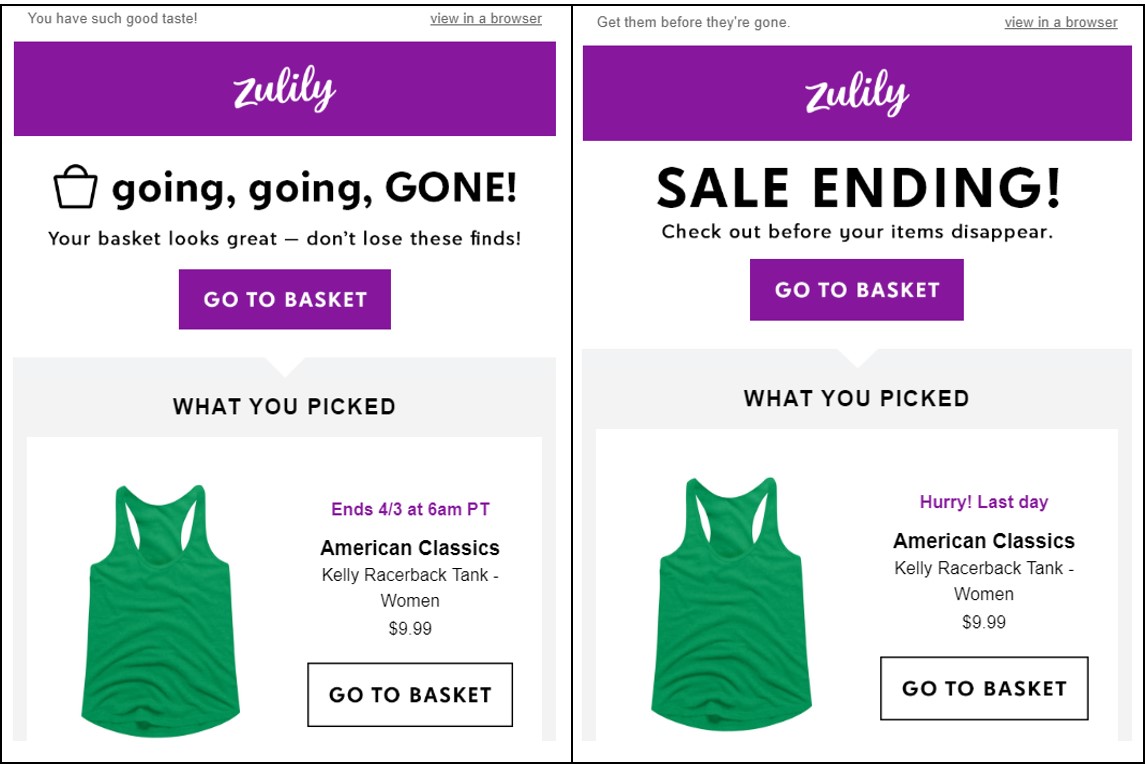 The first email reminds the reader what they had wanted before they decided to abandon their cart. Showing an actual image of the item can leave a strong impression and remind them of why they wanted it in the first place.
The second email creates a sense of urgency. "Get them before they're gone" and "Hurry! Last day" are phrases that can really light a fire under a customer to make the purchase.
7. Re-engagement
Re-engagement email drip marketing campaigns are directed towards contacts that have been quiet for a while — meaning they no longer open your emails or make purchases from you. After no engagement from contacts for a set amount of time, your re-engagement drip campaign will be triggered in an attempt to drive an action from these contacts.
See the drip campaign I was entered into below from Dollar Shave Club after consistently not opening their emails:
Re-engagement email #1: The "We want you back" sale email
Re-engagement email #2: The "We've made the program better for you" email
Re-engagement email #3: The "We think you'll like these changes" email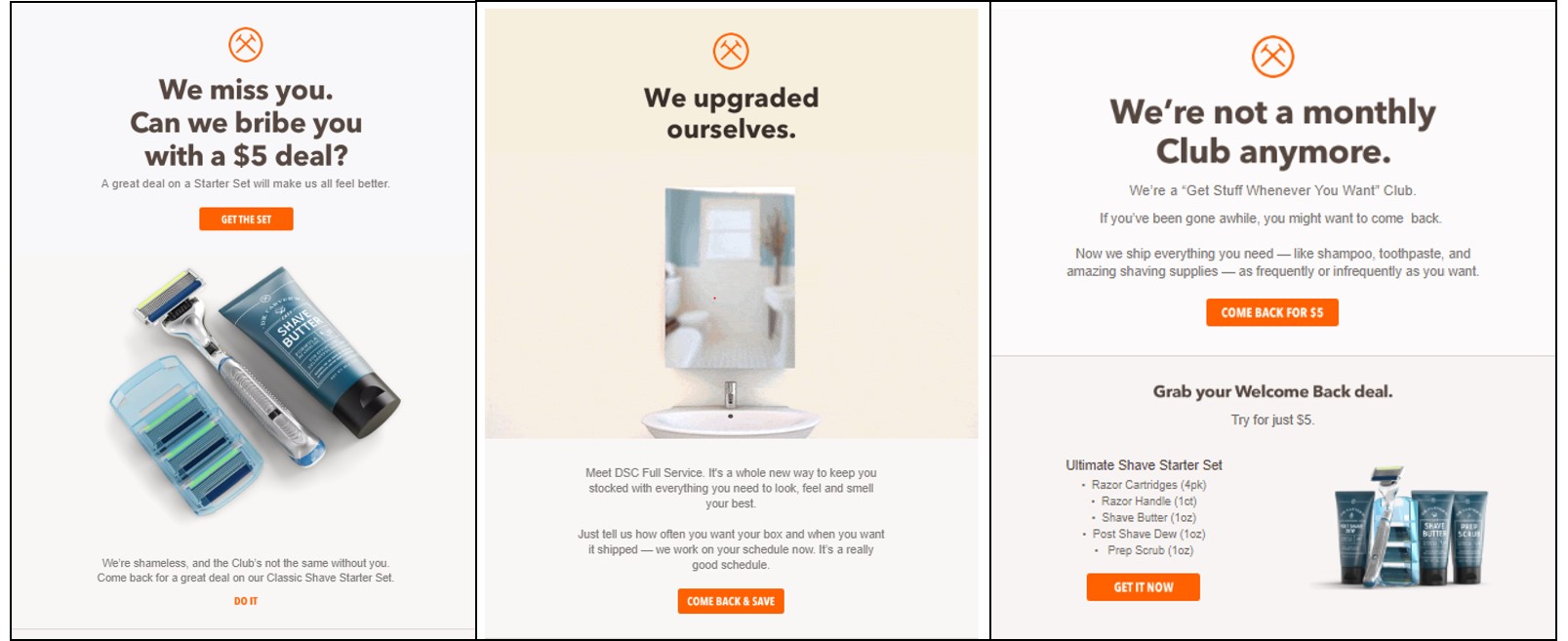 As you can see, these emails promise changes with their program, special "come back" deals, and reminders of why I originally ordered from them. Since you can never really know why customers have disengaged from your business unless you ask, these are all great tactics to draw them back in.
If your contacts fail to re-engage with your offers, then it may be time to remove them from your contact list. You want your email subscriber list to contain quality contacts that want to hear from and engage with you. Clean your list of contacts that are no longer active, and you'll see your email marketing campaign's performance numbers improve.
8. Event series
Email drip campaigns for events can be used for pre-event communication, as well as post-event follow-up.
An example of why you could use a drip campaign leading up to an event could be to build your attendee list and get contacts to register for your event. The first email in this campaign could be to "Save the Date." The second could be the invitation, and the third email could be a final reminder.
Once a contact from this drip campaign registers, they will be pulled from the list and put into another email drip campaign track specific to event registrants. This campaign can provide arrival time reminders, menu specifications, and get registrants excited about the agenda.
9. Cross-sell and up-sell products
According to the book Marketing Metrics, the probability of selling to a new prospect is only 5 – 20 percent, while businesses have a 60 – 70 percent chance of selling to an existing customer. This is why it's a good idea to create an email drip campaign to cross-sell and up-sell to your existing customers.
Once a customer makes their first purchase, you can create a trigger to add them to a drip campaign that offers complementary products or an upgrade to their existing one. Make sure these emails are informational and explain the benefits of adding products to or upgrading. This type of drip campaign allows your business the opportunity to grow your existing customers into more profitable ones.
10. Industry Specific Email Drip Campaigns
11. Product Recommendation
Another great way of using drip campaigns to market to your existing customers is to offer product recommendations based on their previous purchases. Triggered to begin when a customer makes a purchase, these emails are hyper-relevant and offer only products and services that make the most sense to each specific contact.
Although automated, your contacts will feel like each email was designed and personalized especially for them. See the email below for an example of a recommendation drip campaign:
Go with the flow and grow your business

Whichever strategy you decide to try for your next email drip campaign, just remember the importance of how your emails work together. Keep in mind that your contacts may be reading them all, and it might take until the second or third email in the series for them to take the desired action.

Take some time to map out the messaging and content of your drip campaign emails, and look at the overall flow. Do they play off of each other? Do they make sense as standalone communications? Do they all drive towards the same outcome?

Whether the goal of your next email drip campaign is to engage, build relationships, or convert, you can start mapping out your strategy using the examples above.

Share with your network