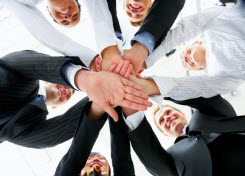 You read about them all the time: High-powered businesses forming partnerships with other corporate entities. But you don't have to be a multi-national corporation to pair up with a partner. In fact, small businesses and organizations have the most to gain by teaming with other groups or solution providers — especially in a tough economy.
Partnering with other businesses whose interests intersect with yours is one of the best ways to find new customers, members, clients, and donors. They're also a great way to broaden your skill set because you can learn from someone else who's more of a subject matter expert than you are. But that doesn't mean you should approach your competitors. Instead, think about businesses and organizations that don't provide the same services or sell the same products that you do — ones that might benefit from a little cross promotion.
Great partnerships can start with as little as posting a sign for a neighboring store or as much as co-sponsoring a community event. The key is that each partner has something to offer the other, and does so willingly in the name of bettering both themselves and each other.
To find the perfect partner for your organization, try these four tips:
1. Check with the Neighbors: The best place to look for a partner may be right next door. For many businesses, increasing foot traffic is key. Remember, big crowds draw more interest — that's why bouncers keep long lines in front of nightclubs.
Regardless of your neighbor's area of expertise, you may have something to offer a neighbor, and teaming up can have mutual benefits. Here's a quick example: On the block where I live, there is a sandwich shop with no seating area and an ice cream shop with seating. The ice cream shop makes its seats available to the other business' customers, and offers a dollar off a purchase with a receipt from the sandwich store. The reverse is true as well; the sandwich place offers a dollar off with a purchase from the ice cream store. Both have seen increased sales since this arrangement went into effect.
An open house or a sidewalk sale is another great way to get customers to spill over into your establishment. To see if the event is a success, compare traffic from an event day to a non-event day.
2. Find Help in Your Industry: Regardless of their physical location, partners who do business in different areas of the same industry (like bakeries and caterers) can make great partners. By offering bundles, discounts, or other specials in conjunction with sales of their own products and services, partners can cross-promote each other and increase the value of their own offerings. To see if your partnership is panning out, start with a limited-time offer and use coupons to tabulate the referrals.
Particularly in a down economy, this kind of partnership is advantageous because you can also learn more about changes and trends in your industry that may not have affected your area yet and you can prepare for them before your competitors do.
3. Bring in an Expert: Hosting free classes or clinics is a great way to draw all kinds of new customers to your business. For example, if you're looking to find new customers, host a "beginner's" seminar with an expert or a panel of experienced customers who are adept at showing people the ropes. Or, you can provide an extra service for customers. A clothing store might bring in an employment consultant to help with a "job interview makeover" workshop, for example.
On the other hand, if you have higher-end or more complex products languishing on your shelves, hold an expert-level workshop. The expert you bring in can use the opportunity to plug his or her services, promote or sell publications, or just enhance his or her professional credibility. Compare the traffic in these events to an average business day to measure results.
4. Help out a Cause: A great way to find loyal customers is to team up with a nonprofit. People involved with nonprofit groups who have interests that may intersect with yours tend to be passionate about their beliefs and reward companies that support their causes. You can even allow your customers to be involved by putting out drop-boxes for donated goods or a jar where they can donate change. There are as many ways to measure your success with these partnerships as there are ways to help the cause.
With partnerships, as with customers, it's all about building relationships. Find the right organizations to team with, and work to maintain a mutually beneficial relationship, and you could find yourself with great opportunities for growth in the future.
Does your business or organization have a partnership with another business or organization? Tell us about it in the comments section below.