The holidays are rapidly approaching, and the holiday season is big business! Americans spent over $789 billion during the 2020 holiday season, and industry experts predict ecommerce sales will top $210 billion, growing nearly 15 percent over last year.
Not only is it the season for giving, but it's also the most important stretch of the year for many small business owners. The holiday months can make or break our entire fiscal year and hopefully set us up for success in 2022.
What many small business owners don't realize is that many American consumers start their holiday shopping in the Fall. In fact, each year about 40 percent of holiday shoppers start the process before Halloween.
That means 4 out of 10 potential customers are starting to explore and evaluate their options right about now. They'll start to discover new products and services by watching videos on YouTube, or reading blog posts, or poking around on social media.
If they're starting to look now, then it's definitely time for you to focus on your holiday marketing plan because October through December will most likely be a blur. To start, you want to get a lay of the land and mark down all important dates on your calendar.
Watch: 6 Tips for Winning the Holiday Season
See what other small businesses and nonprofits find most challenging in preparing for the holidays
Plan for the major marketing holidays
Before you start marketing for holidays, you need to take a look at the calendar. Do you know what day of the week Christmas falls on this year? Which Thursday is Thanksgiving? How much time do you have between now and Black Friday?
Writing down and remembering all of the important dates will put your holiday marketing plan into perspective. You will be able to see how many weekends you have before Christmas and when to position crucial last-minute sales in December.
When you create your marketing campaigns, you need to keep these dates in mind.
Thanksgiving – Thursday, November 25, 2021
Small Business Saturday – Saturday, November 27, 2021
Cyber Monday – Monday, November 29, 2021
Giving Tuesday – Tuesday, November 30, 2021
Hanukkah – November 28 through December 6, 2021
Christmas – Saturday, December 25, 2021
Kwanzaa – Sunday, December 26, 2021
New Year's Eve – Friday, December 31, 2021
Mark these dates down and think of them as opportunities to connect with your holiday shoppers.
Set SMART goals for your marketing program
Once you have an idea for the layout of the holiday season, it's time to set some goals!
Goal setting is an important part of launching a successful marketing campaign. According to a recent University study, people who write down their goals are 20 percent more likely to achieve them. And achieving them is the idea, right?
The best way to set goals for your marketing program is by using the SMART goals formula. SMART is an acronym that provides you with a goal-setting framework that will give your clarity and a clear, measurable path to success.
So what does SMART mean?
● Specific (Can you focus on one area or task?)
● Measurable (Can you assign a number or percentage to measure progress?)
● Attainable (Can you reasonably achieve this goal?)
● Relevant (Can you benefit from achieving this goal?)
● Time Sensitive (Can you create a deadline to hold yourself accountable?)
When you are creating goals, it is important to be as specific as possible. Just saying you hope to get more social media followers isn't specific enough to be a helpful goal. Instead, you might say you want to gain Instagram followers, or (getting even more specific) you want to attract new Instagram followers through the blog on your website.
Once you get specific, you have to make sure your goal is measurable. Think about a weight loss goal. You could say, "I want to lose weight" which is well-intentioned, but it doesn't give you any way to measure your progress. If you can't measure your progress, you're more likely to abandon the goal. Instead, you might establish a measurable goal of losing 10 percent body fat, or two inches off your waist, or 15 pounds. By adding a number, you make the goal real.
You want to challenge yourself when setting marketing goals, but be sure they're realistically attainable so you don't lose the pep in your holiday step. For instance, if you shoot for the stars with a goal to gain one million Instagram followers by Christmas, the odds are probably not in your favor. If you set your goal unrealistically, you may become disillusioned with your holiday marketing plan and find it easier to abandon your goals completely. Not that you should create super easy "micro-goals," just give yourself a challenge that you think you can attain with what resources you have and know that you can always adjust your goals higher.
With a specific, measurable, and attainable goal, you now need to test it for relevance. Will completing your goal actually help you or your business right now? Make sure the benefit of achieving it has a positive impact on your business.
Finally, you need to make your goal time-sensitive. Set deadlines! Goals that have no deadline end up becoming abandoned or forgotten because you can keep putting them off. Always give yourself a time frame to hold yourself accountable and keep you motivated.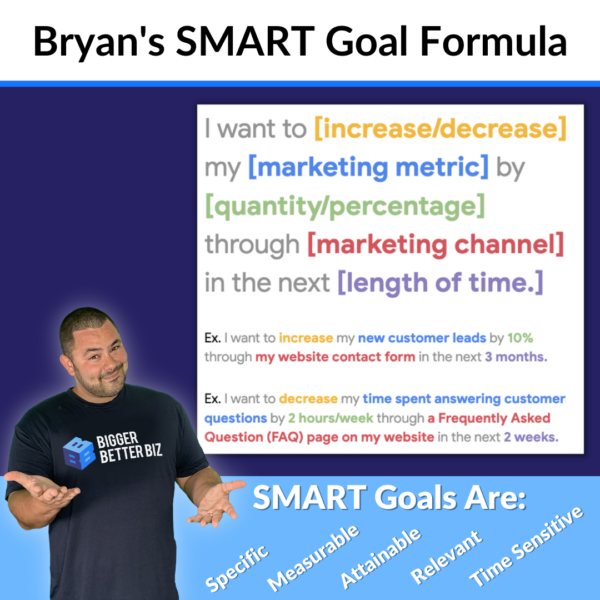 Following my formula, your SMART goal will look something like this…
I want to [increase/decrease] my [marketing metric] by [quantity/percentage] through [marketing channel] in the next [length of time.]
If you want to increase your email list subscribers by using your Facebook page your SMART goal would look like this:
I want to increase my email marketing list size by 200 subscribers per month through my Facebook Page in the next 60 days.
This handy statement outlines everything you need to start taking action. In order to increase your email subscribers, you're going to focus on connecting, engaging, and linking from your Facebook page. Make two or three goals and keep them somewhere you can see to keep you motivated during the holidays! Add due dates and schedule weekly "pulse checks" on your calendar, so you can keep tabs on progress and stay motivated.
Define your audience
When you are talking to someone, you naturally adjust your messaging depending on who they are: best friends may see a different side of you than would your customers or business associates. Your marketing should be the same.
If you have a solid idea of your customers, it's much easier to market to them. Ask yourself:
How well do I know my customers?
What makes them buy specifically from my business?
What are my customers thinking as they begin the holiday shopping journey?
Knowing your customer is an important part in creating marketing materials that will appeal to them and inspire them to take action!
Another important exercise is to think about your favorite customer or the one that spends the most money at your business. Who are they? Where do they live? Why do they keep coming back? What questions do they ask you?
By answering these questions, you are beginning to build a buyer persona. Also known as a marketing avatar or dream customer profile, buyer personas are mission-critical to your marketing success because they get you thinking like your customers. If you can think like them, you can anticipate what they need to hear from you during the holiday shopping season.
As a note, some businesses will have more than one buyer persona. In fact, most of you will. My advice is to start by building a persona for your most profitable customer, so you can attract more of the same during the holiday rush.
When you have explored the psyche of customers, you can put that information to use and tailor your messaging to appeal to them. You can also use your newfound insight to better segment email lists, so you can create messaging that resonates with them and drives more sales. One way to resonate quickly is by becoming a storyteller for your brand.
Tell your story
One of the most effective ways to communicate value and establish a rapport with prospective holiday customers is to tell your story. Your story could be…
How you got started
Your brand's history
Customer success stories
Your expert advice on your products
Customer's favorite products or services.
Stories provide context and insight that connects us. Why are they so impactful, so important? Think about it. For thousands of years, stories have been told from generation to generation. It's how we know where we were, where we are and how we create the story of where we want to be.
You may have one story you want to use or several! It is all about using your creativity and expertise to craft stories that you think will resonate with your audience and stick with them beyond your short interaction.
Write a few ideas for stories and outline them. What are the key points you want to make? What are some examples of anecdotes that you can include to make the story memorable?
Using imagery
Once you have crafted your story you need to create holiday imagery that brings it alive. One great tool for this is Canva, a free graphic design tool you can access on your computer or through an app on your phone or tablet. Canva supplies you with graphics, photos, videos and templates to create images and videos of every size to complement your story.
Bonus: Check out Constant Contact's integration with Canva.
Before you start to create holiday images in Canva, think about the channels you plan to use. For instance, the image you use in an email campaign to previous customers will be a different size, shape, and message from an image you broadcast on Facebook or Instagram to potential customers.
Once you plan out your strategy, you can get creative with your image! Try to incorporate some holiday imagery in your graphics (snowflakes, bows, presents, pine trees, etc.) to keep it relevant and seasonal. Also try to keep any text you use in the graphic to a minimum and make sure it is easy to read by increasing the font size!
Share your story
Once you have your story ready to go it's time to share it far and wide! For this, you have a number of potential channels – a channel being Facebook, Instagram, your email campaigns, etc. Just keep in mind the individual requirements and quirks of each channel when you are posting your content.
Website
Your story should have a home on your website in some form. Maybe you created a video? If so, embed that video on your homepage or relevant product pages. If you did not create a video, you can easily add a blog post with images that fully conveys what you want to say.
Google Business Profile
If you've ever joined me at a free Grow with Google marketing class, you probably heard me mention Google My Business Profile? If not, it's time to get on there!
Google Business Profile is a business listing platform that enables you to show up on Google Search and Maps. Creating a Google Business Profile listing is imperative because it is where Google pulls the information about your business including your location, website URL, phone number and more.
Your Google Business Profile page also serves as a sort of social media page but instead of showing your content to followers, it shows it to anyone who searches for your business in your local area.
Using and constantly updating Google Business Profile is mission-critical to establishing your business online and creating a robust and accurate Local SEO program, so local customers can find you when they need your products and services during the holiday rush.
Use Google Business Profile to update your holiday hours, post photos and videos of your products, highlight offers and promotions, and tell your story using posts, photos and videos.
YouTube
Did you know that YouTube is the second most popular search engine in the world? With over 2 billion active users watching 1 billion hours of video per day, not having a presence there is no longer an option. Consumers have grown to expect video from brands and businesses, so they can learn quickly about what you offer.
You can leverage video in so many ways:
Introduce your origin story and how the business came to be
Describe your products and services in greater detail and explain how they will make amazing holiday gifts
Hype up holiday promotions and sales
Invite customers to special VIP-only holiday events
Create "how-to" videos to make enjoying your products and services easier
Despite popular belief, you don't need a professional setup and some fancy Hollywood studio to create effective video content. You simply need your phone and a simple video editing app (or just iMovie if you have an iPhone). You can also use Canva to easily create slideshows or quick videos you can upload to YouTube.
EXPERT TIP: You do not have to be in front of the camera. It definitely helps establish a connection with your viewer, but if you're camera shy, just point the camera at your products and describe them or create a slideshow of photos with background music.
The great thing about video is that it is so versatile. Any video you create and post on YouTube can be used in just about every other space as well. Videos can be uploaded to every social media platform, embedded in email campaigns and added to your website or blog.
If you want to make a great impression this holiday season, definitely invest some time in your video marketing strategy.
Social media
Social media is often the most utilized space for small business owners looking to connect with their customers. Keep connecting throughout the holiday season by being active and responsive on social media.
When telling your story on social media, think about what kind of content resonates with your customers already. Are people most responsive to images, text or video? It's always good to have a well-rounded social media presence, and if you consult your social media insights, you should have a much better idea of what resonates with your followers and fans.
When creating content for social media, keep in mind the best practices and type of audience on each platform. Also try and include a call to action in each of your posts like "Shop Now" or "Learn More." You want people to engage with you, not just look at your post and move on.
Also, update all the main links across social media to make sure customers are taken to the right place. Consider adding a link that will allow them to sign up for your email list, so you can move them to a method of communication that often results in higher conversion rates.
Email
One of the most important assets you have during the holiday season is email marketing. Emails are a critical tool in communicating with your customers.
When crafting emails to tell your story, try to keep them short, sweet and focused! Only have one main story or topic per email with a clear call to action. A great way to encourage opens is to include some kind of discount or sale teased in the body of the email. Following email marketing best practices is even more important during the holiday season.
In the body of your email utilize the other assets you have created for your website, YouTube and social media. Link to the blog post, embed video into the email and add in some of the graphics you have created! Create a few different emails that touch on a different part of your story and send them out in intervals to engage people who respond to different kinds of emails.
Also be sure to create or update your welcome email or email series to capture new customers at this critical time.
Measure your success
At the end of the season (or your self-imposed SMART deadline) you need to grab the ruler and measure your success!
When you created your SMART goals in the beginning, you established a marketing metric in which to measure your success and a percentage or numeric goal to aim for. Now, after the time has passed, and you have been working hard, it is time to measure how successful you were.
Dive into your data! What do you see? Did you meet your goals?
Whether you have met your goal or not, it is important to do a post-mortem (aka evaluate your progress) on your SMART goal to glean any knowledge from the numbers. What did you learn about yourself? Your customers? The channels you chose?
Take your knowledge and let it inform the next goal you set for yourself and your business.
Finishing up
Make this holiday season one for the books! By planning ahead and setting achievable goals, you will set yourself and your business up for a successful and hopefully stressless holiday season.