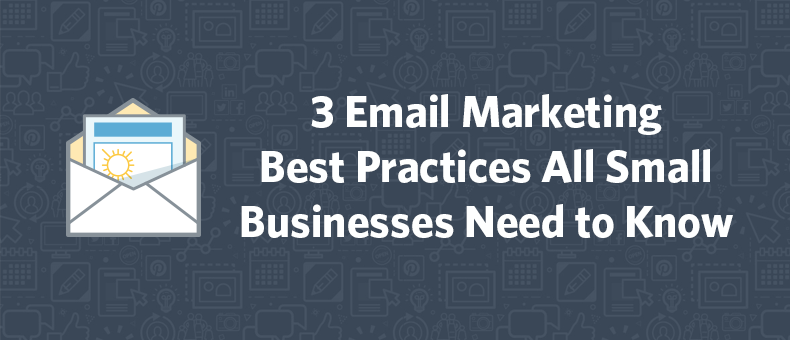 If you're using email marketing for your small business, you know that there's no shortage of email marketing best practices for your business to keep up with.
It's easy to get overwhelmed — especially when that advice isn't always consistent and you're not sure what tips to follow.
At Constant Contact, one of the ways we try to address this challenge is by participating in industry working groups such as the Messaging, Malware and Mobile Anti-Abuse Working Group (M3AAWG). The purpose of this group is to bridge the gaps in the online ecosystem and bring together industry experts who work to combat abuse across the 3 "M"s in M3AAWG.
As a company that's committed to permission-based email marketing — participation in groups like M3AAWG, give us the opportunity to advocate for the importance of these best practices and help set new standards for the entire industry.
As manager of ISP Relations for Constant Contact, I have had the opportunity to co-chair the Senders Committee at M3AAWG for the last few years.
One of our biggest projects was to re-write the M3AAWG Senders Best Common Practices document which has recently been released.
The M3AAWG Senders Best Common Practices, Version 3.0 offers the only industry-wide recommendations based on the experience of both senders of high-volume marketing emails, such as email service providers and brands, and the network operators that deliver those messages to end users, including Internet service providers and mailbox providers. The document reflects currently accepted industry practices to protect the email ecosystem from abuse and help bulk mail senders improve deliverability by developing marketing lists with fewer junk mail rejections, implement safer mailings, and better manage recipients' unsubscribe requests.
As a small business, you won't need to get into the nitty-gritty details of all of the best practices outlined in the document. We work hard to provide the tools you need to follow these industry-wide best practices and stay compliant with legislations like Controlling the Assault of Non-Solicited Pornography and Marketing Act (CAN-Spam) and the Canadian Anti-Spam Legislation (CASL).
But there are a few important best practices that you should keep in mind when using email marketing for your business.
Here are three email marketing best practices all small businesses need to know:
1. Permission matters
Permission-based email marketing is the best route to developing long-lasting email marketing relationships. When you ask permission, you're able to build a list of people who are interested in your business and are excited to hear from you. They're more likely to open your email, less likely to mark it as spam, and will stay with you longer than contacts that are added without consent.
As explained in M3AAWG Senders Best Common Practices, Version 3.0:
The primary rule for sending email or other electronic messages, in particular bulk and marketing-related messages, is that the sender must have the explicit consent of the recipient prior to sending messages to an email address and prior to adding the recipient to any ongoing and repeated communications. Recipients are less likely to report messages as unwanted or abusive if they willingly signed up for the messages.
Here are a few things to keep in mind:
Never rent or buy a list: This is a surefire way to have your emails marked as spam and generate complaints.
Set up ways for people to say, "Yes, I want you to contact me": This can be done in both high and low-tech ways. You can add a paper sign-up sheet on the counter in your store or add a link to an online sign-up form on your website or Facebook Page.
If you're unsure — give them the choice to opt-in: You may have business cards that you collected at tradeshows or events and be unsure about whether they'd want to receive updates from your business. Don't just add them to your list! Instead, send them a personal email with a link to your sign-up form and ask them to sign up.
2. Collect email addresses the right way
When adding new contacts to your email list, it's important to have a system to notify users that their subscription is confirmed.
With Constant Contact, this process is set up automatically. Whether you're adding new contacts manually or using an online sign-up tool to add new contacts to your email list — contacts will be sent a welcome email.
You can customize this email with information about your business, details about what they can expect to receive, and information about the different ways people can connect with your business. Your welcome email is the perfect opportunity to re-affirm their decision to join your list and start the relationship off on the right foot.
For extra bonus points, use confirmed opt-in (AKA, Double opt-in). This method will require people to click on a link within the automated email to confirm their subscription before you can begin sending them marketing emails. Using confirmed opt-in to grow your list will ensure that no one is added by mistake who may go on to report your mail as abuse.
3. Take unsubscribes seriously
While no one likes to see people unsubscribe from their list, if certain contacts aren't interested in receiving your emails, it's better to give them the option to opt out than to try to keep them on your email list.
If you're a Constant Contact customer, there will be an unsubscribe link in every email you send out. Also, make sure to monitor the inbox for the address you are using to send your email campaigns, as many people will reply to your email and ask to be taken off your list.
In many cases, people unsubscribe because the information they are receiving is no longer relevant to them. This doesn't mean that they won't do business with you in the future. In fact, many people will still be connected with your business on different channels like social media. Make sure to take the time to figure out why people are unsubscribing, especially if you see an uptick in that number.
Within Constant Contact, we give people the ability to make a note about why they are leaving your list. Check the opt-out comments for common themes; maybe its time to do some list hygiene! You don't want to put your relationships with customers at risk by sending them unwanted emails.
Want to learn more?
We work hard to stay on top of the latest online marketing news and developments, and make sure you have the information you need to be successful.
You can read the full M3AAWG Senders Best Common Practices, Version 3.0 here.