For many Americans, a cup of coffee is a morning ritual that perks them up and keeps them going throughout the day. Even though most people now work from home, many are still frequenting local cafés for their daily cup of joe or buying a fresh bag of coffee roast that they can brew at home.
If you own a local café and are looking for ways to drum up business, the following coffee shop marketing ideas can help you attract new customers.
Why effective coffee shop marketing ideas are essential
Most people are always in need of a good cup of coffee. Between 2020 and 2021, nearly 167 million 60-kilogram coffee bags were consumed worldwide. This market brings a lot of competition — as a coffee shop owner, you likely have a few chains in your neighborhood vying for customers. Effective coffee shop marketing ideas are essential to attract new customers.
9 coffee shop advertising ideas
The right café promotion and coffee shop marketing will help you compete and attract new customers in your area. Here are nine tips on how to do it effectively.
1. Offer redeemable promotions in your store
One of the more tried-and-true coffee shop marketing ideas involves offering online promotions that are redeemable in-store. If you have an email list, send out printable coupons or include a QR code that your customers can scan at the register for a discount.
Promote your in-store discount through social media and your email list to boost visibility and drive more people to your café.
2. Optimize your site for local searches
Most people turn to their mobile phones and digital devices when looking for a local business. For instance, roughly 75% of those who own smart speakers use them to conduct local searches weekly. If your site isn't optimized for local searches, you could be missing the customers who live in your neighborhood.
Make sure your listings on Google My Business, Yelp, and other local databases are accurate and updated often. Check your address, phone number, website address, and hours. Set one up if you don't have a Google My Business account yet. This will ensure your café shows up in Google Maps when someone searches for coffee shops near them.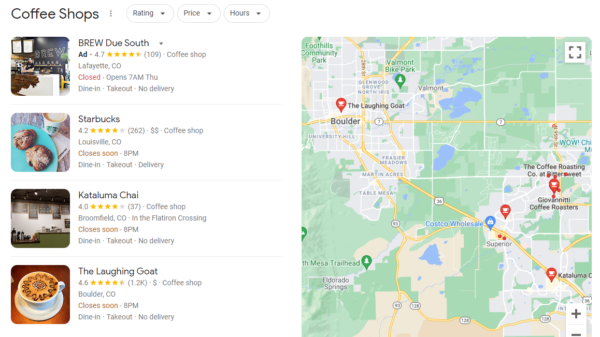 3. Host an event
Another way to attract new customers is by giving them something for free, especially if they visit your café or coffee shop. You can do this by hosting new roast tasting events, get-togethers for local remote workers, and other gatherings designed to get people out of the house and into your shop.
If you host a tasting, for example, people can sample the products that your coffee shop is selling. Offer a discount on the sampled flavor or, if it's a limited-edition type, hand out coupons customers can use if they return to the shop after your event.
Promote the event using effective event marketing strategies and run a Facebook ad, for instance, aimed at people living in your city who love coffee.
4. Create hyper-local ads
Of all the coffee shop marketing ideas available, social media tends to be the most popular because it's easy and cost-effective. Run sponsored posts on Facebook, LinkedIn, and Instagram promoting your café. Coffee shop advertising doesn't have to be over the top.
Take some interesting pictures of your merchandise or baked goods and create a targeted ad for people in your area. To do so, choose location-based targeting when you're setting up your ad. You can also use local keywords and phrases in your posts and photo captions, appealing to people in your neighborhood.
5. Incentivize in-store visits
To draw in customers, offer a discount or a deal that can only be applied at the register. Send out postcards through the mail that people can redeem for a discount.
Or start a loyalty program like a phone-based or physical punch card people can use to get items for free after they buy a certain number of drinks. Most people are likely to recommend a business with a good loyalty program. Make it worthwhile to stop by your store.
6. Partner with local influencers
Businesses have long used celebrities to improve their credibility and drive business. With the rise of social media, influencer marketing has grown to about $13.8 billion. If your brand is represented by someone customers trust, they may see you more favorably.
Because they tend to have a smaller following, local influencers are usually more affordable for coffee shop advertising. Before choosing your influencer, set your goals for the campaign.
Are you interested in appealing to a particular demographic? Do you want to improve your social media following? Or do you want to connect with people interested in craft coffee and special roasts?
When you define your goals, you can find the right influencers. If you're unsure where to find influencers, you can check with an ad agency that sets up these partnerships. With your goals and budget in hand, you can work with them to find the right representative for your brand.
7. Listen to your customers
If you have a suggestion box, use customer feedback to improve your restaurant customer journey. If you don't have one, look through your online reviews and social media interactions to see what you can work on.
Maybe customers think they have to wait too long during peak times. In this case, you might want to hire an extra part-time barista or improve your training to cut down on wait times.
You can also ask your customers to suggest new flavors or roasts that they're interested in.
8. Start an email list
Put a sign-up sheet at the cash register and offer a discount to people who opt into your email list. Include a sign-up form on your website's home page, and let people know that they can sign up for exclusive deals and discounts by joining your list.
Once you've built your list, create a newsletter offering your customers store news, coffee tips and tricks, promotions, and announcements. Create content that is valuable to them.
9. Jump on a holiday
With marketing, every day offers a reason to celebrate. Look at holiday calendar sources and find coffee-related events to celebrate on your social media page.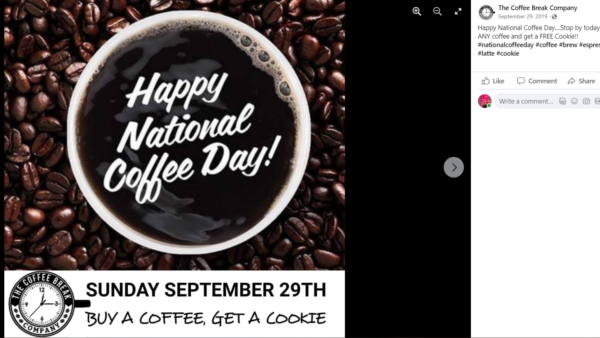 Drive business to your coffee shop today
Whether you're new in town or trying to attract some customers away from the competition, you need to market your shop in ways that stand out. The coffee shop marketing ideas discussed in this article can help boost your visibility and bring people into your café.

Start by optimizing your internet presence for local searches. When people can find you online while craving a cup of joe, they're more likely to stop by your shop. Create a Google My Business account and a business account on Yelp. Update your name, address, phone number, website, and hours.

Next, add some local keywords to headlines and descriptions on your website. If you're a staple on local "best of" lists, mention it on your homepage.

Once your local internet presence is established, start brainstorming events and café promotions, using your social media pages to alert people about your coffee shop. You might be hosting a grand opening or a coffee-tasting event. Whatever the occasion, use a combination of digital and traditional marketing tools to promote it.

Once you've generated interest, you can start improving your chances of attracting new customers to your shop.

Share with your network