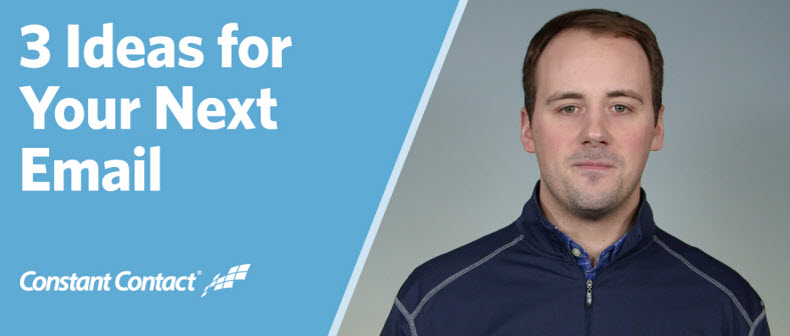 You know it's important to reach out to your email audience on a regular basis.
But what happens when you don't know what to send?
Coming up with email content ideas can be one of the biggest obstacles to creating a successful email marketing strategy for your business or organization.
Luckily, there are simple things you can do to get effective email ideas right from the people you're trying to connect with.
Watch the video below to learn 3 ways to come up with email ideas your readers will love!
https://youtu.be/ZasNKDxgtTA
(Having trouble viewing the video? Watch it here.)
Read the transcript of the video…
Coming up with content ideas is one of the biggest challenges of using email marketing.
One of the best ways to come up with content ideas is to pay attention to what your audience is interested in. They're the people who are going to be receiving your emails so it only makes sense that you'd want to include content that's interesting and relevant to them.
There are a couple of things you can do to learn more about what your audience is interested in:
1. Send an online survey
An online survey is a great tool to collect feedback from your audience. With a few simple questions you can learn more about the products and services that they're interested in. And also, ask questions about what topics they're interested in reading about.
Collect the answers to those questions and use them for email content ideas.
2. Look at your email reports
Within your Constant Contact account, you can not only see how many people are opening your emails, but also which links are getting the most clicks and engagement from your audience.
Pay attention to the clicks that are getting the most engagement. That will let you know what topics are really resonating with your audience and you can use that to inform future content ideas.
3. Pay attention to what people are saying
You're interacting with customers every day — whether that's in-store, at events, or even online. Pay attention to what you're hearing from customers — what questions are they asking?
Talk to your employees. What are they hearing from customers? Really pay attention to the insights that are valuable to them. You can use that to come up with new content ideas and to create content that will connect with your audience.
By paying attention to what your audience is interested in, you'll not only have a list of content ideas but you'll also be able to create emails that your audience will be interested in receiving.
Put these tips to work!
Try one of these ideas and see how it works for your business.
We have additional resources to help you get started:
Find more helpful marketing videos on the Constant Contact YouTube Channel.