Like Sinatra's "New York, New York" or Louis Armstrong's "What a Wonderful World," old standards stand the test of time. Over decades of use and thousands of sing-alongs, these classics have the perfect je-ne-sais-quoi that keeps us turning up the volume.
The classics aren't just reserved for music and entertainment, though. In fact, digital marketing, despite being only as old as the internet itself, has already established some true classics in terms of their effectiveness in finding new customers for your professional services business.
In this post, I'm going to talk about the reigning of the hill of digital marketing strategy, email marketing. For professional service providers like lawyers, accountants, and architects, email marketing provides your business with a direct line of communication with each of your clients (and prospective clients). Plus, you'll get clear and detailed reporting, as well as a growing email list — an important resource in today's marketing environment. Let's dive in.
Get new clients and drive referrals with marketing tools and advice for legal professionals.
Email marketing is still top of the heap
According to a Litmus study, email marketing has an average return on investment (ROI) of 3,600%. That's about $36 generated for every dollar invested in email marketing. Much of that success is driven by the evolution of the smartphone and the unbroken access prospective customers have to emails through the day.
A thoughtful and automated email campaign should be the first order of business for any small business looking to make a lasting impact with their customer base. Here are some reasons why email is still king in 2020:
It's ubiquitous – In 2020, most everyone has an email account (or two)
It's permission-based – People know what they are signing up to receive
It's automated – Parts of a well-designed email program run on their own
It's visible – Email is often the first thing people check daily
It's expected – Email has become where people expect to see deals and promotions
It's affordable – A properly-managed and automated email marketing program provides among the highest ROIs in digital marketing
This is just a sampling of reasons why email has been successful for decades and shows no signs of slowing. In fact, my firm, Solutions for Growth, still considers email marketing to be a major component of our business in 2020.
Just as important as the presence of your email marketing program, is the effectiveness with which it is designed. Successful email campaigns are intentional in message, timing, and design. As such, it is important to build your campaign with purpose, pay close attention to your reporting, and make adjustments accordingly.
Make a brand new start if it: Email marketing basics
Like any project, marketing or otherwise, our email campaign starts with a blank slate. While design and layout can differ from email to email, there are best practices that can get your program off to a quick and effective start.
Proper layout and branding
Just like your website, your email communications are an extension of your brand. In order to ensure the successful growth and development of your brand, consistency is paramount. Your emails should reflect the colors, style, and feel of your website and any other online presence you have.
TIP: If you're using Constant Contact, you can input your website address or Facebook page and Constant Contact will automatically pull your logo and brand colors into a new custom branded email template.
Building your campaign to accurately reflect your brand and your professionalism can make or break your relationship with a prospective customer. The first emails they receive will weigh heavily on their future engagement.
Some companies opt to use professional email marketing agencies to set up and manage their campaigns. Our agency, Solutions for Growth, has been a Certified Constant Contact Solution Provider for nearly 10 years, supporting small businesses all over the country with superbly executed email programs.
Welcome email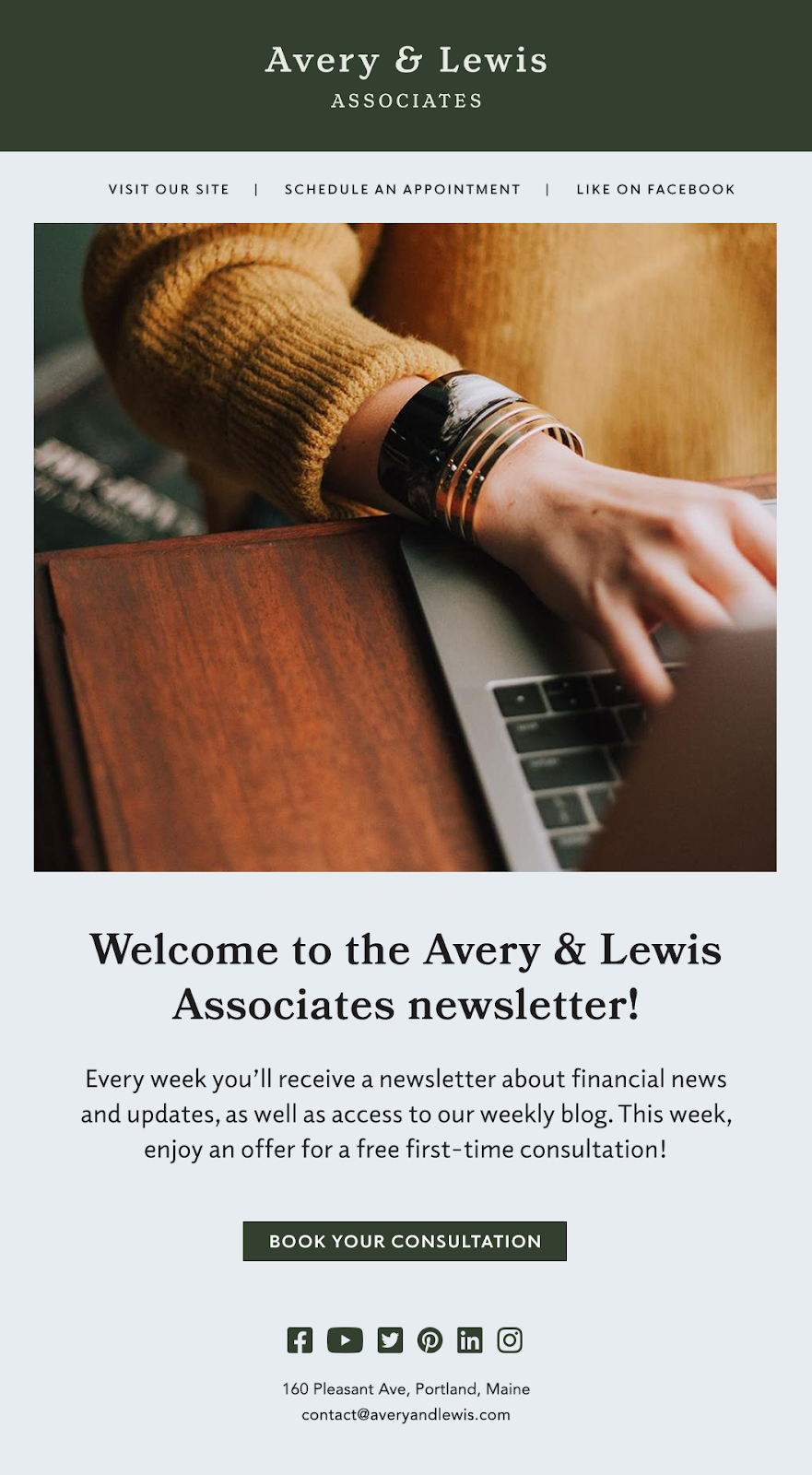 Immediately after someone signs up for your email list, they should receive an automated welcome email. Your welcome email serves a few purposes. First, it serves as confirmation that the user has signed up for your list. It also provides key expectations of what they can expect from your ongoing email communications.
If your email program will contain lots of deals and specials, it is important to create that expectation with your new contact. In turn, if your email program is more informational or educational, this is your opportunity to communicate the value of opening your emails to the new registrant.
Invitation to connect
Soon after the contact has received your welcome email, usually a few days, it's time to reconnect. This time, we'll make sure the prospective customer is aware of the breadth of your online presence and the different opportunities they have to interact with your brand online.
Because your potential clients are found at different stages of their purchase decision, a vital component of your marketing strategy is meeting them in their comfort zone. A well-designed integrated marketing program has many active channels to match the buying energy of their customers.
In your invitation to connect email, communicate to your new contact where they can find you on social media, how to interact with your organization, and inform them of any interesting promotional offers or customer loyalty programs you offer.
It's up to you (to keep them engaged)
For most email marketing programs, this is where true automation takes a supporting role. Your business and industry are not static. Thus far in 2020, there have been more wrenches thrown into our business operations than anyone could have imagined.
You've already communicated to the prospective customer what to expect from your email communications. Now you must create, curate, and deliver content that keeps your audience engaged and interested in opening your emails.
Think of the brands that keep you opening their emails. Perhaps it is their catchy subject lines or consistent delivery of quality articles. Maybe they always seem to have a great sale going on or you are a member of their email-based loyalty program that offers exclusive benefits. All of these inspirations are great to keep in mind when developing your own email program.
You'll find I'm a number one, top of the list
A properly-managed, automated and thoughtful email campaign is a tremendously impactful asset to any company. It is a low-cost lead nurturing and sales-converting machine. At least once a month, make contact with your mailing list to provide them a uniquely branded, helpful, and interesting email.
Use current events, industry tips, and promotional messaging to create a well-rounded communication delivered right to your target audience. Use engaging subject lines to increase opens. About one week after each email blast, review your statistics to see which elements worked best. Did your subject line entice them to open? Did your layout and content drive people to click on links? How many of your subscribers hit "unsubscribe" after receiving this email? Use the answers to these questions to hone in on your messaging over time.
Email marketing is uniquely positioned to continue its reign atop digital marketing. It has shown its staying power for more than 20 years because it works at generating sales. The continued effectiveness of email marketing campaigns for businesses of all sizes makes it a foundational piece of any successful marketing program. The affordability and the average return on investment make it just plain smart business.
Get Our Free Marketing Guide for Professional Services
Our 62-page guide to online marketing is packed with accessible, practical tips to help you get more leads and grow your business.

Share with your network