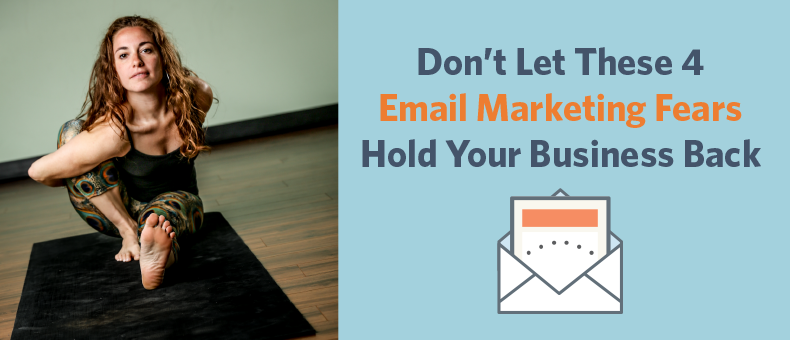 Arlet Koseian was ready for a change.
Living in New York City and working hard to climb the corporate ladder, Arlet began thinking about what her life would be like if she became her own boss.
"I loved living in New York, but it was taking its toll on me," Arlet says. "I started feeling like I was ready to do my own thing. Around this time, I discovered yoga."
What started as a way to reduce stress in her life grew into the inspiration for her business, extendYoga, which recently celebrated its three-year anniversary.
Arlet will be the first to tell you, success didn't come easy. "The only way to get better and be the best is through failures, lots of failures," she says.
But rather than letting the fear of failure hold her back, Arlet approaches challenges head-on.
This has been the key to building a successful business with a loyal following of yoga fans and has also helped her overcome her biggest marketing challenges.
If you've been hesitant to try email marketing, here's Arlet's advice on overcoming some of the most common fears:
1. Getting started
Over the last three years, Arlet has built an email marketing strategy that consistently delivers meaningful business results. And while today her audience includes almost 4,000 contacts, she also learned the benefits of starting small.
"We started with just friends and family members on our list," Arlet explains. "That was really great because, in the beginning especially, getting feedback from friends and family is huge. I would send out a preview email to 5 people and see what they thought."
As Arlet explains, the most important part of growing her list has been focusing on her current customer base and encouraging them to sign up. "I would say 95 percent of the people on our list are people who have actually set foot in the studio," she says.
In addition to encouraging customers to join the mailing list when they come into the studio, Arlet also uses the Join My Mailing List App on Facebook to encourage her social media audience to sign up as well.
2. Taking on the time commitment
Deciding to try email marketing is one thing, finding the time to stick with it can be a whole other challenge. For Arlet, one of the biggest time-savers has been never creating an email from scratch.
Starting with an email template and reusing the same layout whenever possible frees up her time and creates a feeling of brand consistency for her subscribers.
"I would say once we chose a certain look and template, we really tried to keep our newsletter consistent," Arlet explains. "I'll usually include a retail item in the top left, and I try to always include a personal message from me at the top as well. Once I got a system down, it became a lot easier to fill in the blanks. "
In addition to regularly scheduled newsletter updates, Arlet occasionally sends her subscribers promotional emails that include a single, clear call-to-action. The simplicity of these messages means they can be created in a matter of minutes and Arlet can drive sales for a specific class or product.
3. Having nothing to say
Even with a plan in place, it can be hard to come up fresh ideas every time you're putting a newsletter together. Luckily, you don't have to be a seasoned marketer or great writer to create messages your readers will love.
Think about the kinds of things you've been talking about with your customers lately. How can you send your customers something that provides value and persuades them to continue to do business with you?
Arlet always keeps her customers updated on class schedules and upcoming events, but she also uses the emails to raise awareness for her products.
"We highlight specific products, like a certain yoga mat our customers didn't even know we carried. It brings awareness to things people might just walk by every day when they come into the yoga studio," Arlet says.
4. Not seeing results
Even if you've been sending emails for your business for a while, you may still be feeling unsure about how to measure their impact.
The easiest way to make sure you're getting a good return on your investment is to create each email with a goal in mind. For example, most of Arlet's emails are meant to drive online registration for her upcoming classes.
"We make it easy for our customers to book classes right online through our emails," Arlet says. "Once an email goes out, we see the sign-ups come in shortly after."
You can also use your email reports to track the results of your campaign. After sending a message out you can see how many people opened your email and if they clicked on any links you included. Pay attention to these numbers and continue to make adjustments to improve results.
If you're unsure how you can be doing better, consider sending an online survey to ask your contacts what they enjoy about your messages and what you could be doing even better.
Stand up to marketing fears
No matter how long you've been using email marketing to promote your business and grow your relationships with customers, there are always find new opportunities for connecting with your audience.
One of the most important things to remember is that you don't have to do it alone.
"I would say marketing is always a work in progress," Arlet says.  "My advice is to find other businesses you think are doing a great job, align yourself with them, and then customize the message with what your company is all about. Most importantly, don't be afraid to ask for help. You might save yourself a lot of time."
If you're ready to give email marketing a try, get the basics down with our free Email Marketing Essentials guide.
May 4-8th is National Smalll Business Week here in the US. To celebrate, we are sharing the stories of small businesses and asking business owners to share their best business advice.