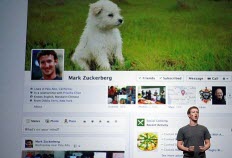 Yesterday at Facebook's f8 Conference, CEO Mark Zuckerberg announced, with great fanfare, that major changes are on the way. The social network — now 800 million users strong — promises to create a seamless experience where self-expression, discovery, and shared real-time experience are the goal.
The announcement came after Facebook activated a handful of new features earlier in the week. Today we'll take a look at the more significant new features, and what they mean from a personal user standpoint. We're also keeping an eye on how these changes pan out for businesses and nonprofit organizations, and we'll cover that perspective beginning next week.
Here's what's new or coming soon to your personal profile:
1. Profile Changes: Now renamed the Timeline, personal profiles will allow you to curate "the story of your life" with what you share on Facebook. Essentially, you'll now create a digital scrapbook that can start as far back as on the day you were born (if you want it to). And it looks great. You'll also be in control of what you make public and what you share only with your friends.
2. New Social Apps: These apps are added directly to your profile and do more than just allow you to discover things like news, music, TV, and movies from your friends. They also gather info to create reports over time. For example, if you like to cook, an app can create a digital cookbook that you and your friends can reference later. Other apps allow you to listen to a song or watch a show in real time with your friends. This change emphasizes shared experiences (and shared content) within Facebook.
3. Improved Friend Lists:  Facebook has always had a list feature, but who really wants to spend all that time creating them? Well, Facebook has introduced Smart Lists, which create themselves automatically. You'll notice lists like "Close Friends," "Family," a work list, and a list of people in your area, in the left-hand column after you log in. If you don't like the lists Facebook has created for you, then you don't have to use them. The idea here is it'll be easier to share with and see information from select groups of people. Maybe you just want to share a photo with your friends but not your coworkers. Now that'll be no problem.
4. Subscribe Button: This new button gives you a bit more control over the information you see in your news feed. You have the option of seeing all updates from one friend, most updates from another, and only highlights from another. But perhaps the biggest change is that you'll also be able to see updates in your feed from people you aren't friends with. (They have to activate the Subscribe button on their profile, though. Likewise, you're able to activate the Subscribe feature and allow people who aren't your friends to see your public updates.) This basically turns Facebook into a Twitter-like service, just without the character limits. Subscribe lets you control what information goes out to subscribers, so if you want to send something only to your friends, and not your coworkers, now you can.
5. News Feed Changes: Perhaps the most noticeable changes. Now, the top of your feed will contain what Facebook is calling Top Stories. These are updates made since the last time you logged in, by people Facebook thinks you may find most interesting. These stories seem to follow Facebook's EdgeRank  algorithim. Each update has, in the top left-hand corner, an option that lets you deem something aTop News update or not worth including. Using this option will help Facebook provide more relevant updates to you in the future. Below Top Stories you'll see the Recent Updates, which lists all the most recent updates in chronological order.
6. The Ticker: This list of "lightweight" user actions floats on the top of the right-hand column and allows you to see the activities of your friends as they're happening. You can also interact with the content in the Ticker by hovering over the posts.
7. Facebook Pages no longer require "Likes" for participation: This means Facebook users will be able to comment and write on brand Page walls without having to actually "Like" the Page. If your business or organization has a Page, this could mean you see an increase in interaction. On the other hand, you may find yourself policing unwanted comments. You also may not see as many new Likes as you saw in the past.
At this point, it's unclear what the effect of all these changes will be on businesses and organizations. But all signs seem to support what we already know: Producing great content that shows your unique personality, passion, or value wins the day. That's what will engage your customers, members, and fans long-term and will get you more exposure on Facebook.
What are your thoughts on the new Facebook changes? What do you like? What do you have questions about? How do you think these changes will impact your business or organization? Share your thoughts in the comments below.