Every time you hear something about social media, there's a good chance that the words 'ongoing conversation' will tumble out soon after.
We generally think of a conversation as something that has a greeting and a goodbye — even if that parting is an awkward "Well, all right then." But social media has created a new kind of conversation. People can revisit topics at their own convenience. New links, blog posts, photos, and news can all spontaneously spark a new avenue of discussion.
The trick becomes figuring out how to direct that meandering conversation to a specific cause. Organizations, especially nonprofits, can use this tactic to their advantage — the more involved you become in the conversation and the more your organization personally contributes, the more attention that's paid to your Facebook Page, which can become a hub for the discussion.
We talked to two people involved in the nonprofit industry to better get their take on how to use Facebook for a cause.
Maureen Dudley, Dudley & Nunez Communications
100+ fans in 24 hours
Maureen Dudley, owner of a communications consulting company, regularly donates her expertise to help nonprofit organizations. In the summer of 2009, just as she was starting to embrace social media, she began working with the city mayor and other Rocklin, Calif., community leaders to pass Measure A. The legislation would fund the upkeep of all the parks in Rocklin, but would require a "yes" vote at a time when the recession was at its worst.
Voters had already rejected the tax funding once, so the committee decided it had to think outside the box this time. In addition to printed mailings, letters to the editor, and other standard campaign strategies, Maureen suggested using social media.
With the help of three high school students, the message about the parks spread throughout the teen community – in large part thanks to Facebook. The "YES on Measure A" Facebook Page saw more than 100 people join in a single day after Rocklin students learned about the legislation.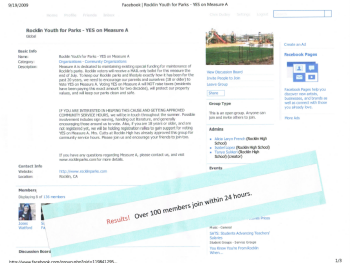 Photo Credit: Maureen Dudley
"Effective social media is a two-way street," Maureen says. "People are giving you their time and expect something of value back. We offered a cause that students could rally around and feel good about."
"Even though the vast majority of the students were too young to vote, they helped spread our message and reminded the adults around them to mail in their voting ballots," she adds. "Using social media proved to be very successful for our campaign and stretched our limited dollars."
The results speak for themselves:
Photo Credit: Maureen Dudley
The Social Media Task Force, Safety Center Inc.
Using Facebook to keep safety in the spotlight
The Safety Center, a nonprofit organization in Sacramento, Calif., already has a tough enough job trying to provide safety training for everyone from children to seniors. When it comes to marketing that message, there's not much money left in the budget. Direct mailings can be expensive and phone calls often require more effort from an already pressed staff.
So, the Safety Center started taking things online with a "Social Media Task Force," a group that draws on the skills of five different employees (Larry Hearn, Rhondalyn Moran, Gail Kelly, Christine Davidson, and Susan Hecht) to manage around 10 different pages.
"Each of our different training programs has a different Facebook Page," Rhondalyn explains. The team keeps track of much of the center's efforts and growing the organization's online presence. For the Safety Center, this means making people interested in, you guessed it, safety. That can be a hard topic to keep promoting without enough material, but the Social Media Task Force gets creative.
For example, the Workplace Safety & Health Facebook Page, managed by Rhondalyn, is a place where visitors will find everything from safety videos, photos of Safety Center field exercises, and links to upcoming classes. On the other hand, the Safetyville USA Page, managed by Christine, is more oriented toward families — so in addition to recipes and parenting advice, there are safety games and kid-specific news.
The games, news, and recipes aren't created by the Safety Center, but the Safetyville USA Facebook Page — and all the organization's other Pages — share the links, so visitors can rely on the Page for unique and regular content. Just by positioning their Facebook Pages as safety resources, the Safety Center Inc. stays involved in the conversation and becomes a go-to destination for those looking to join the discussion.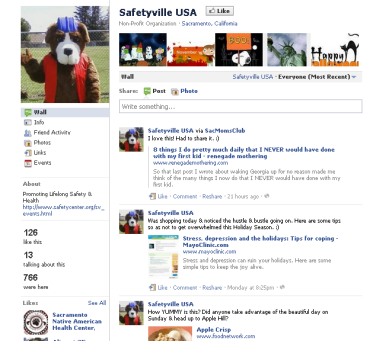 How have you kept the conversation going on social media? Let us know in the comments section below.