Father's Day is on June 20! Are you celebrating this year? If so, you're not alone!
This year, consumers are expected to spend approximately $17 billion on Father's Day gifts. So you want to make sure to be there to help them celebarate with a Father's Day promotion. And what better way to spread the word than with a Father's Day email?
In this post, we'll show you how to create a strong Father's Day marketing email, along with some Father's Day campaign examples you can use to inspire your own marketing campaigns
How to encourage shoppers to shop with you using a Father's Day Email
Don't miss out on Father's Day sales this year! Get your customers' attention by sending a special Father's Day campaign by email.
The best time to send your Father's Day message is at least a couple of weeks before Father's Day, but if you missed that window, don't worry — the next best time to send an email is now! And if you use a pre-built template (more on those below), your email will be ready to send in just a few minutes.
Make sure your Father's Day email message includes:
A helpful reminder that Father's Day is coming up (go ahead and remind your readers what day it is. This year, it's June 20!)
A heartfelt wish of a good Father's Day to your subscribers. This is a good time to be inclusive of all the figures that people celebrate on Father's Day, including stepfathers, grandfathers, mentors, and those who stepped in as father figures in our lives.
Suggestions for how you can help them celebrate Father's Day. This is where you mention the sale or promotion you're highlighting and how it can help your reader celebrate this year.
And when you're ready, you can use one of Constant Contact's professionally designed email templates to create an eye-catching email in minutes.
5 Father's Day email templates you can use
After choosing the right template, you can customize it with some images of your choice, a few lines about what you have to offer, and a strong call-to-action.
Gingham Father's Day template
Father's Day specials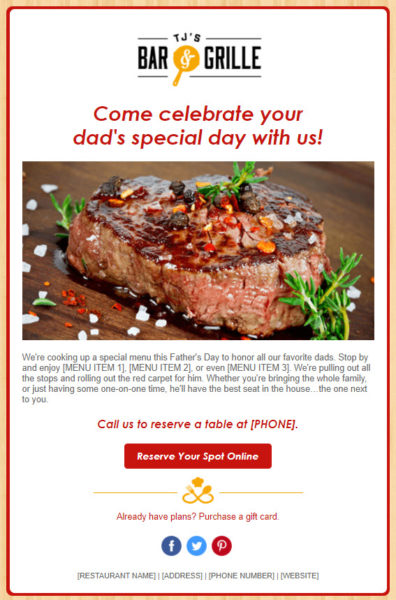 Father's Day card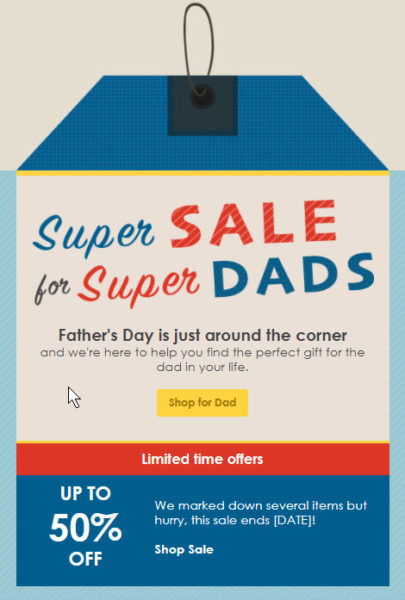 Father's Day event template
Father's Day Sale
Remember — Father's Day promotions aren't just for retail stores.
No matter what industry your business is in, you can probably find a creative way to get involved.
Keep in mind that approximately 22 percent of shoppers are looking to give a "gift of experience," and 41 percent of shoppers want to give something "unique or different." Meaning, they're looking for something beyond a simple greeting or gift card.
Think how you can make your business stand out and then get the word out.
Can you package your products or services to fit the occasion? Is there a special event you can hold to draw a crowd?
Even nonprofits can get involved by encouraging supporters to give a donation in their father's name.
How will your business spend Father's Day this year?
Now that you know the opportunity available and how your business can get involved, you're ready to get started.

Share with your network