You made your Snapchat account and have started sharing some creative content. There's only one problem…
You don't have any followers.
Snapchat is unlike any other social platform in that it does not have a native search feature. You can't find other users in the app unless you know someone's specific username, have their Snapcode, or have their phone number in your address book.
Growing a following on Snapchat can be difficult, but using your current audiences for promotion makes it easier.
While you don't yet have a following on Snapchat, it's likely you have a social following elsewhere. By taking advantage of the audiences that you have worked so hard to build on other channels, you'll have a Snapchat following in no time!
In this blog post I'll provide some easy, actionable tips to promote your Snapchat account and grow a following.
1. Use the network you know the best — your email list!
I bet you saw that one coming.
Your contacts signed up for your email list because they want to hear from your business. They are likely to connect with you on other social channels, such as Snapchat, because they're already your most devoted followers.
In your next email campaign, make sure your subscribers know you're on Snapchat. Be sure to include your username, a brief description of why your readers should follow you, and what they can expect from your Snapchat story — such as coupons or behind-the-scenes footage.
(You can find inspiration for what to post on Snapchat in my previous post.)
2. Share your Snapcode on social media
Do you remember QR Codes? Short for Quick Response Code, QR Codes took the marketing world by storm in 2009. Popular for their fast readability and ability to share information, they were used, and over-used, in marketing to allow users to open URLs or access bonus content.
Although QR Codes aren't as popular as they once were, Snapchat has taken the QR code and made it cool again.
Known as Snapcodes, the yellow ghost images can be used to easily add users on Snapchat. You can find your unique Snapcode by signing into your Snapchat account and clicking on the ghost icon at the top center of the screen.
Tap on the code and choose the download button in the top right corner. This will allow you to share your Snapcode via Message, Mail, Notes, Twitter, Facebook, or other social networks you may have connected to your device. You can also save the image to your photos.
Try customizing your Snapcode to include a series of photos. This is a great way to make sure your unique code fits your brand's image. Once a user sees your Snapcode, they can easily add you as a friend by opening Snapchat on their phone and pointing their camera at the code.
When the user taps on the screen, the app will read the code and automatically add the profile connected to that Snapcode. The user can also save your Snapcode to their photos and add it using the "Add by Snapcode" option. The app will confirm that the user has been added to your friends list with a success message at the top of the screen.
By sharing this code on your social networks, you are bringing your account directly to new users and inspiring them to add you with little effort on their part.
Brown Distributing, a beverage distribution business serving craft beer and specialty imports in south Florida, shared their Snapcode on Twitter with this clever Tweet:
Hey friends! We are live on @Snapchat, so make sure to follow us @ BrownDistFL to see all the madness ? #craftbeer pic.twitter.com/qHmb36scZc

— Brown Distributing (@FreshBeer) January 15, 2016
Another way to share your Snapcode is on Instagram. Carlos Gil shares his in this fun image and includes what followers can expect in his caption (as well as relevant hashtags!):
Carlos has more great ideas, tips, and tricks for using Snapchat on his site, Snapchat.Tips
3. Repurpose your content
While your content will only live on Snapchat for a day, who says it ever has to disappear? Some people may see Snapchat's "24 hour" shelf life as a disadvantage, but it can be a great opportunity to repurpose your content and really get creative.
Saving your Snapchat story as individual photos/videos or one all-in-one video will allow you to share your content even if they are not yet following you on Snapchat. Especially when you're first getting started with Snapchat, this is a great way to provide teaser content and build a following. Even as you gain a following, it's a great way to get more out of your content.
Gary Vaynerchuk, CEO of VaynerMedia, shares his Snapchat videos on Twitter to give his followers a sneak peek of his #SnapchatSecrets.
#SnapchatSecrets time ??? pic.twitter.com/SeSLvs0aGv — Gary Vaynerchuk (@garyvee) January 12, 2016
4. Add your Snapchat username to your bio
One of the easiest tips for promoting your Snapchat account is to add your Snapchat username to your social media bios. Keeping your username consistent across each social channel is a great way to make sure your fans can find you easily. However, if you have different handles for your accounts, be sure to address that.
For example, Michael Stelzner, founder of Social Media Examiner, has different handles for Twitter and Snapchat: @Mike_Stelzner and mikestelzner, respectively.
He makes this clear by adding his Snapchat username to his bio:
Even if your social media usernames are the same, including your Snapchat username in your bio lets your followers know that you are on the channel.
5. Offer deals in exchange for followers
People will be most enticed to follow you on Snapchat if they know that they are going to get something out of it. Most of your fans/customers will follow you if you offer nothing more than great content. However, offering an exclusive deal will make sure those stragglers convert to followers.
NV Concepts, a Massachusetts-based entertainment company, provides their followers with the opportunity to win tickets if they follow their Snapchat account:
Who wants to win @tiesto and @Jauzofficial @WinterWhiteTour tickets? Follow us on @snapchat and find out how… pic.twitter.com/D7RSfEfYIq — NV Concepts (@NVConcepts) January 8, 2016
For your small business, consider offering a reward to your followers. If a customer presents their mobile device at checkout to show they are following your Snapchat account, offer a small free item — like a sticker or a pen — or even something bigger like a discount on their purchase. These rewards depend on your business, but no matter what industry you are in, your customers will enjoy being rewarded for their loyalty.
6. Use the Add Nearby feature
In July 2015, Snapchat released the Add Nearby feature. To use Add Nearby, two users must go to the Add Friends setting and choose Add Nearby. This feature uses your location to find and add Snapchatters who are also on the Add Nearby screen.
This feature is a great way to quickly and easily add users in-person, such as at your cash register or an event.
Once you have followers, make sure you keep them.
Use these creative tips to keep your followers excited or explore Snapchat's geofilter to keep them engaged!
Happy Snapping!
Check out how we are using Snapchat — follow us!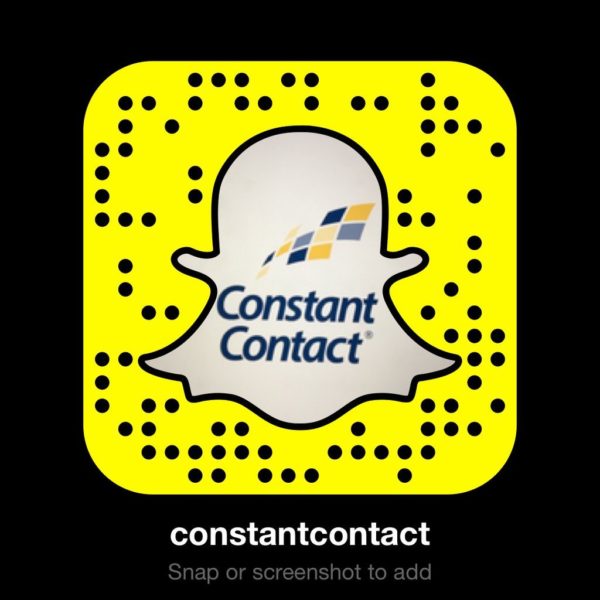 Share with your network