With so much going on during the holiday season, coming up with new and creative ways to stand out and get your audience's attention is no easy task.
People are busy. And while you'd like to think that your best customers will remember you when it comes time to do their holiday shopping, without the right plan, there's no guarantee they'll be coming through your door.
One of the best ways to stand out during the holiday season is to host a holiday event.
You can use events to bring people into your store, introduce customers to new products or services, or just create some buzz around your business during this busy time of year.
Holiday events also give you the chance to make a difference in your community and connect with your audience based on your shared values.
Here are some ideas to get you started:
A restaurant could host a blind taste test event — with a fraction of the ticket sales going to a food kitchen
A boutique could hold a Halloween-themed costume party. Have your attendees vote on the best look and offer the winner a $20 gift card to your store.
A spa could offer a night of free massages and accept donations for a local nonprofit.
A café could run a week of Hot Chocolate Happy Hours with discounted prices from 5-7 p.m.
You can choose a day leading up to the holiday season to host your event or take advantage of busy shopping days like Black Friday and Small Business Saturday to help bring people into your store.
With the right plan, an event could make this your most successful holiday season yet!
As you start planning, there are a few important details you'll need to keep in mind:
1. Decide on a goal
Do you want to get people into your store for a last round of revenue? Are you trying to grow your email list? Maybe you just want to show your customers you appreciate them, or embrace the spirit of generosity by raising funds for a good cause.
Whatever you decide on, make sure every decision you make is coming back to this goal. Write it down on a sticky note and keep it in mind as you sort out all the details and logistics.
2. Get the word out
You want to make it as easy as possible for people to figure out where and when the event is taking place. This is why it's so important to have a page for your event online.
Create an event landing page that includes event specifics, directions, fun images, and an exciting description that will make people look forward to your event.
Next, send out a great-looking email invitation to your contact list. You should also post on social media leading up to the event, and tell everyone who comes into your store.
You shouldn't overwhelm people, but make sure you're promoting the event a good amount, especially in the last week leading up to the big day. A lot of people don't make decisions until the last minute — getting their attention and ensuring a good turnout will be worth it!
3. Stay organized
If you're using Constant Contact, you can keep track of registration by connecting a registration page with your event landing page. This allows you to stay organized during the holiday rush, and will ensure your guests add the event to their calendar early. You can even send your registrants event reminders to make sure they don't forget.
The more you can understand about your audience, the better prepared you can be. By getting registration details you can avoid issues you may have overlooked like dietary restrictions, accessibility issues, or volume of people. Gathering email addresses of the people attending is also essential for staying in touch with people before and after the event.
Try to eliminate as many unknowns as possible — stay organized, keep track of who's coming, create a spreadsheet for who's responsible for what, and do as much ahead of time as possible. That way, you'll be able to enjoy the event without having to handle unforeseen challenges.
4. Capture the moment
You want to make sure your event lives on past the holidays. Take plenty of pictures (decide who's responsible for this beforehand!), and share the photos with your email list and social media following after the event is over.
If the members of your audience are social media savvy, create an event hashtag so they can share posts and connect them with your event easily.
Sharing photos with your email list or social media fans will also show everyone who didn't attend your event what they missed out on. It's safe to say the next time you hold an event, more people will jump at the opportunity to join so they don't miss out a second time.
Don't lose momentum after your event is over. The first thing you want to do is follow up with a thank you email to everyone who made the event a success. Be sure to include pictures from the event so everyone can look back on the fun.
In addition to saying thanks, you also want to give people a reason to come back to your store. You could follow up with a special offer or an email with ideas for last minute gifts — anything to remind your audience to come back for another visit.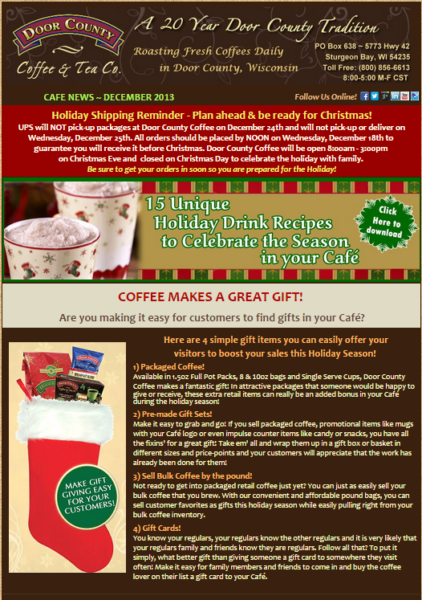 One of the most important things you can do is to send a survey out to everyone who attended. A lot goes into a successful event, so don't worry if there were a few bumps in the road. By asking for feedback, you'll make your audience feel like you value their opinion and you'll have great advice on how you improve the next time around.
Get started today
With these five ideas in in mind, you'll be in good shape for hosting a holiday event and creating buzz around your business during the holiday season.
Spend some time brainstorming an idea that you can get excited about. If you and your staff are excited about an idea, that enthusiasm will be contagious for your audience once you start promoting all the details.
Looking for more holiday marketing advice?
Check out these 28 Ideas for Your Holiday Email Marketing. 
Editor's Note: This post was originally published in October 2014 and has been updated for relevancy and accuracy.