Uh-oh.
It's time to find another idea for an upcoming business blog post. But you've got nothing in mind and coming up with a new one is stressing you out.
Well, relax.
There's an easy way to find ideas and create valuable business blog articles for your potential customers. So where do you start? The answers, or questions, are in the forums.
Why are forums helpful with business blog ideas?
Forums are essentially online watering holes around a particular niche. People usually turn to forums in order to discuss their favorite topics with the community. Inevitably, those discussions also include questions. These questions come from people who are struggling and need help with a particular issue. It's these forum questions that can become the starting point for your business blog ideas.
How do you find these forums?
Go to Google, and search for the following: "your niche+forum." This will pull up results for forums created around your niche. (Be sure to replace "your niche" with the actual topic.)
Here's an example: Imagine you manufactured poker chips and were stuck for ideas on what to write for your business blog. The first thing you'd want to do is find a forum that could help you. Like so: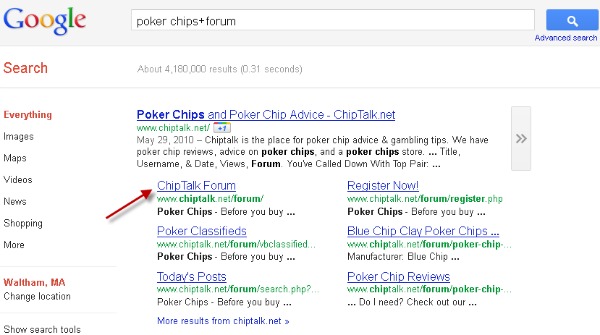 Since most forums are usually arranged by topic you can narrow down your search once inside. Click on the topic you're interested in writing about and see if there are any questions you can answer.
Hey look, some good questions you can answer!
Now that you have your new business blog ideas, you may be thinking you're done. But you don't want to leave the forum just yet. Why?
Because there's another benefit to these forums
If you've found an active forum around your niche, you'll want to consider becoming part of the community. Not so you can pitch your wares or services, but rather, so you can answer those questions directly in the forum. This allows you to build trust with its members. In the long run this can land you more business as people come to view you as an authority on the topic.
Then repurpose your answers for your business blog
Just be sure to give your answers a quick edit, add an intro, summary, and conclusion so they work nicely as a blog posts. By following this method you'll be creating business blog content your potential customers will find valuable without having to struggle for ideas!
Don't pull your hair out when looking for new business blog ideas
Find a forum and search for questions
Answer the questions directly in the forum to establish expertise
Create new articles from your answers to use on your business blog
How have you used forums to help you find business blog ideas? Share your thoughts in the comments below.