If you're looking for a promising way to make money while working from home, why not consider learning how to become a virtual assistant?
The job market has been shaken up since the pandemic started. Businesses need to cut back, while still outsourcing certain tasks to people who need to find a way to make ends meet. This is one of many reasons why the virtual assistant job outlook is one of the top 10 fastest-growing remote careers.
Find more clients for your bookkeeping, hiring, or virtual assistant services.
What is a virtual assistant?
A virtual assistant (VA) is essentially a remote administrative assistant. People doing this job have tasks related to running a business or managing someone's day-to-day life from the back end. The goal is to support the client so that they can focus on other aspects of their lives and work. Tasks VAs might perform include:
Keeping up with data or customer tracking
Making phone calls
Managing social media
Planning travel
Responding to emails
Scheduling appointments
While the job covers a wide range of task possibilities, it can also be more specific and based on a particular skill set. Many times, it will depend on the person you are working for and their individual needs.
A VA can work for themselves as an independent contractor, set up an official business, or work for a virtual assistant company that hires them out and handles all their pay. When working for themselves, VAs can have any number of clients they are comfortable managing at one time.
Why become a virtual assistant?
Learning how to become a virtual assistant and doing the job from home can be ideal for certain people. Stay-at-home moms, those that have left the workforce but who still want to work, or those who want to start their own business can be successful VAs.
If you're thinking about becoming a VA but aren't sure if you should, consider that being a VA is one of the best ways to use the skills you already have. You also get to set your own hours, work from practically anywhere, and feel empowered that you have your own business.
While many VAs start off at lower hourly rates, you have the potential — and complete control over — how far you grow yourself and how much you charge as a result. Some virtual assistants charge up to $50 per hour for their services.
What skills are needed to become a VA?
The best VAs have a wide range of skills, but in general, every VA should at least have the following qualities:
Comfortable using a computer
Easily reachable
Excellent written and verbal communication
Experienced with various forms of communication
Fast and accurate typing skills
Good time management skills
Reliable and organized
Your personality is a skill, too. Use it to your advantage and be sure to highlight your strengths. Anyone willing to take on the attitude of a continuous learner is going to be ahead of the curve. Getting certifications in areas that are in high demand will make you look even more professional, and they'll also help you earn more.
What makes a good virtual assistant?
As mentioned above, the skills you'll need are highly dependent on:
What area you choose to focus on
What you're already good at
What your client needs
That being said, there is no degree required to learn how to become a virtual assistant. Anyone can start a VA business, as there's not even a license or class to pass to be qualified.
Some VAs are skilled in copywriting, editing, graphic design, bookkeeping, transcription, ads, social media management, and more. While you can spread yourself too thin, it never hurts to at least have some special skills, even if you don't focus on them for every client.
How can you learn how to become a virtual assistant?
Becoming a VA is a process that is different for everyone. All you really need to get started is your skillset, a computer, and the internet. You can add clients whenever you're ready. Most VAs start out using services that help connect them with clients. It can be a ready-made work-from-home job if you need it to be.
There are also steps you can take to establish yourself more professionally, especially if you want to start your own VA business. You'll need to begin utilizing email and content marketing strategies that will move your business forward. In general, you need to:
Determine what services you'll offer
Determine your business name and structure
Set up your website
Set your prices
Choose your ideal clients
Begin marketing your business
Because the only resource you own and can count on for marketing is your website and email list, you should keep those high on the list of your priorities.
Most of the steps are self-explanatory, but others can be trickier. To determine your services, you'll need to decide what you're good at and what you like doing. Then, consider bulking up or refreshing your skills with a few courses. You can do that while you're deciding on a business name and setting up the financial and legal aspects of your business.
How important is a website for VA work?
Having your own website is crucial. This is your online business card and portfolio. It makes you stand out online and look like a professional. At this point, it's also a good idea to set up your social media.
To get ideas for a strong VA website that stands out, look at these examples. As part of your website, start a blog where you share your knowledge about all things VA — from social media tips potential clients can use, to the best filing systems available. Establishing yourself as an authority in your job market is a huge way to build trust and attract clients.
How do you set your prices?
When you set your prices, all the calculations are really up to you. But there are ways to structure it that make the most sense. You can charge by the hour or project, or use the monthly retainer option. Most people start with billing by the hour.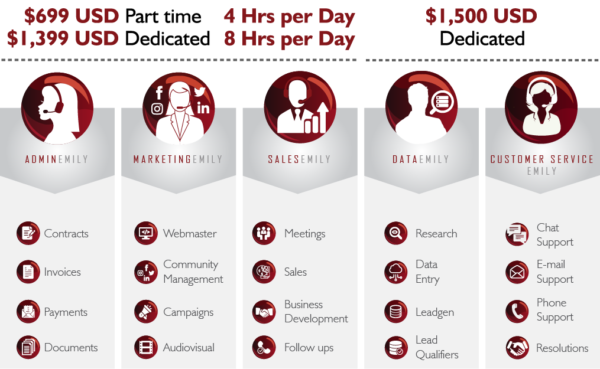 Setting your prices is really up to you, but there are ways to structure it that make the most sense. You can charge by the hour or project, or use the monthly retainer option. Most people start with billing by the hour. Remember, that because you are working for yourself, you have expenses to pay that employees don't. Keep that in mind when setting your rates. You can also charge different rates for different skills, such as $20 an hour for your base rate, but $25 an hour for a special skill set.
Where to find virtual assistant clients
When you're just starting out, it can be overwhelming to think of finding clients. But it isn't as hard as you might think. Sites like Fiverr and UpWork let you find clients, or try a site like FlexJobs to find companies that need VAs versus individuals. Other freelance jobs boards also provide a good source for clients.
One way that people often forget about, especially if you are starting your own business, is to utilize your LinkedIn profile and your current contacts. Let people know what you are doing now and that you'd love any referrals if they know someone who's looking. And always ask for feedback after finishing with a client so that you can continue to build your portfolio.
Constant Contact can help your VA business excel
When you want to attract new clients, ensure repeat business, or garner referrals, you need smart marketing. With Constant Contact, you can build an awesome website, share your expertise via social media, or send email marketing campaigns that keep clients informed. We give you all the tools and guidance you need all in one place so you can achieve the results you need. To learn more about our services, read our guide, The Download. Or, try us out today!

Share with your network