If you still haven't taken time to build a website for your business, I have one question for you: Why not?
Maybe you think you don't have the time, money, or skills to create a stunning website that represents your business.
Whatever is holding you back, it's time to put your hesitations to rest.
Before you start, take a few minutes to consider which platform you want to use (I recommend checking sites like Website Advisor for in-depth info and reviews) and whether or not you plan to use a self-hosting service.
Choose your partners wisely
There are dozens of platforms out there, each offering different themes, design elements, functionality, and stats to drive your marketing strategy.
But there's a reason I recommend WordPress as the best platform: WordPress users create roughly 73.9 million new posts every month that generate a whopping 49.0 million unique comments.
Impressive numbers like that can only come from a platform that is easy to use, includes all the back-end data you need to service your site visitors better, and allows you to publish engaging content that gets your followers coming back for more.
While finding a best-fit website builder is essential, choosing a web hosting service is just as important if you want to ensure that your site is available 24/7. Because there are dozens of vendors begging for your attention, be sure to read online reviews and make sure the vendor guarantees 99.99% up-time before making a commitment.
Once you have those two steps out of the way — and you've chosen your domain name — you're ready to start the countdown clock.
Step one: Install the platform software
Your first step is to install the platform software on your computer so that you can start building customer relationships with stellar content, audio, and video clips that encourage social shares.
And one-click WP installation is a breeze with Bluehost. Even if you don't have an account already, it will only take a few minutes to enter your business contact and billing information.
To get started, navigate to the "Hosting" menu and select "WordPress Hosting" from the drop-down. Then, either enter your current domain name or select the option to create a new one.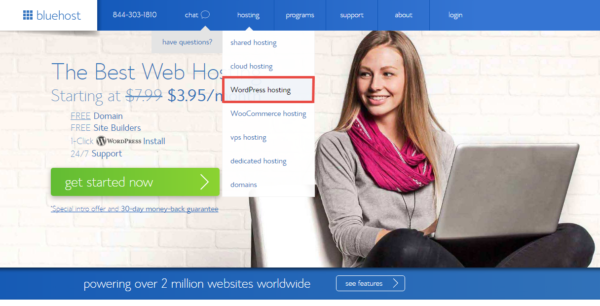 Fill in your business information and select a plan. That's it — now you can take advantage of the one-click method to finalize installation. Depending on the speed of your computer, this will take a few minutes.
Step two: Choose a theme that represents your brand
Next, choose a theme that resonates with your site visitors. You'll find themes that appeal to millennials, stay-at-home moms, and even no-nonsense professionals.
Since there are literally hundreds of free and paid options out there, don't spend more than five minutes choosing a theme. Keep in mind that changing the theme later will only take a few clicks should you decide that you prefer a different look.
Right now you just want to get your website built and running as efficiently as possible.
Step three: Customize your digital spaces with brand content
The final step is to add your brand logo and contact information. We also suggest that you build a separate About Page and Contact Page during this step. If you're using WordPress, it will only take you a couple of minutes to upload your logo following the steps in this video tutorial:

Congratulations! You just learned how to build a website in minutes.

Easy, right? You'll notice that you don't need any high-tech skills — or a ton of money and time — to get your business site built and ready to launch. And you can change the theme, design elements, and page layout as often as you want as you get more comfortable with the customization process.

Keep in mind these three steps are just the foundation of your site.

Before you go live, take some time to create engaging content — informative blog posts, share-worthy images, or video clips — about your products and services. High-quality content will be key in taking your next step to online success: driving traffic to your website.

You'll also want to set up an email sign-up form to capture contact information from your visitors. That way you'll be able to stay in touch with them and bring them back to your site again and again.

A free plugin like Constant Contact forms for WordPress helps you create a professional, mobile-responsive sign-up form to match the theme and style of your site.

Share with your network