If you think it might be time to get started with email marketing, jump in.
Email marketing has changed a lot since Constant Contact introduced the first email marketing tool for small businesses in 1998.
But what hasn't changed is email marketing's effectiveness.
Due to its low-entry cost and high return on investment (ROI), email marketing is still the best marketing investment any business can make.
From my conversations with small businesses, I've learned that figuring out how to get started with email marketing is often the hardest part. The good news is that I've put together a ton of strategies, tips, and tools to help you begin your email marketing campaign for your business.
Create an email marketing strategy
As you ask how to do email marketing, you're probably wondering what the first logical step is. Like everything, you do not want to dive into something new without a plan, so the first step is creating an effective and sustainable email marketing strategy. To create an email marketing plan, you must determine the following:
Audience: Who are you communicating with?
Message: What do you want to communicate?
Goals: Why are you sending email marketing messages?
Targeted communication
You want your business' email marketing messages to be relevant to your target audience. To provide high-quality content, segment your contact list based on information provided in subscriptions, like birthdays, home addresses, and interests, and through audience data like purchase history and event attendance.
Relationship building
Your business' email communication should help you build and strengthen relationships with your audience over time. The experience of reading and engaging with your business' email content should reinforce your organization/business' brand image/ideals. Trust is critical to maintaining a healthy and mutually beneficial relationship with your audience. They have given you their consent to receive information from your business; you need to provide them with content that they find valuable, or else they will unsubscribe.
Increased conversion rates
You want to increase purchases, event attendance, and donations to sustain your business. Designing high-quality emails that provide relevant information, are appropriately segmented to the audience(s) that will be most receptive, and are optimized with calls to action that drive readers to visit your website will help you increase conversions over time.
Cost-effective marketing
It's a common challenge for every business owner to figure out how much they can afford to spend on marketing. You have free methods like word-of-mouth and social media and high price point methods like television and print. But what about putting money toward marketing without breaking the bank? According to Litmus, email marketing has an ROI of $36 for every dollar spent.
Measurable results and optimization
Email marketing is not only a cost-effective way to reach your target audience but also allows you to access and analyze the results of your marketing efforts effortlessly. Track open and click-through rates, compare to the industry average, manage and segment your lists, and gauge audience engagement through heat map data.
Choose an email marketing service provider
One of the best way to get started with email marketing is by working with an email marketing service provider like Constant Contact. Working with a provider is the only way your business can leverage email marketing automation to effectively deliver messages to large groups of contacts or subscribers.
You'll also benefit from professional email templates, tools to help you grow and clean your email list and tracking features that show you who is opening and engaging with your campaigns and messages.
Build and grow your email list
Most businesses will have some existing contacts to start an email list. Think of the customers and people you already have a relationship with. Maybe it's the business contacts you email on a regular basis; maybe you just start with a few supportive friends and family members.
Gather contacts for your email marketing list
You can't get started with email marketing until you have a dedicated email account and a list of consenting contacts.
Even if you're building an email list completely from scratch, you can gather contacts by:
You can also start by uploading a contact list into your email service provider from an existing spreadsheet or importing contacts right from a Gmail or Outlook account.
Why you should not buy an email list
The contacts on a purchased list have not consented to be contacted by your business. Attempting to contact email addresses from a purchased list can result in unsubscribes and reports of spam. You want to make sure you are emailing contacts who want to hear from your business. The most certain way to know this is by asking potential subscribers to opt-in to your email list.
Grow your list
Once you have a healthy email list, it is time to begin thinking of ways to grow your list to continue progressing your business. Consider adding a share button to your emails so readers can share your content with friends and family. Run lead-generation ads on social media. Check out this blog for more ways to grow your email list. We have also put together a guide on 5 ways to generate leads for your business.
Learn more: Use these tips to grow your email list!
Segment your email list
Organize your contacts into separate lists based on what you know about them. For example, if you own a gym, create separate email lists for people who have taken swimming lessons versus those who have attended yoga classes.
We call this "segmenting" your email list, and it helps you to send out targeted emails based on your recipient's interest — sending the right message to the right audience. By segmenting your email list, your business will stand to:
Increase relevance and personalization
People's email accounts are personal — when subscribers give a business their information, they do it with the knowledge that they will be receiving marketing information and the hope that the messages they receive will benefit them.
By segmenting your business' email list with information and data provided by your subscribers, like interests, special dates, location, purchase history, and event attendance, you can better tailor the experience for your audience. For example, audience members who have previously attended a workshop or class hosted by your business will likely engage with email marketing content promoting similar events.
Improve engagement
Improved relevance and personalization lead to better engagement. People are more likely to complete desired actions like event RSVPs, purchases of products and services, and organization donations when they receive content that is relevant to their interests.
Reduce unsubscribes and spam rates
List segmentation helps to reduce unsubscribes and spam rates as the content subscribers receive matches their interests and other important identifying factors. Customers who receive irrelevant email content lose trust and interest in a company, causing them to unsubscribe and seek alternatives.
Increase customer retention
Subscribers will remain loyal to your business when they feel the connection benefits them. Think about customer retention via email marketing as you think about customer retention in a brick-and-mortar business. If I have a bad meal at a restaurant, the likelihood of my return to dine again is low. The same thing happens with email content — bad email content leads to unsubscribes.
Promote data-driven decision making
List segmentation helps your business promote data-driven decision-making. By creating and comparing segmented lists, your business can better understand where your revenue comes from and what content best engages your audience. If you see that product-focused emails receive more engagement than your company updates, you might channel more of your marketing efforts toward crafting similar content.
Set up your welcome email
Your welcome email is the first message your new email subscribers receive from you.
Welcome emails are especially important because they serve as your first impression and reach people at a time when they're highly engaged with your business. You can expect a higher-than-average open rate for your welcome email, so make sure you're delivering value right away.
Start with a warm greeting, provide an overview of what they can expect to receive from you in the future, and offer them something useful right away.
Once set up, your welcome email will send to all new contacts automatically.
Learn more: How to Write a Winning Welcome Email
Create a reusable email template
This is the fun part! Even if you're not a designer, you can send beautifully-designed emails using professional templates that look good on any device.
Constant Contact has hundreds of email templates for you to choose from — including timely templates to stand out in the inbox.
When choosing a template, look for a layout that is clean, eye-catching, and will get your message across fast. People scroll through the inbox quickly — often while on the go — so choose a mobile-responsive email template that looks good on any device.
Next, customize your template with your brand by putting your business's logo right at the top of your email and linking the image back to your website's homepage. Add in your business's signature colors and create an email footer with your business name, contact information, and links to your active social media channels.
Once you have these essential design elements all setup, make a copy of your email and save a version as your master template. With this reusable template, you don't have to start from scratch and add in your branding every time.
Practice writing persuasive messages
This tends to be one of the scariest steps for business owners. I get it — writer's block happens to the best of us, and figuring out how to create email content that gets results takes time and practice.
What usually snaps me out of writers' block is pretending I'm having a face-to-face conversation with someone and writing down exactly what I'd like to say to them.
It also helps to follow a repeatable process and break your message down into three important sections:
What are you offering? — Headline

How will it help the reader? — Message body

What should they do next? — Call to action
This simple formula will help you to stay focused so you can quickly write effective marketing emails.
Spend time on subject lines
Your email subject line is one of the most important lines of text in your whole email.
Why? Your subscribers see your subject line even before they open your message. Make a good impression, and people won't be able to resist opening. Write something bland, and they might skip over your message without a second thought.
Your subject line should be short and snappy — around 40 characters.
You can draw attention by asking a compelling question, including a deadline for urgency, or just teasing your message.
Learn more: 12 Tips for Creating the Best Email Subject Lines (with Examples)
Preview and test before you send
Especially when you're first getting started with email marketing, it's easy to slip up every once in a while.
Maybe you forget to add an important link or made an embarrassing spelling mistake right in the subject line. Doh! Unfortunately, there's no Back button with email, so always remember to send yourself or a staff member a Test Email before sending it to your entire list.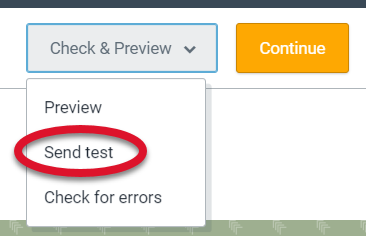 Send your email (at the best time)
When you're ready to send out an email, timing is an important factor to consider.
Every audience is different, and the best time to send an email will differ based on who's on your email list. However, some useful criteria to consider when scheduling your emails are:
Previous sends: Check open rates to determine when your audience is mostly likely to open.
Industry trends: Check email marketing metrics for your business' industry.
Audience demographics: Consider the routines, interests, lifestyle, location, and industry of your target audience.
Overarching email campaign: Think about sending frequency to avoid overwhelming your audience.
Standards and expectations: There are certain emails subscribers expect to reach their inbox at a certain time, e.g., confirmation emails, abandoned cart emails, and welcome emails should be timely in order to remain effective.
You can also create a consistent sending schedule and stick to it. For example, if you send out a newsletter on the first of every month, your audience will come to expect it in their inboxes.
If you do decide to follow a set schedule, tell people at the point of signup by saying something like:
"Would you like to sign up for our Hints & Tips newsletter? We'll send you a roundup of our top blog posts, upcoming webinars, and best marketing advice on the second and fourth Wednesdays of every month."
Your subscribers will know when they'll hear from you next, and you can schedule your message to send based on your established schedule.
Setting up automation
Automating your marketing emails will save you time and can improve customer experience and retention over time. Creating automated emails and email series will allow your business to provide a personalized experience for your audience. Set emails to trigger based on audience behaviors like new subscriptions, ecommerce website behaviors, and identifying information.
Examples of emails to automate:
Purchase confirmation emails: trigger email notifications to send when a customer completes a purchase of a product or service.
Welcome emails: Craft a series of automated emails to introduce your business to a prospective customer.
Abandoned cart emails: Create a trigger for customers who have exited your ecommerce store before completing a purchase.
Birthday and special occasion emails: Schedule emails to send to customers on their birthday, anniversary, or other special occasion.
Event registration emails: Send automated emails to promote an event and confirm event registration.
Track your results
Don't be deceived — email marketing doesn't end with a send. You will want to track your open rate, click-through rate, unsubscribe rates, etc. and work to improve over time.
Spending a few minutes reviewing your email reports will tell you valuable information like who opened your email, who clicked on specific links, and what information was the most interesting to your readers.
While it's important to know how engaging your campaign messages are, make sure you're tracking actions that happen beyond your emails. How many clicks to your donation page are translating into real donations? What is the total amount of funds raised from a single email?
These are the types of questions that will show you the real impact of your marketing efforts.
Feeling more confident in your ability to get started with email marketing?
Now that you know all the ins and outs of how to do email marketing, it's time to craft a strategy, build your email list, and get sending. Start a free trial with Constant Contact to help your business create great emails. Work with templates, craft automation sequences, schedule sends, and view reporting metrics to help you make informed, data-driven decisions for your business.

Share with your network