‌‌As your business grows, you're probably using digital marketing tools like email and social media to drive traffic to your website. You might even have an app that your customers can download to shop your site with the touch of a screen.
Push notifications can improve client interaction with your website or your app. Sending one push notification can improve your retention rates by over 70% in two months. Learn how to do push notifications effectively to improve client retention and keep people on your website. ‌‌
Ready to do more business with email marketing?
What are push notifications?
A push notification is a message pushed out from your website or mobile app to your subscribers. ‌‌And, they can appear on a user's smartphone as a mobile alert or as an SMS message.
If you use a smartphone, you're probably interacting with push notifications every day. They are the bubbles that show up on your lock screen notifying you of app updates, social media interactions, news stories, and more.
When used effectively, push notifications send people back to your website and encourage them to interact with your business.
The benefits of using push notifications
Learning how to do push notifications can improve your chances of mobile marketing success. Your customers can subscribe to your notifications using their computer, their smartphone, or their tablet. Around 60% of push notification subscriptions come from mobile devices.
You can use push notification marketing to promote sales, send out coupons, and even remind people when they have abandoned their carts. You can also use them to improve onsite engagement. You can configure your push notifications to drive people to a certain section of your website.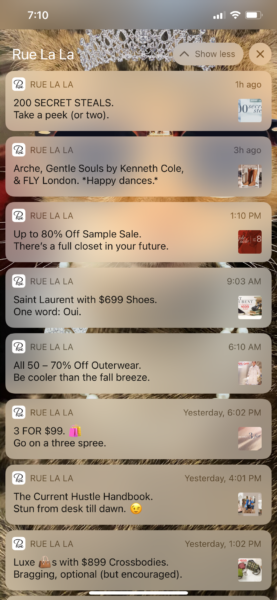 ‌‌Push notifications also help increase conversion rates. Since push notifications are personalized, they are more likely to convert browsers into buyers. Along with potentially boosting sales, you can use these notifications to send paperless receipts, direct people to your social media content, and improve the customer experience.
‌Make learning how to do push notifications work for you
‌Now that you've considered how to do push notifications because they enhance your other digital marketing strategies, let's talk about how they work.
There are different components of push notifications:
‌Operating system push notification service
‌App or website publisher
‌Your app or website
All three of these components work together to deliver your notifications. The operating system push notification service varies based on which device your clients are using to see your messages. If they have an iPhone, their notification service will operate on iOS. If they have a Galaxy, their notifications will be operated by Android. Every mobile and computer operating system has its own notification service.
‌When you add push notifications to your app or website, you will work with each of these services to distribute them to your subscribers. You can try adding them yourself, but it's easier to use software that helps you create and send push notifications without a lot of programming. Use a tool like One Signal or a similar service to compose and send your notifications.
How to do push notifications effectively
You can use push notifications for a variety of reasons. Your goal for a particular message will determine how you should write it and when you should send it. Common reasons for sending push notifications include:
‌Alerts
‌Reminders
‌Geolocation services
‌Catching up
‌Sale and promotion notifications
‌Feedback
Alerts
This kind of push notification is one of the most common on your phone. Alerts are used to notify subscribers of anything that impacts them, like when someone has sent them a message through social media. Alerts are also often used by newspapers and other apps to send out breaking stories.
‌‌For service-oriented businesses, alert notifications can be used to confirm appointments or notify clients that a technician is on the way.
Reminders
Use reminder notifications whenever you want to push people back to your app.
If you're a personal trainer, you can automate a reminder if someone hasn't scheduled a session in a while. It could say something like, "You missed your weekly training session. Call now to reschedule."
Or, send a reminder to your clients a day before their upcoming appointment so they don't forget — "Your appointment is set for 10 a.m. tomorrow. See you then!"
Geolocation services
You can set up push notifications that are sent to clients whenever they are near your business. Large companies like Sephora and AMC Theaters — and even some grocery store chains — will send an alert to a customer when they're in the area nudging them into that location.
Catching up
Use push notifications to re-engage with clients you haven't seen in a while. If a customer hasn't opened your app in a few months and then logs in and makes a purchase, send a notification thanking them for their purchase and welcoming them back.
Sale and promotion notifications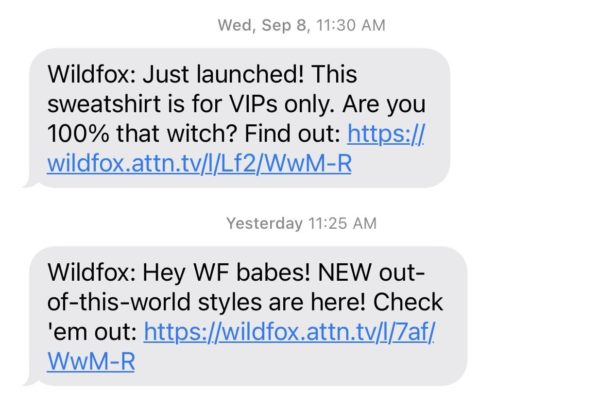 Sending messages about sales and other promotions is one of the more common ways businesses in many industries use push notifications. If you're about to launch a holiday promotion, send out a push notification to get customers excited about deals. Include a link that directs them to the promotion.
If you're using SMS notifications, include a promo code in your message. That way, your customers can copy it and enter it into your website or app.
Feedback
Customer ratings and reviews are an essential part of your digital marketing strategy, but it can be tough to get people to write them. Send a push notification after each online customer engagement encouraging them to rate and review.
Include a link to an online survey or send them to a pop-up screen in which they can give you a star rating and a few words of feedback. These short, in-app surveys are easy for your customers to fill out, and they don't take too much time.
When you send out feedback notifications, use the information to improve your products, services, and client relationships.
However you decide to use push notifications, know that your goal with each message should be to drive sales, increase customer retention, or engage clients in a meaningful way. Make sure you only send messages to users who opt-in and give them an easy way to opt-out.
‌‌Where to start after learning how to do push notifications‌
This digital marketing tool can provide valuable customer interaction, letting you improve your client relationships and enhance your brand loyalty. But, just knowing how to do push notifications isn't enough to jump right in.
To get started, look through your website and evaluate your own customer service practices to see how you can use them effectively. Then, identify all the ways you can send these messages to your customers. Next, pick a push notification provider and have them walk you through how to use the software to manage your messages.