Roofing businesses continue to have a positive outlook, with the industry's compound annual growth rate currently at 4.9%. Increasingly, individuals and businesses are seeking out various roofing services. But the question remains: How do you secure customers in a progressively competitive environment? How can you get people to go from liking your company's social media posts to becoming loyal customers of your roofing business?
The answer? Lead generation — specifically, online lead generation. This process involves using internet-based tactics to attract leads, or people who have shown interest in your services. Using this strategy is a surefire way to turn those leads into buying customers since so many consumers research local businesses online. Even better, many online lead-generation tactics can be automated with the help of marketing automation, taking away much of the work.
When it seems like lead generation gets more difficult every day, it's important to understand the entire process of how to get roofing leads to reap the most benefits. This guide will break down everything you need to know about online lead generation so you can start getting all the leads your business can handle.
Ready to find more leads and get expert home services and construction marketing advice, all in one place?
Lead generation for roofers: How it works (and why it matters)
While internet-based lead generation differs from old-school lead generation in that it takes place behind a screen, the same principles are still in place. You want individuals to discover your service, express interest, and turn into customers.
The process of how to get roofing leads with lead generation looks like this:
Attract. The first step is to make potential customers aware of your roofing business and attract them to your website. There are many ways to do this, including using social media posts, paid ads on search engines, or website content that uses targeted keywords related to your business.
Convert. Once you've attracted visitors to your site, your next goal is to convert them into leads by collecting their information through a call to action, or CTA. You can do this via a sign-up form, as in the Nike example below.
Sell. After a visitor has given you their information, it's time to nurture the lead or maintain a relationship with them throughout the buying journey. This step is where automation comes in. For example, you can send automated emails that introduce leads to your services and persuade them to make a purchase.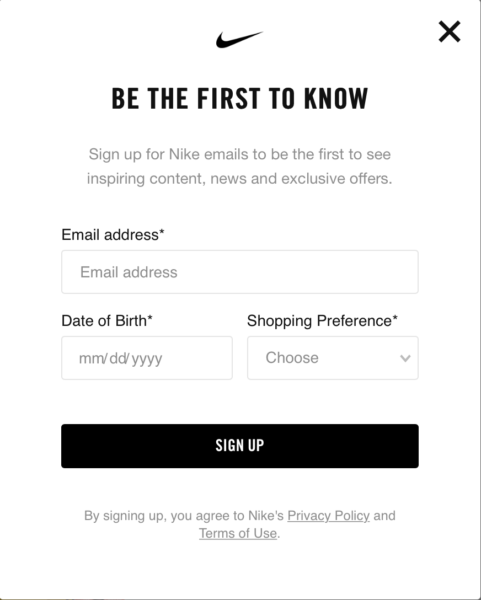 Thanks to the internet, people have ways to do their own research on a company, including reading online reviews or checking out social media pages. Implementing an effective lead-generation strategy during the contact process can build your brand's credibility and authority, turning interested individuals into loyal customers. It remains the best answer to the question of how to get roofing leads.
How to generate automated leads online
Luckily, there are various ways you can begin to generate automated leads using online strategies. You can focus on one strategy or use a blend of two or more.
Local SEO optimization
Search engine optimization, or SEO, focuses on getting your website to rank highly on search engines such as Google. After all, 53% of all web traffic comes from organic traffic rather than paid traffic. The best way to get a high ranking is to perform research on local SEO keywords for your business. If your business is listed on Google My Business, you can use Google's Keyword Planner to find which keywords are trending for local roofing businesses. You can then use these keywords on your website to attract internet users who are searching for these terms.
Content marketing
To attract leads that keep coming back for more, you can try out content marketing. This marketing strategy involves creating content — such as blog posts, articles, or YouTube videos — that provides useful information and value for audiences. Content marketing is a great opportunity to use those SEO keywords, too.
Content for your roofing business could include writing and then answering frequently asked questions or providing roofing guides. For example, you could create a guide on proper roof cleaning techniques or maintenance.
Social media marketing
Marketing on social media sites such as Facebook is a must in online lead generation. It's also one of the most easily automated strategies. As for how to get roofing leads on Facebook, your best bet is to use Facebook Ads. Creating a custom ad is quick and easy, and you can choose the audience who will see your ad.
Each Facebook ad comes with a simple CTA to encourage next steps for viewers to take. You can choose to have the ad process automated, where Facebook will help you determine your audience, budget, and ad duration, in addition to providing you with insightful campaign metrics.
Pay-per-click advertising
Another great option is pay-per-click (PPC) advertising, where you only pay for advertisements that internet users click on. Google Ads remains the most-used PPC platform for businesses, including roofing companies. When you make a PPC ad on Google Ads, your roofing company will appear as one of the first results on the search engine platform, practically guaranteeing views.
Just as with Facebook ads, Google Ads also allows you to automate ad tasks with your campaign, so you can focus on nurturing leads instead of spending too much time trying to gain new ones.
More tips on how to get roofing leads
To take your automated lead generation strategies even further, use these additional tips to ensure you are making progress with every nurtured lead:
Use personalized email marketing. Aim to personalize every email you send to a lead who has provided you with their email address. Use a lead's first name in every message, and if you offer any discount codes, make sure every code is unique to that lead. After all, email marketing remains extremely effective in communicating with leads.
Ask for customer feedback. With customer feedback, you receive valuable insight on what's working or not working with your lead strategies. You also have the chance to gather customer testimonials, which you can feature on your site or social media pages to gain more leads.
Do A/B testing. Also known as split testing, A/B testing is where you try out two different versions of the same strategy to see which is more effective. You can A/B test your website, Google or Facebook ads, and social media posts.
Incorporating these tips with key lead-generation methods will make for an effective strategy on how to get roofing leads.
Start generating leads for your roofing business
Online lead generation is the way of both the present and the future. Gone are the days of knocking on a prospective customer's door. The answer to how to get roofing leads is digital, and the strategies in this guide are a great way to start. Even better, using automated online lead services can help speed up your lead generation process so that you start getting the roofing clients you deserve. And if you have a mortgage business, you can also run lead generation campaigns that are specific to your audience.
Get started by focusing on your social media pages. Check out Facebook ads to see what your options are and if you'd like more information on Facebook Ads, check out this guide to Facebook Ads for contractors and get your roofing leads on autopilot.

Share with your network