Since COVID-19 turned the world upside down, education providers all over the world have shifted to online learning. This transition means a lot of changes, including different ways of marketing your courses. But how do you figure it all out when you're already so busy keeping your organization afloat?
Here's the good news: People love online courses. Even before COVID-19 hit, experts were predicting that the online education market would be worth $350 billion by 2025.
Marketing your courses just means reaching those people who are already looking to learn something new. Fortunately, the best tools are cost-effective and probably already at your disposal. Read on to learn how to market online courses using social media, email, and your website.
Have a high-quality website
Your website is your education community's hub, especially for online courses. Potential students will visit your site to learn more about your courses, look into payment options, and — fingers crossed — sign up.
Your website needs to be easy and fun to navigate, providing potential students with all of the information they might want about your organization and the courses it offers. You should have, at a minimum:
A Homepage, covering the basics of what kinds of courses you offer, what makes you unique, and how to register or request more information
Faculty and/or Staff page(s) to introduce your teachers and leadership
An About page that covers why students should choose your organization
An Admissions or Registration page for sign-ups
A Courses page with details about each program
If possible, create sub-pages with more detailS about individual courses.
Optimize for mobile
Four out of every five adults in the U.S. have smartphones, including 96% of those under age 30 and 92% of those age 30 to 49. Up to 70% of web traffic comes from mobile devices. If your site isn't easy to read and browse on a mobile device, you're losing potential students.
Don't know if your website is optimized for mobile? First, test it out yourself and see if it's easy to browse on a smartphone. If it isn't, touch base with your web design team or check whether your site builder offers responsive templates.
Harness the power of email
Email marketing is a hugely effective way for online course providers to stay on people's radar. If you already keep a database of current and past students, you're off to a great start! The next step is to make sure that these contacts get regular updates.
Just choose your template and create the email. It's a good idea to create an automated sign-up reminder, a course start info email, and information about upcoming events or registration deadlines.
Build your contact list
You also want to send regular emails to prospective students who might be interested in your courses. That means constantly gathering email addresses from people who are interested in your courses but not ready to sign up yet.
There are many easy ways for you to do this, including:
Make sure everyone who signs up gets an automated "welcome" email after joining your list. After that, they're part of your audience, and you can send them information about upcoming courses.
Match your email to their interests
Not every member of your list will be interested in the same information. It can be helpful to divide your contact list into interest groups, which email marketing experts call "segments."
For example, you might have one segment made up of current students and one of alumni. You might also have segments for different student interests, a smart idea if your organization offers courses in multiple subject areas.
The more segments you have, the more you can personalize your marketing. Have an advanced-level cooking class coming up? Market it to alumni who took your Cooking 101 class and to people who browsed your cooking class pages.
Embrace social media
One of the best aspects of online education is its ability to connect people via a common interest, regardless of geographic boundaries. That's why social media is such a perfect fit for marketing online courses.
People already use social media as a way to connect with each other, now more than ever. From July 2019 to July 2020, there was a 10% increase in the number of social media users worldwide, bringing the total to more than half of the world's population. In the U.S. alone, 72% of people use some form of social media.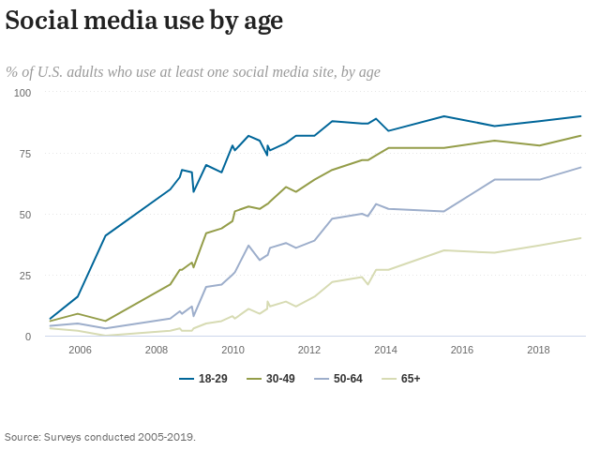 By marketing courses on social media, you can expand your reach and deepen your connections with your existing network.
Pick a platform
Don't feel like you have to be everywhere at once. That's a surefire way to get overwhelmed, and you have enough on your plate. Instead, focus your social media marketing on one platform at first. You can always add a second one after you're comfortable managing the first.
Facebook and Instagram are both lucrative starter platforms. Consider the aesthetic of your organization as well as what you teach — an art school might fit better on Instagram, which is highly visual, but a business school might want to stick with LinkedIn.
Blend paid and organic
Social media marketing comes in two forms. One is organic posting, which just means posts on your profile that you don't pay to promote. When you simply post an update on your Facebook or Instagram, that's organic posting.
Organic posting is how you do word-of-mouth online. Your organic posts will mostly reach people who already follow you — your current students, instructors, alumni, and so on. If you post things that those audiences want to share with friends and family, you'll broaden your network.
Paid social media ads are best for reaching new audiences. On Facebook, for example, you can create an ad to promote a particular course or group of courses, then choose who you would like to see it. For example, if you're offering a course on landscape painting, you could advertise it to people who are interested in art and nature.
Getting started
Where will inspiration strike for you? Maybe your first step will be revamping your website or launching a Facebook campaign to promote a course that starts soon. Just as you do when developing courses, keep your focus on your (potential) students when deciding how best to reach them and you'll know which way to go. After all, you know your students best!

Share with your network