Helping others on a large scale isn't easy. You need more than a dream and a commitment. You need to know how launching a nonprofit can create the kind of change you want to see. From initial research to your first day, to your daily operations, there are challenges to face and boxes to check as you learn how to start a nonprofit organization.
Like any startup, there will be days when the work comes easily. You'll find the right people to help, sail over hurdles, and get even more excited about the project. There will also be days where you'll struggle. That's why you should try to remind yourself now — at the beginning — why you feel compelled to start a nonprofit. Find a picture or a memory or a statistic — something specific and concrete — that you can keep on your desktop and look at when times get tough.
With your motivation firmly in place, it's time to get started and make a difference.
Keep your organization growing with expert advice and all the tools you need, all in one place.
Types of nonprofit organizations
You can't learn how to start a nonprofit organization without first establishing some basic terminology. What is a nonprofit? And what are the main categories of nonprofits?
Nonprofit, not-for-profit, and for-profit organizations
Businesses traditionally fall into one of three categories. These legal entities determine the types of licenses, taxes, and business models that an organization requires.
Nonprofit organizations
Nonprofits provide a public service. Because their mission is charitable rather than financial, they qualify for tax-exempt status.
When running a nonprofit, you need to funnel all gains back into the organization. Donors can see how you use their contributions and can claim them on their own tax returns as deductions. As for employees, a nonprofit can have them, but their wages cannot come directly from fundraising.
The word "nonprofit" can be a bit misleading. Nonprofits operate with the intention of making a profit for their organization. In this way, their operations are more similar to for-profit companies than not-for-profit organizations.
501(c) organizations
The other designation that matters for nonprofit organizations is their status as a 501(c) organization. A 501(c) organization is a tax-exempt nonprofit that has been officially recognized by the IRS.
There are more than 20 types of 501(c) organizations, and you should investigate to see which heading yours will fall under. Most, however, fall under 501(c)(3) — the designation for a charitable organization.
As you move forward with your plans, stakeholders and consultants may use 501(c)-related vocabulary. Prepare yourself for those conversations ahead of time.
Not-for-profit organizations
Unlike nonprofits, not-for-profits do not directly serve the public good. They serve the goals of a specific organization and do not have a legal identity separate from that organization. Many clubs, for example, are not-for-profit organizations.
While a not-for-profit can apply for tax-exempt status, donors cannot claim their contributions as deductions. Staff members must also be volunteers rather than employees.
Unlike the other two categories, not-for-profits don't run like a business. As recreational organizations, they don't aim to earn revenue, only to fund their operations.
For-profit organizations
For-profits are businesses that aim to make money for the business owner and any investors or shareholders. They pay taxes and employ people with the money they make by selling their goods or services.
While it might seem a strange inclusion in an article on how to start a nonprofit organization, for-profits can also make a difference. "For-profit" organizations who are determined to be a force for good in their community can apply for a relatively new classification: certified B corporation. Founded in 2006, B Lab is a nonprofit that certifies for-profit organizations in more than 70 countries.
As a private certification and not a legal one, to be awarded status as a B corporation, companies need to meet rigorous standards when it comes to transparency and accountability and to demonstrate their commitment to the environment and social justice.
How to start a nonprofit organization
You're confident that your dream venture is a nonprofit, and you know the right 501(c) heading. Now, you're ready to move forward with these 10 steps to starting a nonprofit organization.
1. Research it
Successful organizations demand leaders who balance big ideas with practical and well-informed goals. The first step of any business venture — including one in the nonprofit sector — is research.
Aspiring charities should investigate basic supply and demand in the community. Research:
The demand for the type of services you intend to provide
The other organizations that provide the same or related services
There's something counterintuitive about researching nonprofit competition. To succeed, you need to make sure that your business fits into the community in a way that makes sense.
If you find organizations that perform similar work, ask yourself how you can best supplement and work with those organizations. By collaborating, you can make a greater impact on the problem that drives you.
The needs assessment
Structure your preliminary research with a needs assessment. There are various ways of framing a needs assessment and various templates available to help you organize the information. Find one that makes sense for your specific mission.
According to the experts at Social Solutions, who know how to start a nonprofit organization, a needs assessment should have two main sections. The first asks the big questions:
Who needs this service? How many need this service?
What is the demographic profile of this group?
What are their needs and desires?
Who else provides this service?
The second should focus on the proposed organization rather than the community. Why you? Why this initiative?
A SWOT (strengths, weaknesses, opportunities, and threats) analysis engages the specific advantages and disadvantages that you — and your nonprofit — would have in addressing the gap you've identified in your community.
What strengths do you have? Is there something that sets your initiative apart or something that distinguishes your ability to perform that initiative? Consider weaknesses, too. Are there skills you lack or deficiencies to address as you move forward?
The other half of the SWOT analysis concerns the place your nonprofit will occupy. Can you identify opportunities for collaboration? Has something recently called attention to a problem faced by your community? On the other hand, are there things that could undermine your initiative?
2. Plan it
All right, I hear you. You want to learn how to start a nonprofit organization, not just all the things to research before you get going.
So let's start planning.
Mission statement
Your mission statement will guide everything that follows. It tells other people what your nonprofit does and reminds you and your team of the bigger picture. It should also inform your business plan and all the decisions that follow it.
The site Top Nonprofits maintains that a strong mission statement should be:
Clear and concrete. The average 13-year-old should be able to read and understand it.
Concise. Ideally, five to 14 words and no more than 20.
Informative. Establish your purpose.
For example, the mission of Doctors Without Borders is "to provide lifesaving medical care to those most in need."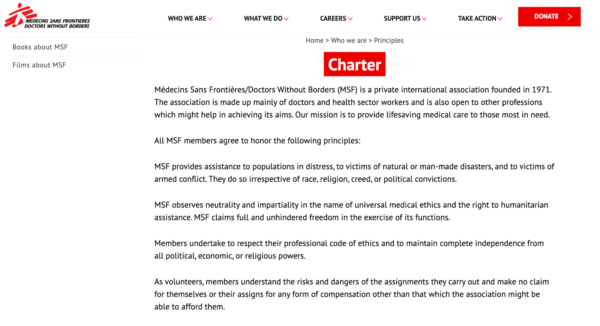 Business plan
Your business plan both outlines your mission and details how you intend to fulfill your objective. It should include the following sections:
Executive summary. Many people suggest writing this first part of your business plan last, when you're best able to distill your vision. The executive summary is a single-page outline of your mission, a market and needs analysis, and your plan to meet those needs.
Services and impact. What do you intend to do with your nonprofit? What programs do you plan to offer? How do you intend to serve your community? Why? What impact do you expect these services to have on the community? This section should answer all of these questions.
Marketing. How will you promote your organization? The marketing section for nonprofit business plans should explain how you plan to get the word out to both your target demographic and to other members of the community invested in your success.
Operations. This section explains how you'll run the organization daily, so it should answer the following questions: How will you structure your business? What are its key positions, and how will you fill them? Will these individuals be paid employees or volunteers? What's the legal structure of the business? What permits, licenses, or exemptions do you need to file?
Finances. This section details how much seed money you'll need to launch your nonprofit and explains where you expect to obtain that money. It also explains how you will generate the revenue you need to operate your nonprofit. Remember to include a detailed budget here, too.
3. Man it
You'll have to decide when to start trusting other people with your baby. You may want to start recruiting your board of directors while you're still putting together the business plan. That way, you can take advantage of their input — particularly if you include people who already know how to start a nonprofit organization.
Members of the board
On the one hand, you want a board of directors that's small enough to be efficient and to allow everyone to have a say. On the other hand, you need a board that's big enough to include diverse voices and opinions.
There is no magic number. You probably want between three to 15 members, depending on your organization's needs.
Make sure to include people with strong ties to, and interests in, the community you aim to serve. You want to have voices qualified to speak on behalf of your target population.
4. Brand it
Branding means more than creating a great nonprofit logo. It's about creating an identity. Who are you as an organization? What's your personality, story, and community presence?
Successful nonprofit branding helps you:
Raise awareness. Stand out from the crowd.
Build trust. Increase reputation and recognition.
Increase engagement. Encourage others to donate and interact with your organization.
A strong brand comes from a thorough understanding of your target audience. How can you best engage them in your mission?
Craft a consistent and recognizable aesthetic that you use for all output. Design your logo and establish common colors and typography.
Develop your voice, too. What sort of tone will you adopt for your website and official communications? Think about how you want others to describe your organization. Then embody those qualities with your brand.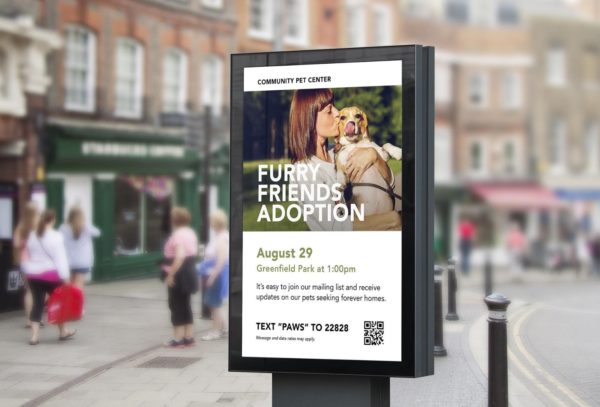 5. Register it
You need to register your nonprofit with both the state and the federal government. Once you know how to start a nonprofit organization, there are a few legal steps you need to take to make yours a reality.
Incorporate
To be a legal nonprofit in your state, you need to file incorporation papers. Fees and requirements vary between states, so check the website of your state nonprofit association for the specific legalities.
You'll need to provide some basic information:
Name
Address
Founder
Purpose
Board of directors
You'll also need to develop your organization's bylaws. This set of guidelines functions as the operating manual for your nonprofit. They should comply with state regulations and both approved and upheld by all board members.
It's a good idea to hire an attorney familiar with how to start a nonprofit organization to file your papers of incorporation and draft your bylaws.
File for an Employer Identification Number and 501(c) status with the IRS
These papers are both mandatory and helpful. Your Employer Identification Number will enable you to open up a bank account for the nonprofit, and as a 501(c) — most likely 501(c)(3) — you'll make sure that all funds raised go to the organization and not the government.
6. Fund it
Money may not make the world go round, but it keeps the lights on. Any business venture requires seed capital, and nonprofits are no exception.
Try these potential sources of nonprofit startup capital.
Recruit community leaders with an interest in your cause. Ask them to be on the board and/or to help with initial fundraising efforts.
Use your personal connections. Small, individual contributions and personal networks generate the first few dollars for most new nonprofits. You can then use these initial resources — both personal and financial — to launch larger fundraising initiatives.
Reach out to other organizations tangentially related to yours. They may or may not have financial resources to spare, but they might offer you other valuable assets such as volunteer labor.
Look to smaller, local foundations with available grants. Larger foundations tend to award grants to more established organizations, but you might discover available funding just down the road.
Set yourself up to accept donations as they come in. Many donation tools allow you to receive and track contributions.
7. Launch it
Let people know you're in business! Whether you plan to kick things off with an event or simply to head to the office next Monday, you need to get the word out to potential donors and potential recipients alike.
Issue a press release
Write a short statement you can send out to newspapers, blogs, and influencers. Remember that small, local outlets can reach certain targets in ways that larger outlets can't.
Create your website
Your nonprofit website is your online interface — a vital part of any business, with the web as the place where so much commerce and communication happens. Your website should include a home page and the following sections:
About Us
Programs and Services
Support Us
Contact Us
Browsers should be able to find the information they need quickly and painlessly.
Your website should also be set up to capture emails and enable donations. Use your website to build your email lists for future marketing campaigns and community announcements. Email marketing is one of the most successful channels for small businesses and nonprofits.
You never want to frustrate a visitor to your site but the absolute worst time to do so is when they're trying to contribute to your organization. Have a clear link to your donation tool of choice. Browsers should be able to click on that link no matter what page they're on, so keep it in the header or footer.
No web design experience? No problem. With a quality website builder, you can create a clean and attractive website with a minimum of time and effort, using the tool's expertise instead of needing your own.
List your organization in online directories
People need to be able to find you. Claim and create the necessary listings for a nonprofit. These include major platforms such as Google and Yelp as well as local and service-specific directories.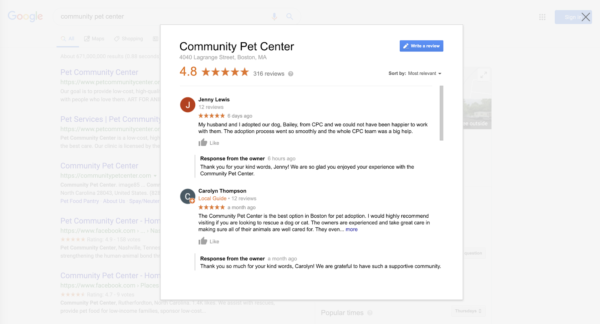 Set up your social media accounts
Social media often feels overwhelming. There's a temptation to try to do it all — and all at once. Instead, develop a focused social media strategy that sets you up for the best communication, fundraising, and advertising.
Start with Facebook as the platform with the biggest reach and the best built-in fundraising tools. Later on, you can add other accounts to reach and expand your base.
8. Operate it
Congratulations! The whole point of learning how to start a nonprofit organization is to get to the day-to-day operations that enable you to serve a community. You've laid out your blueprints. Now, you just need to follow through.
9. Market it
You have several marketing channels available to you. Get the most out of each with the most powerful stories and the best tools.
Nonprofit storytelling
Nonprofit storytelling showcases the needs of your community and the impact of your organization. You want to be able to move between hard facts and heartwarming tales with ease.
Email marketing
Email marketing has the best average return on investment for small businesses. Your best strategy as a nonprofit is to grow your lists.
As an added benefit, you can automate many emails, including:
Welcome emails
Thank you notes
Birthday and holiday greetings
Communications to lapsed or future donors‌
The more work you can leave to your army of machines, the more attention you'll have for those aspects of your organization that need your direct involvement.
Content marketing
Adding a blog to your website is a great way to increase search engine and community awareness. You can make your organization more visible to Google while you refine your message and engage your audience.
Social media marketing
You want to do more than simply set up your Facebook account. Nonprofit social media marketing helps to keep you present in the minds of your supporters.
Use social marketing tools to schedule regular posts and monitor your accounts for opportunities to connect with both patrons and beneficiaries.
New marketing
Keep things fresh with new ideas. Don't be afraid to switch things up. You might discover that your community responds to certain initiatives in unexpected ways.
10. Fund it again
As a nonprofit, be prepared to spend much of your time asking for money. Think email and social media campaigns, sponsored events, and online auctions. The format may change, but the open hand won't.
It's time to make a difference
You know the steps to starting a nonprofit organization. All that's left is the work itself. Hang on to your mission and motivation through triumphs and setbacks alike.

It won't all be easy, but let Constant Contact simplify online marketing for you. Use our suite of tools, or just read our free ebook.

We know you're used to helping others. Just this once, let us help you. Read The Download to start making sense of online marketing for your nonprofit.

Share with your network