Figuring out how well your email marketing is doing can sometimes be kind of difficult.
Sure, you can take a look at the open rate of an email and feel a small sense of triumph if it's higher than the industry average … but that doesn't mean you're going to suddenly see a windfall of customers pouring into your store.
One of most reliable ways to keep track of which emails are successful is by providing a coupon or discount code. If customers redeem it, then you know the email succeeded.
Of course, not every business or organization can offer its audience coupons. And when you can't attach hard sales numbers to an email, it's harder to determine whether it's effective or not.
One way you can judge success, however, is by looking at your click-through rates.
What a does a click-through mean?
Where the open rate shows you how many people opened your emails, the click-through rate shows how many people take action by clicking the links you provide in your email.
This allows you to see the content, products, and services your contacts are most interested in, which in turn can help you create engaging email content for future emails.
For example, this email that I sent for the sci-fi magazine, The Speculative Edge, shows that the links people were most interested in were ones that led to the magazine issues or a short story collection we featured: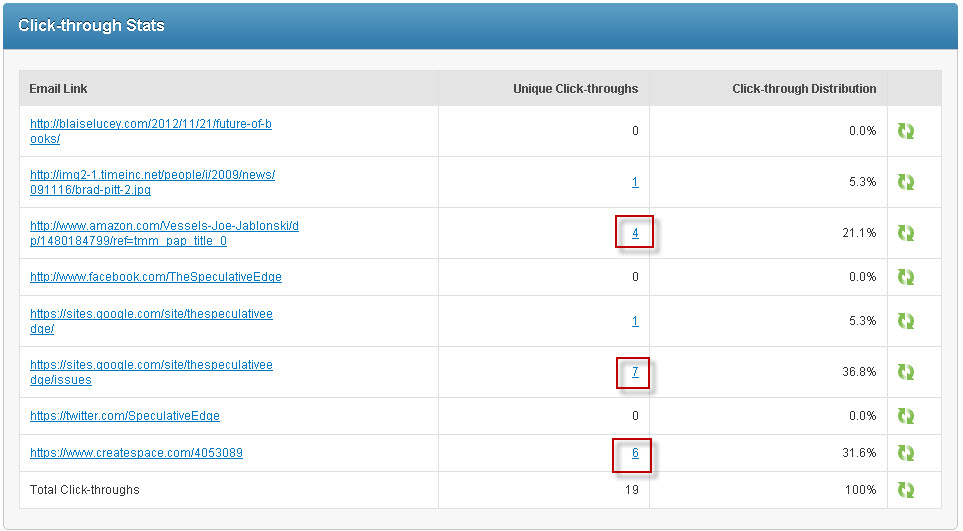 The more clickthroughs you see like this, the more likely it is that your contacts are going to take the actions you want them to take, whether you want them to download a presentation, buy a product, or donate to a cause.
Turning click-throughs into leads
Not only can you see which links your contacts click, you can also see who is clicking on those links. This information is available with your email reports when you click on the actual number in the click-through column for a certain link.
From there, you have the option to save these contacts to a brand new list. So, if you see that certain contacts download something or read an article about a particular subject, you can then follow up with more specific emails about the product or service related to that content.
Here, I can see which seven people were so interested in our sale that they clicked the sale page. By saving them as a list, I can keep them in mind later as a group of highly engaged readers:
Email marketing that works
One of the biggest advantages of email marketing is staying in touch with your contacts, so that when they're ready to make a purchase decision, they'll think of you first.
When you use the information available to you in your reports, you can make smarter decisions about what content to provide and which contacts to provide it to. Then, you'll really, truly be able to tell if your email marketing is working.
Want to learn more about creating an engaging email that's easy to track? Check out How to Optimize Your Emails to Get More Meaningful Click-through Results!