Last week, among other changes, Facebook announced the addition of a Subscribe button to user profiles. And it's something small businesses and nonprofits should be excited about.
As a small business or organization, one of your biggest advantages is that you're NOT a huge operation. It's easier for you to humanize yourself because you're nimble and smart enough to step out from behind the logos that bind your corporate counterparts. Customers are hungry for human faces, interaction, and connection … when, where, and how they want it.
So how does the Facebook Subscribe button help you?
It means that your current and potential Facebook-using customers finally have a way to connect with YOU and the PEOPLE behind your business or nonprofit without actually having to be friends (the Facebook kind, anyway). Subscribe essentially adds another layer of "acquaintance" for those people you don't know well enough to "friend" yet.
With Subscribe, you'll be able to share info with and respond to comments from people beyond your immediate friends without giving them access to all your personal information. Whatever you want private stays that way. It's kind of like having Twitter built right into Facebook, but you can choose what to make public.
I know what you're probably saying. "Wait a second. But isn't that what Facebook Pages are for?" Yes and no.
If you ask me, there's always been something a bit awkward and impersonal about Pages. They allow for a business or organization to be seen, but from the fan's perspective, they're always left to wonder who's really behind the curtain. Also, if you're a one-person operation, it may feel a bit awkward to have a Page for yourself. Not to mention it's a pain to switch back and forth between your personal profile and your Page all the time.
It's also possible that people can find your profile more readily than they can your Page. Subscribe offers a simple solution to the "how to handle friend requests from people you don't really know" problem.
 In this age of social media and hyperconnectivity, Subscribe offers both you and your customers or supporters another easy option to get to know, like, and trust the people behind your business or organization. The people who make good use of this option may end up with an advantage over their peers when potential customers and donors are making decisions as to where to spend their time or money.
Want to try it out? Here's how to activate the Facebook Subscribe button
First, it's important to note that the Subscribe button isn't turned on by default. If you don't want to use it, you don't have to. You can continue to use Facebook as you normally would.
Once you're logged into Facebook, you can go directly to this link to turn on the Subscribe button.
Next you'll want to click on the "Allow Subscribers" button to the top right.
Clicking the button brings up the "Edit Subscriber Settings" screen. You'll probably want to turn on comments. This way people can join in on the discussion around your updates. It's up to you whether or not you want to receive notifications about new Subscribers, but if you want to cut down on noise, turn them off. Just choose "No One." Then save your settings. You are now ready to allow Subscribers to your public updates.
How to send an update as "Public"
 You'll update your status as you normally would, but before you hit "Post" choose "Public" from the drop-down menu. IMPORTANT: Your updates default to the last choice you selected. Be sure to change if you don't want your update to go public.
How to subscribe to people of interest
When you visit a person's profile, you'll see the Subscribe button in the top-right corner of a person's profile or below the cover photo in Timeline if they have Subscribe turned on. (NOTE: You are automatically subscribed to your friend's updates.) If available, you can Subscribe to people of interest to discover new content that's relevant and useful. You can also customize which types of updates you receive from the people you already subscribe to.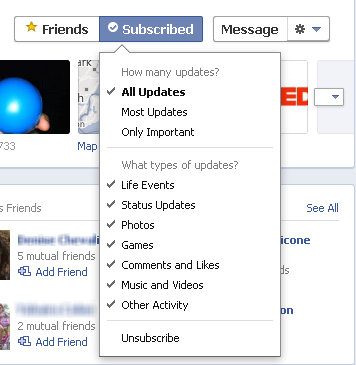 Now you're all ready to use your personal advantage and deepen those ties with your audience.
What do you think? Will you use Facebook's new Subscribe feature? Leave your thoughts here or on our Facebook Page.