When you head up the marketing for a division of the nation's oldest plumbing and heating manufacturer, you need to hold on to your customer base.
For Sheena McDeavitt, Director of Marketing for Hajoca Harrisburg, this means using Constant Contact's email marketing to increase engagement, sales, and repeat business.
"The biggest benefit of email marketing has definitely been staying ahead of our local competitors and being in front of our customers on a weekly basis," Sheena says.
"We will send a coupon or promotion in an email and have people calling or coming in that same day to schedule an appointment or make a purchase."
A few months ago, Sheena decided to refresh her email marketing strategy.
While her existing strategy was already driving sales, Sheena wanted to tweak her approach to increase engagement and learn more about her customers.
Could your email marketing use a refresh? Join us for a FREE webinar to learn How to Give Your Email a Makeover. Can't attend live? Register anyway and we'll send you a recording.
Using Constant Contact's drag-and-drop editor, Sheena added a Poll to her email to ask her subscribers what time they'd prefer to attend an upcoming event.
Sheena encouraged participation by offering Poll respondents the chance to win a $50 gift card.
"We got a great response that we will use for planning events in the future," says Sheena. "The fact that people don't have to click a link or visit another website makes it super easy for them to reply to the Poll and we love that!"
Overall, Sheena's email received over a 30 percent click-through rate, with 36 total responses.
"It seems like our interaction and click-through rates have gone up since adding the Polls," says Sheena. "Customers appreciate the option of sharing how they feel and are more involved in our everyday business."
Increased engagement isn't the only benefit Sheena's received from the polls feature. By tracking her Poll responses, Sheena can make informed decisions.
With the example above, Sheena knows that more than double the respondents prefer an event that's earlier in the day.
How can you add a Poll to your email?
If you want to increase engagement like Sheena, follow these steps:
1. Drag a Poll block into your email

2. Customize the Poll with your question and answers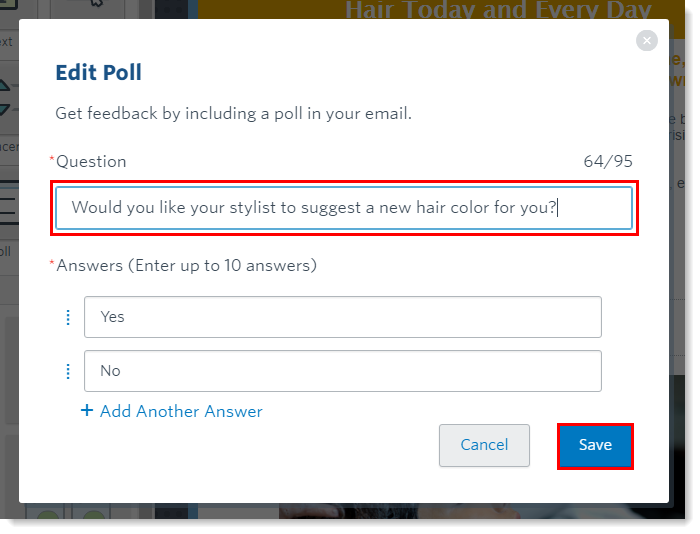 3. Track your responses
Use your engagement report to see which response certain contacts selected. This information will help you get to know your subscribers and send targeted mailings based on their preferences.
Not sure what to ask your subscribers?
If you don't have a specific question in mind, start by asking readers what kind of information they'd like to receive in future mailings.
This will help you come up with content ideas and ensure you're sending information they're interested in.
Ready to increase engagement in your emails?
Adding a Poll to your email can boost engagement while also helping you learn more about your subscribers, and increasing their level of investment in your business.
We'll show you how small businesses and organizations, like Hajoca Harrisburg, are improving their strategy during our FREE webinar: How to Give Your Email a Makeover.
Save your spot today or get started right away with Constant Contact's easy-to-use email marketing tools.

Share with your network