As the growth of digital giving continues to outpace any increase in overall giving, it's more important than ever for nonprofits to allow donors to easily complete their donations in creative ways.
Not all online fundraising experiences are the same, however. It's not enough to slap a donate button on your site and expect it to be a magic money faucet.
Here are five must-dos that will help you connect with more donors and improve your fundraising results:
1. Make it ridiculously easy
One of the primary benefits of online giving is the speed and convenience for your donors. Unfortunately, too many nonprofits make their online donation process unnecessarily long, confusing, or difficult.
Don't undermine the ease of online giving with too many steps or distractions. Lead donors down the path you want them to take and clear away any clutter that could lead them away from your donation page. From your email campaigns, direct donors straight to your donation page with a strong call to action that leaves no room for doubt about what you've asked them to do.
Once donors arrive at your donation page ready to give, offer them the fewest number of steps possible to complete a donation — this means including a minimum number of fields on your donation form and allowing donors to give without requiring them to log in or create an account. Your donation process should be easy to understand without much, if any, guidance. If you have to explain it, it's not easy enough.
Keep your organization growing with expert advice and all the tools you need, all in one place.
2. Make it mobile
More people are viewing your campaign via mobile than ever before: mobile drives around one-third of Internet traffic. Offering a mobile-friendly experience is no longer optional. To optimize your online fundraising for mobile, your campaign materials should be accessible via smartphones with easy-to-click links, streamlined design, and clear, concise text.
Your donation process should reflect mobile best practices: offer a minimum number of steps (see #1) and provide easy checkout options that reduce the amount of typing required.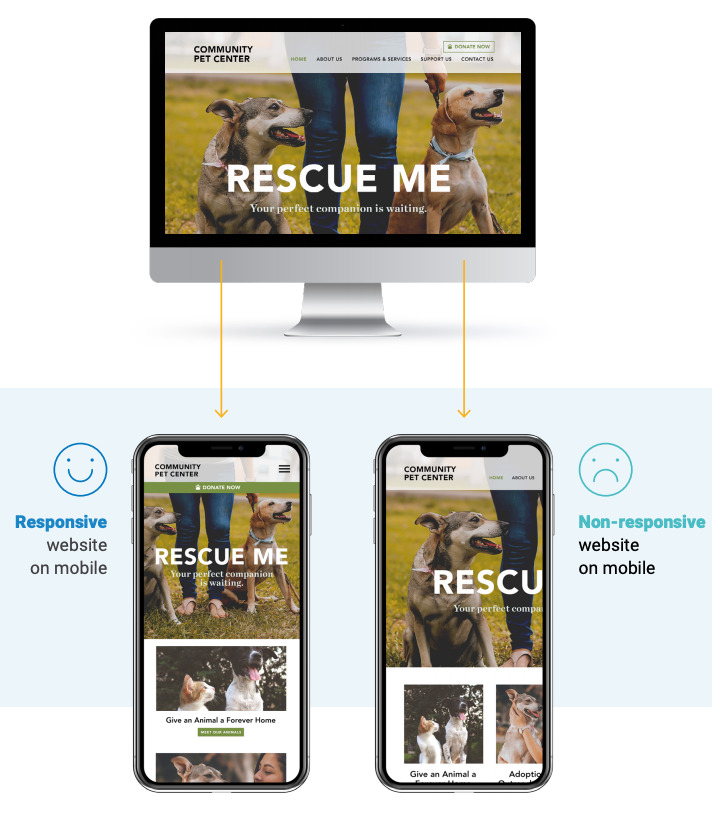 Don't forget about your emails and website. Over half of all email opens now happen via mobile devices. To make a good first impression, your emails must be readable and usable on a smartphone. That goes for your website, too.
If you don't have a mobile site or if you can't update all of your pages, select the key pages your donors are likely to visit: your Homepage, your Contact page, and your About Us or "Why Give" pages. Remember — whether your donors give online or off, they're looking at your site to find out more about you. And they're likely doing it from a mobile device.
3. Make it match
Network for Good's Digital Giving Index shows that branded donation pages outperform their generic cousins. Overall, these branded pages result in six times more donations and larger average gifts.
A page that evokes your nonprofit's look and feel keeps your donors in the moment of giving and builds on the trust and emotional pull that caused them to act on your appeal in the first place.
Beyond the continuity of the experience, a donation page that repeats your call to action and campaign details (such as event-based fundraising, program-specific appeals, or messages tailored to a particular segment of your audience), helps you to achieve "message match" — which simply means that your statements are consistent throughout your campaign, from your first appeal to your thank you letter.
4. Make it urgent
Your donors are busy and often distracted. Just like us, they're multitasking and procrastinating. Everyone has a long list of things that they've put off for another time. You don't want your fundraising appeal to fall in this category. Your online donation experience should underscore a sense of urgency. Why is it important for your donors to give *now*?
Let donors know what will happen if they fail to give today, and include a deadline. (The motivation, and typically short window, of matching funds also can do the trick.) Introduce a sense of urgency to spur your donors into action, and then allow them to quickly complete the task with an online donation.
5. Make it recurring
One of the best things you can do for your organization is to implement a compelling recurring gift program.
On average, donors who set up a recurring gift donate 42 percent more per year than those who give a one-time donation. Your online donation page should allow and encourage monthly gifts and make it easy to set up a recurring donation. Set up a dedicated page just for sustaining gifts and tailor your online messages and suggested donation amounts to support your recurring gift program.
Bonus: Moving your recurring donations online will reduce the time and expense for both your organization and your donors.
Apply these five principles to your online fundraising strategy to make it easier for donors to give, and give more.
You may be using some of these tactics in your other fundraising channels, so don't forget to use them to grow your online gifts!
---
About the Author: As Network for Good's Vice President of Communications and Content, Caryn Stein oversees the development of nonprofit training and fundraising resources. Network for Good offers nonprofits and corporate partners the online fundraising tools they need to unleash generosity and advance good causes. For more tips on optimizing your online fundraising approach, check out the free Ultimate Donation Page Course.

Share with your network