With more people needing insurance to protect their homes, vehicles, and families, a good insurance agent is more essential than ever.
According to the U.S. Bureau of Labor Statistics, the employment of insurance agents is expected to grow 5% from 2019 to 2029. While this is great for your profession, such job growth necessitates standing out to acquire new clients. One of the most effective ways to do this is by managing your insurance agent reviews.
Thanks to the Internet, it's become easier than ever for customers to conduct their research online and discover what other people are saying about your insurance company.
To ensure that your agency or brokerage has a positive online presence, let's take a closer look at why reviews and listings are so important, as well as which listing sites you should claim a profile on. We'll also examine what information to include in these listings, how to respond to reviews, and how to increase your number of reviews.
Find more leads and drive policy renewals with expert marketing advice and all the tools you need, all in one place.
How listings and reviews help market insurance sales agents
The number of consumers who read reviews for local businesses keeps growing. In 2020, 87% of consumers reported reading online reviews — a 6% increase from 2019. This is an important statistic for all businesses, but insurance agents should take particular notice.
After all, in this age of online research, people are capable of both finding and purchasing their own insurance online. Yet many still prefer to seek out an insurance sales agent who can explain their options better than a web page or online video to set them up with their ideal plan.
Clients need seasoned insurance agents with good communication skills. Maintaining online listings is an excellent way for you to showcase this skill set.
Positive insurance agent reviews promote your knowledge and your ability to offer sound business advice. Keeping your business listings up-to-date and accurate also says a lot about your professionalism. In addition, being able to respond diplomatically to reviews — especially negative ones — speaks volumes about your communication abilities and ethical business practices.
Insurance review and listing sites to claim a profile on
Your brokerage or agency is probably already listed on several listing or review sites whether you put it there or not. By claiming your online listing, you'll be able to create a profile or page on the website informing others that you're the owner of your insurance business. This allows you to inform visitors about your services and also makes it easier for you to keep track of your online reviews.
Google My Business
Google My Business lets you promote your insurance agency on Google Search and Maps. Creating a Google My Business profile makes it easier than ever for potential clients to find you. Thanks to its popularity, Google receives over 3.5 billion searches per day and 1.2 trillion searches a year, making this one digital marketing tool you can't pass up.
Creating a free Google My Business profile is easy once you have a Google account. Be sure to include your business name in your listing, along with your address, phone number, business hours, email, and website. This information should be consistent with the information across all of your other business profiles to make it easier for search engines to discover and share your listing with consumers who need an insurance agent.
Yelp
Yelp is one of the most popular listing and review sites that people go to when conducting online research. It's quite possible that your insurance agency is already listed there, allowing you to claim it. If not, you can still create your own account and build your own Yelp profile.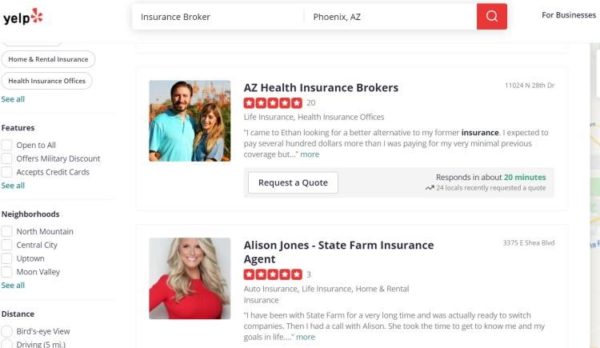 If necessary, update your information to reflect your other business listings and add a link to your website. You can also upload photos and videos of your business that showcase your business practices. Manage this site regularly, particularly if you find existing insurance agent reviews — visitors will want to see how you respond to them.
Facebook
Facebook remains one of the most popular social media sites to connect with clients.
Managing a Facebook business page provides clients with another means to review your insurance agency's services. Current and future clients can easily interact with you and it's very easy for you to share a link to your website, in addition to your contact information and business hours. You can even share announcements of special events and business offers, making this a powerful marketing tool.
Trusted Choice
Trusted Choice is a niche site for independent insurance agents that helps match clients with insurance companies based on location and need.
You can claim your listing on this website and provide a wealth of information about yourself, including your contact information, location, business hours, website, and social media links. Insurance agents can also list the history of their company, areas of expertise, and past clients. Clients can leave reviews and rate your agency with a five-star system.
Managing your insurance agent reviews
Once you claim your insurance company listing, you can respond to any reviews that your clients leave you.
This is important — you can't control what your clients write, but you can create a positive impression of your business practices based on the way you manage your reviews.
Stay positive in your responses and acknowledge your clients. Thank them for taking the time to leave a review, and let them know that you remember them. If they had a good experience, emphasize how providing good customer service is a priority for your business. If they had a negative experience, apologize and offer suggestions for how you can help them with their problems.
By adopting a diplomatic approach, people who read your reviews will see you as receptive, ethical, and easy to do business with. This will go a long way in establishing a positive online reputation for you and your insurance company.
Some insurance agents are nervous about asking their clients to leave reviews. However, requesting reviews from customers is a great way to enhance your online presence, especially after you successfully help clients with their insurance needs.
Send your clients thank you emails and ask them to rate and review your service, providing a link to your listing site for greater convenience. One BrightLocal survey found that over 70% of clients will leave a review online if you ask them to.
Managing your reviews and listings for success
Thanks to all the digital marketing tools available today, creating a positive online reputation for your insurance agency or brokerage is very achievable.

Nevertheless, you must invest some time in building a strong online presence. Managing your listings and insurance company customer reviews properly is an excellent place to start. Be sure to conduct some research and find the best websites where you can claim a listing and be found by your ideal clients.

Another way to learn how to leverage digital marketing for your insurance company is to read Constant Contact's free guide on how to promote your professional services online. It contains a wealth of knowledge on how to combine online marketing techniques with your insurance agent reviews and listings.

Discover how to reach out to more prospective clients and you'll be able to take advantage of the increasing demand for insurance agents, not to mention help more people see your business as the ideal place to solve their problems.

Share with your network