Internet advertising for lawyers is a must for any firm, regardless of your specialty. Building a strong internet presence helps clients find your law firm more easily online and allows you to manage your relationship with them.
Read on to learn best practices of internet advertising for lawyers and steps you can take to create more leads.
Why your law firm should be advertising online
People who need legal advice or representation commonly search online. Using online marketing tools such as your website and content marketing makes it easier for clients to find you. There are a variety of online marketing tools you can use to reach these clients, the most important being your website. If you have not refreshed your website in a while, now is the best time.
How to redesign your website
A well-designed, mobile-responsive website is the best way to be found online, but many law firms don't even operate one. The American Bar Association's 2020 Legal Technology Survey found that while 89% of law firms maintain a website, 41% of solo law professionals did not. Regardless of firm size or specialty, you need a website to reach clients who are looking for you. If you're not sure how to design your website, use a website builder to get started.
‌Your website should include the following basic pages, and it should be optimized for mobile devices including smartphones and tablets. At a minimum, include a Homepage, an About page, a Services page, and a Contact page. For 24/7 lead generation, make sure your Contact page includes a form that clients can fill out when they need to reach you. Make sure someone monitors this page and replies to leads in a timely manner.
You can also include a page with resumes and bios of your partners so clients can learn about their credentials before the first meeting.
Adding an FAQ page provides valuable content that not only helps clients determine if you're right for the case but also increases your visibility in search results, helping you achieve better search engine optimization (SEO).
SEO tips for lawyers
When it comes to online marketing, utilizing good SEO practices is the equivalent of garnering free internet advertising, especially for lawyers.
‌Using SEO practices when designing your website signals to search engines that you have a high-quality website and boosts your performance in search results. Focus on local SEO to increase visibility for clients in your area. Best practices for SEO include:
‌Using Google's Local Pack and Google Business Profile tools to be found in local search results
Claiming your business on online platforms like Apple Maps, Yellow Pages, and Foursquare
Using keywords and phrases in headlines and meta descriptions
‌Publishing high-quality content either directly on your website or on your social media feeds
‌Tailoring your site to your audiences
Keywords
Keywords are phrases that people searching the internet use to find your business. If your law firm specializes in family law and you serve the greater Milwaukee area, a keyword for your business could be "family lawyers in Milwaukee." Brainstorm a list of words and phrases customers can use to find you and include them in headings and subheadings on your website.‌
Avoid using too many keywords in your website copy. Overusing keywords could make Google or other search engines flag your website as low-quality and move it down the list of search results. Instead of trying to stuff your website, tailor copy to your customer. Think about what they want to know about you and tell them.
Content marketing
‌Another way to boost your SEO is to post high-quality content to your company blog and/or your social media feeds.
Posting quality content is not only a good strategy for adding keywords to your website without going overboard, it's also a great way to build your credibility. Customers want to feel comfortable with your expertise before they hire you.
‌Blogging
‌A blog is one of the most cost-effective ways to use content marketing to connect with potential customers and enhance your credibility. Posting engaging and informative blog posts directly on your website establishes you as an expert and helps clients become familiar with your expertise.‌
Using a blog for client relationship management works best when you publish consistently. If you're just starting out, think about frequently asked questions or topics of interest to your current clients and create a series of posts. You can also check out trade magazines and the social media sites of professional organizations to gauge popular content and find a way to customize these topics for your firm.
‌Social media
‌You can create a company profile on the most well-known social media platforms, including Facebook, LinkedIn, and YouTube. For best results, post regularly. Create a content calendar with different campaign ideas, or use a tool to develop a series of posts in your downtime and schedule them to run regularly on your feeds.
‌Facebook: Statista reported that Facebook had 2.7 billion active monthly users in 2020. Connect with them by regularly posting tips and helpful legal articles.
‌LinkedIn: If your firm specializes in business law, LinkedIn can be a great tool for finding leads. Join professional groups and contribute to conversations. ‌
‌YouTube: Post a series of videos featuring employees at your firm discussing various topics. Make these videos short and engaging.
Publishing articles
‌As a lawyer, you may come across a case that begs to be shared. Whether you've set a new precedent or participated in a case that can help other lawyers in the future, you may want to author a case study in a trade magazine or a social website geared towards other lawyers.
Like a blog, pitching case studies and co-authoring articles builds your firm's brand awareness and establishes you as an expert while also reaching beyond your core audience.
Other online tools can be used to promote your firm, building brand awareness and generating new leads.
How to promote your firm
To promote your firm online, draw people to your website, and connect you with clients who need you to represent them, use the following tools:
Social media ads
‌Social media platforms including LinkedIn, Facebook, and Instagram offer paid content. This method of advertising is cost-effective since you can set your budget based on the number of people who click on the post.
You can tailor these ads to a target audience and use filters, including location, to determine where they run. Set the ad to your location and the demographics of your ideal clients to appear on their social media feeds.
Pay Per Click
A valuable lead generation tool, pay-per-click advertising should be a core component of your firm's online marketing. PPC involves paying a fee every time someone clicks your online ad. One of the most popular PPC tools is Google Ads. This tool lists your business at the top of local searches. You can set your budget based on the number of people who click on your listing, "bidding" a set amount per number of clicks.
Email your current and past customers
Regularly keeping in touch with current and past clients enhances their experience with your firm, and it could lead to referrals. Send out regular emails with news about your firm, general industry information, or to promote events. These messages can be automated and they are a good way to keep clients engaged.
Google Business Profile
Google has a feature known as Google Business Profile that serves as a digital listing, By creating a Google Business Profile account and verifying your address and phone number, you are enabling your firm to appear on Google maps and in local listings.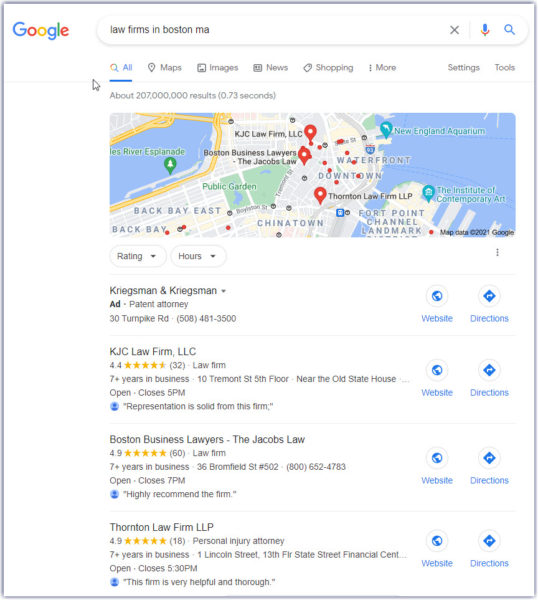 This service also makes it easier for clients to review you on Google.‌
Yelp
Yelp serves as a database of businesses that customers can use to find a variety of information.
Sign up for a Yelp page and add your business to the app. Once you've completed the listing, people can find you when searching for lawyers or other categories that would apply to your business. They can find you by your location and read through client testimonials.
‌Ask for reviews
Service-oriented businesses often rely on word of mouth for advertising. Ask your current customers for testimonials following the completion of a case, and create a "client stories" page on your website.
Testimonials can also work on your About page because they serve as part of your story.
‌Partner with other firms
‌Depending on the nature of your law practice, a referral program can be a good way to bring in new clients. Since many law firms operate in specialized areas, you can partner with another firm that is outside of your specialty and send each other business.
If you're an entertainment lawyer and know a client who needs a divorce lawyer, you can send business over to a reputable divorce attorney and have them refer clients in need of entertainment law services to you.
Make sure that the firm you partner with offers a high level of customer service to maintain your brand's reputation.
‌Find your niche
‌If your firm is well established and employs a large number of attorneys, it's likely that you've already found your niche. But if you're starting your own firm or even operating as a solo attorney, finding your niche will help you decide how best to market your business.
To choose your niche, start by determining the kinds of cases that you love to work on. Then begin narrowing your practice down by industry and the demographics of your clients. Once you've chosen your niche, you can market strategically to attract the right clients.
Customer service
‌As a lawyer, the foundation of your marketing is built on your customer service. Having clear customer service standards helps your clients know what to expect from anyone who works on their case. Aim to deliver high-quality service to each client at every stage of the process.
Send out customer satisfaction surveys to find out what is working for your clients and what could be improved upon. Use the feedback to make any necessary changes to your process.
Once you've decided the best ways to establish your online presence and promote your business, you can devise an online marketing plan.
‌Next steps for your online marketing strategy
When you're setting up your practice, consider all of the principles of internet advertising for lawyers. Set up a professional and mobile-responsive website and use other digital tools to supplement your marketing and build your brand.

By creating an internet presence, you can tap into the client base in your area and build a successful law practice.

‌To learn more about online marketing read The Download for professional services like yours.

Share with your network