Any potential client in your area who needs a lawyer is likely going to search the internet for attorneys in their city. An estimated 30% of all mobile search users are looking for a business in their location. However, 75% of users don't navigate past page one of their search results. If your website isn't set up for local search engine optimization (SEO), you are likely missing out on a large pool of clients in your own backyard. Local SEO for lawyers helps you find these customers.
Get new clients and drive referrals with marketing tools and advice for legal professionals.
What is local SEO for lawyers?
‌SEO refers to the process of building and maintaining an online presence that makes your website appear higher in search engines. Local SEO for lawyers is similar, but it involves tactics designed specifically to work for search users in a local area.
Google's algorithm measures three factors to determine whether a local search result is valid and should be listed for a search. Together, they help Google identify and rank websites. These three factors are: proximity, relevance, and authority.
Proximity
‌This is the most important ranking factor of the three. It refers to your firm's location related to the search user. Even when a potential client isn't searching for a location-specific lawyer, Google still relies on IP addresses and geographical location services to rank websites for search results.
The main elements used to establish proximity are your name, address, website, and phone number. Make sure that all listings are current and that they present the same information, or your site could rank lower in searches. Consider listing your site on a lawyer directory to increase visibility across the search engine results page.
Relevance
‌Google looks for cues that your website is relevant to the search result. Adding your location to your website and including local keywords is one way to establish your website as relevant to a search. To improve your local SEO for lawyers, add a phrase such as "real estate lawyers in Dallas" into your website.
‌Authority
‌To rank highly in local searches, Google and other search engines need to establish your site as a credible resource. Authority is established through ratings, reviews, backlinks, social mentions, and the overall domain.
How to optimize your website
‌According to the American Bar Association's most recent survey report, as of 2020, 59% of solo law firms still don't operate a website. The biggest majority of firms operating without a website are solo practitioners and small firms with fewer than 10 employees.
If your firm is one of the 14%, now is the time to build a website, and since you're starting from scratch, you can add local SEO into your site. If your firm has a website, you are likely familiar with SEO terminology. And you probably know that you need to add targeted keywords and phrases to different sections of your site and actively create content.
Targeted keywords and content are also good for generating local SEO for lawyers. Add some location-specific keywords and phrases throughout different sections of your website. If your firm has been recognized by a local association, adding the phrase "voted Best Business Law Firm in Nashville by XYZ Association" not only lets you celebrate your accolades, it also adds location-based keywords.
Massingill Attorneys & Counselors at Law is a Texas-based firm with a variety of business and personal law services. The company includes local keywords in its page headers and in its tagline, as seen on the "Services" page.
How to manage your various listings
‌Since proximity is the most important factor in your website's ranking for local SEO, it's important that your name, address, phone number, and website are consistently listed across the web. Since you manage your website, you can change your contact page and landing pages if you've moved or changed website addresses.
‌But Google uses other resources to establish proximity, namely Google Business Profile, Google Maps, Apple Maps, Yelp, Yellow Pages, and other local and national business listings. You may not have considered these resources since law firms aren't as highly dependent on foot traffic as other businesses. But local SEO for lawyers is just as dependent on these listings as any restaurant or retailer.
Google Business Profile
‌To claim your business, go to business.google.com. On the landing page, you will see an option to add your business to Google. Click on this and enter your details. Follow the prompts to add your name, address, phone number, and website. You can also select the option to appear on Google Maps when people are searching with their Google Maps app.
Once you have claimed your business, your address, phone number, and website will appear when someone conducts a relevant search. Create an interesting business profile that highlights your specialty.
‌If you have professional photos or other high-quality photos of your office post them here. People looking for lawyers are often involved in stressful situations, and they want a calming yet professional atmosphere.
Apple Maps
‌Apple Maps is another platform you can use to establish your proximity. It also allows users to find your office easily with Siri ̶— Apple's digital voice assistant. If you have an Apple ID, you can manage your listing by logging into your account through Maps Connect.
‌Search the platform for your business and claim it. Enter basic details including your name, address, phone number, website, and hours. Once you've submitted your listing, Apple may ask you to verify it. This is all you need for local SEO for lawyers, but Maps Connect also lets you put your social media profiles in your listing.
Yelp
‌Yelp is another extensive database for local business listings, and entering your business information on the website can improve your local SEO for lawyers. However, you should carefully manage your listing and reviews in order to stay in compliance with ethics standards and legal regulations.
Some considerations include maintaining client confidentiality, false or misleading claims, advertising limitations within the legal field, and specialist claims. Your Yelp listing should be in compliance as long as you aren't posting confidential information on the site.
Yellow Pages
‌Although the Yellow Pages is not as well-known in the internet age as Google and Yelp, it is still a common resource for finding local businesses. Claim your business to get a free listing, or pay for an optimized listing for as little as $49.95 a year. ‌
Claiming your business on Yellow Pages is similar to other platforms discussed. Go to the Yellow Pages website and search for your business. When you find it, claim it and update your profile. Next, click verify to complete your listing.
Managing your listings is crucial to your local SEO for lawyers strategy. It communicates your proximity to search engines and helps your business appear in search results of users nearby making it easier for them to find you when they need to.
You can also improve your local SEO with client reviews.
‌How to manage your client reviews
‌Google, Yelp, and other online platforms make it easier than ever for customers to leave reviews for businesses across industries. This is usually good for your law firm, because potential clients can read well-displayed client accolades to get an idea of what your firm can do.
‌Ask for reviews
Reviews are a crucial local SEO for lawyers tool used to establish credibility. ‌One of the easiest ways to get a positive review from a happy client is to ask. As part of your closeout process, ask your clients to leave a review on your website or on Google. You can also include a call to action in your emails and on your website encouraging people to leave a review.
‌Make note of the specific website. If you're asking for reviews through an email, include links to your website and social media profiles.
For ethical reasons, consider adding clear instructions to your call for action. Your clients are allowed to write a positive review stating that they were happy with your services. They are free to rate your responsiveness and comment on your availability. If they include specifics about their case in the review, it is considered unethical.
If you see those reviews, delete them to maintain confidentiality. When asking for client reviews ask them to focus on your service delivery. Make sure they focus on the experience of working with your firm and different aspects of your customer service instead of focusing on their case.
Managing negative reviews
‌Sites like Yelp also attract angry customers who are most likely to review when they are frustrated or if their case didn't go as expected. This can result in scathing reviews. Since online reviews and testimonials are an established and successful marketing tool for lawyers, you don't want to disable reviews on your business listing.
‌It's understandable to feel insulted when you see a negative review. But the commentary might not be scathing if you look at it objectively. One downfall of the internet is that you lose the nonverbal cues that help you decipher a person's meaning.
Read the review and identify what it is that the person is upset about. They might be angry about factors that are out of your control like the result of a judgment. But they might also have a legitimate complaint.
‌Perhaps they're upset about having to work with an unresponsive attorney. Maybe they are angry about having their case assigned to a lawyer with less experience and they feel like it led to a negative outcome. These complaints are valid, and you can use them to improve your service delivery.
Instead of caving to temptation and arguing with bad reviews online, apologize for the service failure and offer to speak with them offline about their complaint. Then, if you can, contact the person directly and see what you can do to resolve the issue.
‌How to create quality content to drive your local SEO
‌If you're familiar with SEO concepts, you know that content creation is a great way to establish your site's credibility and increase your rankings. A content strategy is also a good tool to boost local SEO for lawyers.
You still want to create content that builds brand awareness and enhances your image as an expert in your field. Adding some hyperlocal content into the mix will help Google and other search engines boost your business.
Social media
‌In terms of local SEO for lawyers, Facebook is still the best social media platform for content. If you're a smaller law firm with a simple website, Facebook offers a platform for customers to contact you and interact with your business.
Facebook lets you add details about your business in its "about" section. Update this page with your name, address, and phone number for another avenue that establishes your proximity. Facebook also lets you add services and other keywords that make your site relevant to local searches.
Once your business page is updated with consistent information, use the platform to announce local events. If your law firm is sponsoring a major community event, post about it on all your social media pages and use the location tag to direct users to the event.
Denver area law firm Holland & Hart specializes in food, beverage, and consumer products. The firm is active on social media, using its Facebook page to promote events featuring its attorneys.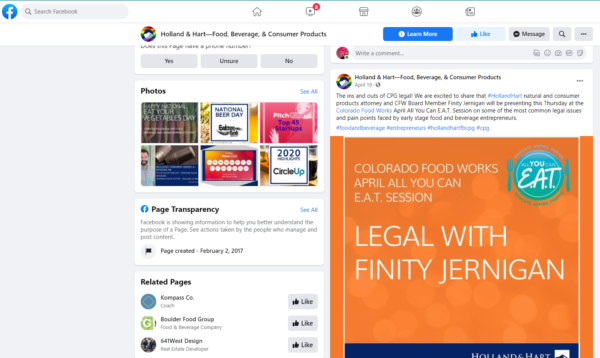 You can cross-promote events, employees, and other content across platforms using a mix of local and non-local hashtags.
Blog posts
‌Long-form content including blog posts and magazine articles help introduce clients to your firm, and they establish you as an expert source. Posting blogs, creating newsletters, and writing articles about topics relevant to your clients helps them navigate their legal issues. Including keywords also optimizes these pieces for SEO.
Barr & Young Attorneys is a firm representing clients throughout northern California. The firm's homepage includes a tagline stating that it services clients all over northern California, offering a location cue to Google and other search engines.
‌Barr & Young's blog offers a mix of information from overall takes on cases in pop culture to laws specific to California residents. In March, the firm posted a blog titled " California Probate Fees." This article establishes the firm as an expert in the specifics of California probate law. It also creates a viable result that might appear if someone searches for "California Probate Fees."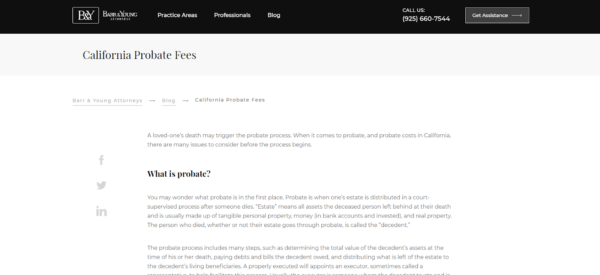 ‌Search the news in your area to see if there are trending topics you can use to create a relevant blog post and promote it on social media with a hyperlocal hashtag such as #realestatelawinBaltimore.
‌Quality blog posts also generate backlinks, which establish your firm's credibility. A backlink is a link to your website that is featured on another website. If someone writes an article and uses your blog as a source, they may create a backlink to your original post.
‌Writing guest blogs for other firms or vendors is another way to generate backlinks. Ask your vendors or other firms with whom you have a relationship for ideas for cross-promotion.
Videos
‌Like blog posts, videos introduce your firm to potential clients and establish you as credible. Videos let you break down complex information for clients who might not want to read a long blog post. It is tricky to create engaging content with dry material, so make a video with your clients in mind.
‌Make videos that answer frequently asked questions or create a video series tackling a complicated legal subject such as estate planning. Explain why it's relevant to your clients.
If you're a real estate law firm, make some hyper-local videos exploring local zoning laws and restrictions. You can shoot parts of the video in different neighborhoods to illustrate how zoning works. When you post your videos, include local keywords and terms in the descriptions.
Content drives SEO, but it also takes time to build a following, so you might consider paying for an ad to boost your business.
Google ads and other tools to improve local SEO for lawyers
‌Google Ads
‌Google lets you buy ad space that lands your page at the top of relevant search engine rankings. There will be an icon indicating that your listing is an ad, but it's still a good way to land at the top of the page. The site uses a pay-per-click model meaning that your rate depends on the number of people who click through to your site.
‌Google has recently shifted from a 5-pack model to a 3-pack model, meaning that when someone performs a search, only the top three results are saved. To show up in these local packs, you need to include a local extension in your ad.
‌Voice search
‌Digital assistants with voice search are exploding in popularity. Any iPhone owner has Siri on their phone, and Android phones offer the "OK Google" option. Smart speakers and other devices featuring Alexa and other digital assistants are also on the rise in many households. Oberlo estimated that nearly 40% of internet users are using voice searches.
‌People's speech patterns don't always align with how they write. When strategizing keywords to include on your webpage in headers, descriptions, taglines, and other copy, think about what someone would say to search for your firm.
If a person is conducting online research for their company, they might search a term like "best environmental law firms in Fairfield." However, someone who has just gotten into a car accident might use their phone's voice feature to search for a term like "do I need a personal injury lawyer?"
Local SEO for multiple locations
‌Your firm may offer services in more than one location, including multiple states. With more than one location, local SEO is more tricky to manage. You can set up different landing pages for each location on your website and add local keywords within each subsection.
‌If you're creating location-based content for different locations, post them on separate pages. You can also create different social media accounts for locations in each city with company-wide branding standards. This way, people in the local offices can manage each of your social media accounts and tailor it to the key issues in their area.
What to do next
‌When you're sure your name, address, website, and phone number listings are correct across platforms and you've added local keywords throughout your website and other content, you can test the results. Perform searches in different areas and ZIP codes to see where you rank.

‌Do Google searches for lawyers in different cities surrounding your area to see where you appear in the search. If you have colleagues in other cities, ask them to do a mobile search from their area and see how you rank. You can also use tools like Whitespark or Brightlocal to see how you rank in various cities in your area.

‌You probably won't rank number one on your first try. But if you've managed to make the first page of search results, then you probably won't need to make many changes.

‌However, if your website is located on page 2 or 3 of the search results, audit your page. Look through each section of your website, analyzing headings, subheadings, and other copy to see where you can add local keywords.

Regularly encourage your clients to review your services through social media, Google, and Yelp. Add a form on your website for testimonials and use social media to highlight them.

‌Start creating content. Regularly posting to social media, creating long-form content and making videos encourages people to backlink to your website and share your posts on their social media pages, which boosts your credibility.

By looking at your website through the eyes of a local client and optimizing your online presence to speak to them, you can boost your local SEO.

‌To learn more about how to market your firm, be sure to check out Constant Contact's blog articles for legal services and their online marketing guide for professional services, The Download.

Share with your network