There's something infinitely satisfying about creating with your hands. There's also something that feels good about buying from small-scale artisanal producers. As a society, we've reinvested in artisanship. We want to connect to both the craftsperson and the craft. And, with the right manufacturing business ideas, you can open your own side business or transition to a new career.
Print your products
There are so many types of printers these days, any one of them might ground a solid business plan. Depending on your skillset, you might try one of these manufacturing business ideas.
1. 3D printing
I still think 3D (otherwise known as additive) printing is witchcraft, but engineers around the world disagree.
While it's an asset if you have relevant skills and knowledge, it isn't a necessity. Different 3D products require different levels of expertise.
You will need a 3D printer, design software, and raw materials. You'll also need to pick your specialty. According to the US Chamber of Commerce website, 3D printing is a growth industry with a quickly emerging market and several profitable niches. These include:
prototypes for entrepreneurs
eyeglasses with custom design and fit
toys (particularly game pieces)
spare parts
promotional products
smartphone cases
forensic evidence
Yes, really, forensic evidence! There's a growing trend of using printed products to explain technical specifics to jurors.
2. Photo printing
Everyone you know is snapping more pictures than ever. And, sometimes, you want a more concrete memento than a social media post.
Know that a successful photo printing business is going to take more than an inkjet printer and a can-do attitude. You're never going to compete with a monolith like Shutterfly, which can offer a wide variety of products at discount prices.
For photo printing to join the ranks of strong manufacturing business ideas, you'll need a business plan, high-quality equipment, and a niche. For example, you might specialize in photo-collages or pair your printing services with artisanal framing.
3. Branded business materials
Have a background in graphic design? Take your business to the next level by incorporating printing services.
While email marketing and other digital forms increasingly dominate the field, there's still a place for paper. Businesses need everything from pamphlets to postcards. Even old-fashioned paper flyers can still play a role in a business's marketing strategy.
As a bonus, you're all set up to print out your own advertising materials to post in the neighborhood or hand out at trade shows.
Get crafty with your business strategy
Despite the oversaturation of marketplaces such as Etsy, craft businesses are still viable. There are a number of success stories to prove it.
The trick is finding the right discipline. You need to select crafts with higher profit margins. It also helps to direct your business toward a certain industry such as weddings or pets.
Try one of these craft manufacturing business ideas.
4. Heavy-duty fabric sewing
While you can make money with fashion, you can command a higher price for your creations if you invest in a heavy-duty sewing machine that can handle fabrics such as canvas, leather, and neoprene.
You can also claim a slice of the booming outdoors industry. Make clothing meant to withstand the elements, or craft specialty gear such as sleeping bags or even tents. As you start out, you might want to offer repairs as well as original creations.
A combination of approaches often gives you your best chance of success. Take Shelby, a Finland-based business, as a model. They offer DIY materials, repair kits, and retail gear in addition to their own line.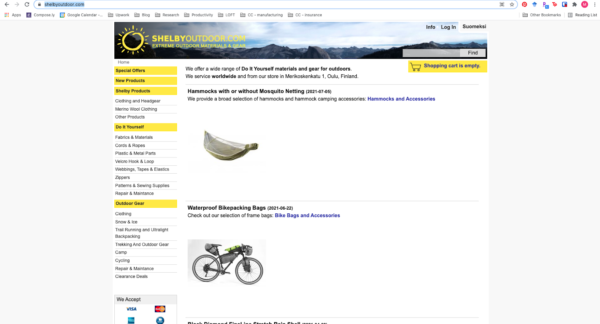 5. Spa and skincare products
Who doesn't need a little pampering from time to time? You can make anything from soaps to candles to cosmetics.
Invest in high-quality organic ingredients made with organic recipes, and rustle up some products that benefit from a homemade look.
Go gourmet with small-scale food production
Take advantage of the relatively new cottage food laws that have cropped up in most states. These laws make it easier to get started with small-scale food production by reducing the regulations that small businesses need to adopt.
Check the laws for your state, but you can often get started with your kitchen at home. You can sell these goods online or register for your local farmers' market. It's also worth contacting specialty food stores in the area to see if they're willing to take a chance on a local producer.
6. Chocolate
I try to be objective when I share advice. However, I firmly believe that there can never be too much chocolate in the world. Luckily, the global chocolate market seems to validate my viewpoint.
Confections are a perfect small-batch food item. Consumers want to indulge in hand-crafted marshmallows, toffees, and caramels.
All of which also make great additions to chocolate… I'm just saying.
7. Condiments and spice blends
Do you have a hot-sauce recipe that your friends clamor for? Or a special dry rub for ribs? Or maybe you make the most amazing cocktail-inspired jams and are particularly known for your strawberry-margarita jelly.
There's a widespread demand for artisanal condiments, little additions to a meal that take it up a notch. The hot sauce business alone is expected to show steady growth over the next five years.
These products also benefit from longer-than-average shelf lives, helping to offset the problem of perishability that most food enterprises face.
8. Baked goods
I admit it. I have a sweet tooth. But in the age of Instagram, few foods make people drool like a good dessert. Harness the full power of seductive images with high-quality photographs and video marketing.
It's also pretty easy to convince someone with bags full of farmers' market vegetables that they really deserve a brownie or two. Just to balance things out.
Like with so many of these manufacturing business ideas, specializing is key. Perfect one thing rather than trying to cover too many bases.
Try manufacturing business ideas that require less manufacturing
One of the most successful manufacturing business ideas you can pursue requires the least manufacturing.
Sell the crafting or cooking experience itself. The market for DIY kits soared during the pandemic, and people rediscovered how rewarding it can be to dig into a project.
Instead of purchasing a bunch of specialty ingredients or supplies, hobbyists often prefer to purchase just what they need for the project at hand. They don't want to spend time tracking down materials or commit to buying in bulk.
If you put some thought and money into packaging your kits, you can market them as great gifts as well as personal purchases.
9. Food DIY kits
Don't go head to head with the full meal-kit providers that operate subscription services. It's impossible for you to match the prices they can offer, and raw foods come with all kinds of liabilities.
Stick to pantry-driven recipes. You can put together your own baking mixes or base a kit on a particular tool. Pick one that people are less likely to already own, such as a novelty mold or candy thermometer.
Or follow the lead of Maddie Gartmann. Gartmann, the founder of Garty Goodies, specializes in cookie-decorating kits. During the pandemic, her kits, which then included homemade cookies and icing, routinely sold out almost instantly. Now, she's transitioned into a decorating starter kit that she can sell at scale.
Find your own decorating or cooking niche. Explore popular or interesting food kits, and figure out what you can add to the market.
10. Craft DIY kits
I loved craft kits as a kid. I still remember how much fun I had with my rock polisher — even though now I wonder why I wanted a pile of shiny pebbles.
Take any handicraft, and structure a kit around it. Give people the chance to make candles or bracelets for themselves. Or put together a holiday craft project that parents can tackle with their kids.
Many local establishments have realized how well crafts pair with cocktails or wine. But you don't need a liquor license to pair DIY with drinks.
Take any of your DIY kits, and add enough raw materials for a group. You can then assemble craft-party kits that include hosting suggestions and recipes. Consider DIY girls' nights, mimosa brunches, or bottle cap and beer extravaganzas.
Next, get ready to grow your manufacturing business with digital marketing
There you have it — 10 successful manufacturing business ideas. Any of these could form a lucrative business or sideline. Just choose one that interests you!

Once you've got the business idea, you need a plan and some help. Start by checking out The Download: Making Sense of Online Marketing for Manufacturing.

This guide to digital marketing will help you find the right audience and make sure that they're able to find you too. It'll take you through strategies for website design, email marketing, social media, business listings, and content marketing.

Share with your network