Manufacturing can be considered a niche industry with marketing practices that don't always apply in other fields. Decision-makers in this industry can be difficult to reach, and they usually like key metrics and stats when evaluating potential vendors.
As a marketer in this field, you might be tempted to skip digital channels altogether, but digital tools for marketing industrial products frequently have the highest return on investment. A recent survey found that nearly 60% of respondents considered organic social media promotion their most successful channel. If you're not making the most of digital marketing, you could be missing some key decision-makers.
Ready to get new manufacturing deals and repeat business — all in one place?
Top benefits of marketing industrial products online
Even in the no-nonsense world of industrial buying, decision-makers are likely to do their research online. When you create content that includes how-to blogs and videos, articles on industry trends, and social media shares of relevant articles, you are establishing your credibility.
These online marketing strategies help you stand out as an expert in your field, building confidence in those who might be interested in purchasing your products and helping you grow your client base.
Digital marketing also lets you reach out to potential clients without having to go out and meet face-to-face with them, allowing you to meet with a greater number of clients. With more professionals willing to take their research and buying practices online, you can increase your sales with strong digital marketing.
Strategies for marketing industrial products online
The volume of online tools for marketing industrial products can be overwhelming, so look through this list of suggestions and take them one step at a time.
A well-designed website
Your website should be the first result in a search engine when people look for you online. If your sales team is still cold-calling industrial buyers, they are probably looking you up. A well-designed manufacturer website that is easy to navigate helps you set a good first impression.
While a sleek and professional design can boost your brand, your website should also be easy to navigate. Approximately 44% of B2B buyers stated that they would leave a website if they couldn't find the company's contact information. Your website should also tie into other branding elements, using the same fonts and colors as your business cards and other marketing collateral.
Email marketing
Many people, including buyers, still spend a lot of time reading emails as a part of running their businesses. Since you can automate your email marketing, this channel doesn't have to be time-consuming.
Create a series of automated messages that include welcome emails to new clients, promotions, and order statuses. You can also develop a newsletter that keeps your customers up to date on trends in the industry.
Video content
Video is growing as a marketing channel because people enjoy watching online. Get on a platform like YouTube or Vimeo and start a video marketing campaign. When marketing industrial products, you don't have to limit yourself to catalogs and brochures.
Create fun and informative videos that engage buyers and drive them to your website. Popular topics include product demonstrations, Q&A sessions, and a walk-through of the factory. You can also create a series to highlight new products.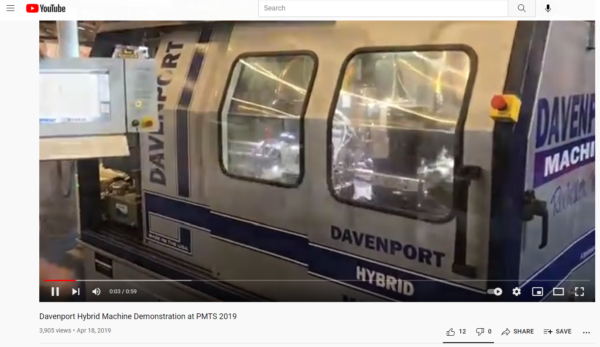 Social media
Social media remains one of the most successful outreach strategies. New platforms pop up every year, but the most consistent are still Facebook, Instagram, LinkedIn, and Twitter.
Digital marketing for industrial products is likely to be more successful on LinkedIn since that platform is used for business and networking. Set up a business account and start posting updates about your company coupled with industry information. Engage your clients by following their companies and liking and sharing their content.
Paid ads
Buying pay-per-click ads on Google and paying for social media ads is another way to boost your online visibility. This tactic is still affordable. The average cost-per-click for a Google ad is $2.69, which is what you would spend every time someone clicks on your ad.
You can set a cap on your ad spend, which keeps the cost from getting out of control. Sponsored social media posts are also a cost-effective way to promote your content.
Best practices for digital marketing
For best results, follow these practices. They'll help you organize your digital marketing strategy and implement it successfully.
Outline your goals
The first step in digital marketing is to identify your goals. What do you want to achieve? Do you want to generate more leads? Do you want to nurture relationships with existing customers?
Your goals will help you narrow down your strategy. For example, if your goal is higher brand recognition, you can create valuable content and establish yourself as an expert.
Create a content calendar
It's easier to market effectively when you can track and measure your outreach. Create a content planner so you know which digital marketing tools you're using. You can track platforms, dates of outreach, and deployment strategies.
You can also create a separate calendar specifically for social media to track what you posted when. This helps you add variety to your content.
Pay attention to SEO
One of the benefits of digital marketing is that it improves your search engine optimization (SEO). Creating content for social media, blogs, and other digital channels improves your search ranking and makes it easier for potential buyers to find you online.
When creating digital content through social media, blog posts, and even video descriptions, add keywords and phrases to improve your online visibility.
Measure your results
Most digital marketing platforms offer analytical data that you can use to improve your marketing. Look through metrics to see which social media posts are the most engaging, which emails have the highest open rates, and which pages on your website generate the most traffic.
These tools will help you narrow your focus to communicate your benefit to potential buyers accurately. Use the results to keep fine-tuning your messaging until you find what works best.
What to do first
If you don't have a website yet, create one. There are plenty of templates available for creating high-quality, mobile responsive sites. Once your site is up, start setting your goals to help you with digitally marketing industrial products.
When you have solidified your goals, you can start researching the best marketing channels and strategies to effectively draw buyers to your website or encourage them to give you a call. In manufacturing, buyers are increasingly shifting their attention to digital marketing. If your tools are not at the level of your competition, you risk missing out on potential new leads. Get started on your marketing strategy today and stay ahead of the competition.