Pinterest's Topics tool (formerly known as Interests) helps users find new pins based on what they've already saved to their boards.
If you haven't tried the tool, go to pinterest.com/categories.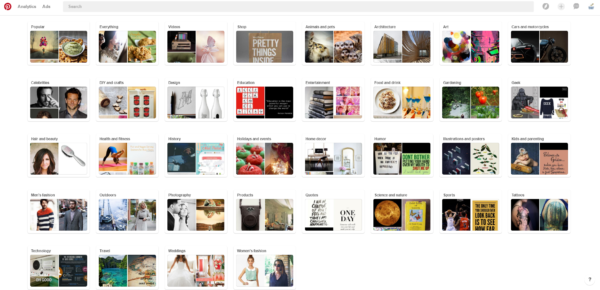 Pinterest has assembled collections of pins based on the most popular topics for pinners. You can follow a topic you're interested in by clicking a topic from this page, and then following one of the collections listed on top of the topic. For example, if you clicked on the Quotes topic, you'd see this:

Then click on any of the 5 collections on top and follow them. You'll see pins from that collection in your Pinterest feed.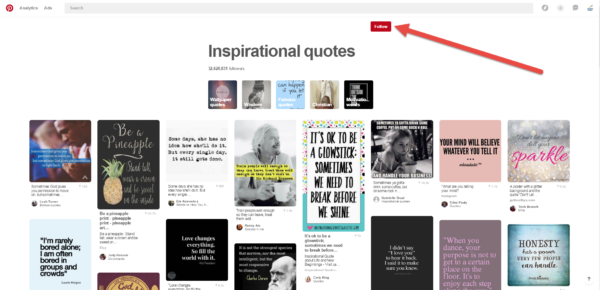 If you're using Pinterest to market your small business or nonprofit, the Topics tool can help extend the reach of your content to a brand new audience. To make that happen, your pins need to be searchable, so here are a few tips on how to get your content ready to be found through Interests:
Be strategic about keywords and categories
Each Pinterest board you create is labeled with a category. These are broad topics, but pick the one that relates the most to your content. Also provide a complete description of what you're pinning on your board. For each pin, fill out the description and make sure there's a link for people to click on so they can purchase your items. Use the keywords that you would use on your website or in blog posts to get found. The more descriptive you are, the more likely your content will come up when someone is searching for those topics.
Try rich pins
You can add even more information to your pins by using rich pins, which allow Pinterest to automatically add details like prices, product availability, and locations from your website. There are five kinds of rich pins — product pins, place pins, article pins, recipe pins and movie pins. To use rich pins, check out Pinterest's instructions — you'll need to add some coding to your website.
Use beautiful imagery
People are drawn to visuals before reading the details. So if you have great photos of the items you sell, use them in your pins. If you need images, try using Instagram to capture and edit photos. You can also make images or graphics with free photo editing programs like PicMonkey, Canva, or Adobe Spark.
Pay attention to the colors featured on your images. Pins with lighter colors are consistently repinned more than pins with darker colors. And warm colors like red are more likely to be repinned than images that have blue colors.
The way you photograph your items being used or worn by people is important too. Images without faces get 23% more repins than those without.
Optimize how your images are shown in the Pinterest feed, on boards and when clicked by cropping them to the size Pinterest uses to display them. (Pins in the feed have a width of 192 pixels and the height will adjust accordingly.)

Need more Pinterest marketing help?
We've created a Pinterest board that's full of helpful Pinterest tips, facts and stats. Or check out our guide How to Drive Social Visibility and New Business with Pinterest.

Have any questions? Post them in the comments below.

Share with your network