Today's dental patients are proactively involved in their health. They'll likely do some research to learn more about your practice before booking their first appointment.
About 46% of all Google searches are local. Using search engine optimization (SEO) to improve your website and digital marketing makes you more visible to local patients, making it easier for them to find you online and call for more information.‌
We make it easy to build loyalty with patients and clients, drive referrals, and grow your center.
How to use local SEO to help customers find you
First off, it's important to understand how local SEO for dentists differs from traditional SEO. Traditional SEO helps your website appear higher in search results, regardless of where a user is located. Local SEO improves visibility to patients in your service area.
You can enhance your overall SEO by doing keyword research and adding some of these phrases into your website and other online marketing. Keywords and phrases are the terms clients use to find you on a search engine. Think of phrases you would use to find your office online.
Local SEO goes further by making sure you show up in Google searches like "Dentists in XYZ City." Adding local keywords to section headers or your "About" page provides clues to search engines that your website is credible and belongs in local search results.
This guide offers tips you can use to get started with local SEO.‌‌
Why SEO for dentists is important
Today's patients have more access to information than ever before. They often use their phones to research care providers, considering online reviews and ratings before deciding to book an appointment.
‌SEO for dentists boosts your performance on Google and other search engines. Landing front and center in search results is crucial since most people don't navigate past the first page and about 25% of users click on the first result. Healthcare SEO will improve your search engine ranking and increase your visibility to potential patients.
5 ways to use local SEO for dentists
‌Update your listings
Updating your business listing lets you pop up in the Google map when a customer searches for your office. Optimize your local SEO by checking your listings on Google My Business and Yelp. As a dentist, you are also likely listed with the American Dental Association (ADA) and other industry databases. Make sure your practice appears in the Find a Dentist database.
If your business isn't listed on these sites, or if the information listed isn't correct, update it. First, create a Google My Business Account. Then update your address, phone number, website, and hours.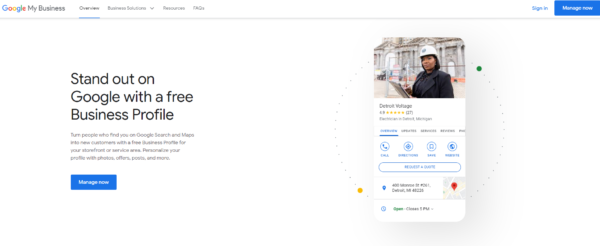 To update your business on Yelp, create an account and select the option to manage your free listing. Double-check your name, address, phone number, hours, and website.
If you're an ADA member, you can update your Find a Dentist listing by logging into your ADA account and updating your information. This listing should include your specialty along with your name, address, phone number, hours, and website. Make sure all the information listed here is correct.
Do market research
Market research involves comparing yourself to other dentists to see how your marketing stacks up. Do a competitive analysis by searching for dentists' websites and noting which phrases you searched. Compare the top results with your website and social media.
Look through each dentist who comes up on the first page of your search. Click on their social media pages to see which posts get the most engagement. Read blogs published on their websites. These results will help you organize your own website and online content for better SEO.
Gather client reviews
One way Google and other search engines populate the maps tool is through customer reviews. After each visit, encourage patients to rate and review your practice online. Send out a request to your email list asking current customers for testimonials.
‌Your reviews will show up in all your database listings, but you can also include them on your website. Testimonials build your credibility and tell search engines that your site is of interest to potential patients.
If you happen to get a negative review, make sure to address it professionally. It's best to do this by first apologizing and then offering to take the discussion offline in order to make things right. Once the discussion is offline, figure out what went wrong and do what you can to fix the situation.
Create compelling content
If you're already creating blog posts, newsletters, videos, and social media posts, you're off to a great start. If not, start making engaging content. It improves SEO and lets you build a relationship with customers. Content encourages them to interact with you.
Create blog posts or fun videos about proper oral care such as how to make brushing fun for the whole family. Highlight employees and happy patients. Use your email contact lists and social media platforms to share stories with your clients.
Optimize your website for mobile
These days, most people will find you by using their phones, particularly if they're experiencing a dental emergency. Make sure your site is optimized for mobile devices so patients can easily navigate and learn more about your practice.
You can see how your website looks by searching for it on your own mobile device. If the page doesn't display correctly or you have trouble navigating to different pages, your site needs to be optimized. Many website builder tools already optimize each site to be mobile-responsive. If you haven't updated yours in a while, consider giving your site a refresh.
How to move forward with your local SEO
‌Local SEO for dentists keeps your business at the top of search results. It's a critical tool you can use to help patients in your area find you and book an appointment. The process of optimizing your local SEO might seem overwhelming, but you can start with small steps.

Get started by using SEO tools that let you evaluate your site and measure its performance. Once you know where you are, you can take steps to improve. After you've audited your website, check and update your business listings.

Using these best practices will boost your search engine performance and help more potential patients find you online.

Share with your network