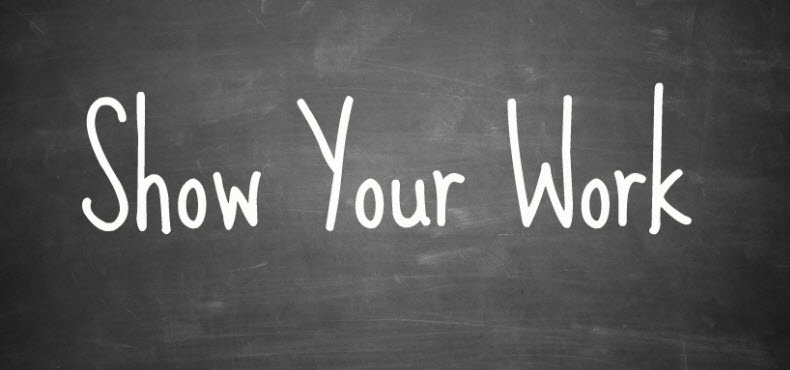 In math class growing up, I was constantly being told to show my work.
I hated math.
But what I didn't realize was that showing my work wasn't just about proving I knew my stuff. It was giving me the opportunity to understand and refine the process over time.
I still hate math.
But the lessons I learned about showing my work then, continue to provide value today.
This is something author Austin Kleon talked about in his keynote address at this year's South By Southwest Interactive Festival in Austin, Texas.
"Don't just share your products, share your process. Think about what you know how to do that other people would be interested in learning. Think about what you have to contribute. When you teach people how to do your work — when you let them work over your shoulder — you are generating more interest in your work. People feel closer to your work because you're letting them in on what you know."
At SXSW, Kleon was speaking to an audience of entrepreneurs, marketers, and members of the tech community.
He explained that by showing your work and teaching what you know, you will start to attract people who share your mission and have a connection to your work.
This not only allows you to build your network, but also offers one of the most effective ways to connect with customers, and potential customers as well.
As a business owner, it has never been easier to let people in on your process.
Today's online marketing tools have eliminated a lot of the roadblocks that made it difficult for business owners to get themselves out there in the past.
Sites like Facebook, Twitter, Instagram, and Pinterest make it easy for you to pull back the curtains and let people see the work that goes into running your business. These tools also allow you to get feedback, encourage conversation, and make fans and followers part of your success.
As Kleon writes in his newest book, also titled Show Your Work!:
"By letting go of our egos and sharing our process, we allow for the possibility of people having an ongoing connection with us and our work, which helps us move more of our product."
Don't think your work isn't interesting; it is.
Remember that you're trying to reach your audience, not anyone else's.
A bakery owner sharing photos of a fresh batch of cupcakes isn't necessarily trying to reach the same audience as the mechanic sharing photos from underneath  a car. And that's okay!
Focus on what's unique about your business, and why someone would be interested in your work. This will not only help attract the right people, but will also help expand your audience when people share and interact with your content.
As you start to show your work, pay attention to the feedback you receive.
Just like a student in math class, one of the biggest benefits of showing your work is that you're able to refine your process over time.
This means incorporating the feedback you receive, but it also means learning from the people who are learning from you.
As Kleon said in his keynote address:
"Teaching is not a completely altruistic activity. When you share your knowledge and your work with others, you receive an education in return."
Be open to the education your audience can provide. Remember, feedback is a gift.
Start showing your work!
Don't let the intimidation of getting started, stop you from showing your work.
If you're already on social media, look for ways that you can shift your strategy to help show your work. This means opening yourself up to try new platforms, or experiment with different forms of content — whether that means starting a blog, shooting videos, or experimenting with other visual assets.
And don't forget to give people the chance to stay up-to-date with everything you have going on. Create an email newsletter that showcases your work, and use the content you create on different platforms to encourage people to sign up.
By focusing on showing your work, you'll have more people reading, more people sharing, and more people talking about you and your work.
Have you tried showing your work online? Tell us how in the comments below.
Want to learn more about why you should show your work? Pick up Austin Kleon's new book, Show Your Work! 10 Ways to Share Your Creativity and Get Discovered.