Most people do business with brands that they follow on social media. So, businesses have to step up to meet new generations where they are. Social media for dentists has great potential to accomplish just that.
With your everyday responsibilities ranging from appointments, accounting, and business development, how can you make room for learning social media and what to post? The practice has a learning curve, but by applying the following social media strategies, you'll start getting the hang of it quicker than you imagine.
We make it easy to build loyalty with patients and clients, drive referrals, and grow your center.
Benefits of social media
The way you attract new patients can change drastically after using social media. Done from a place of honesty, social media marketing can make your practice well known among your target audience.
Better reach/larger audiences
Using hashtags, trends, and even location tags, you can significantly increase your posts' reach, delivering your content to more people.
Data to use for smarter marketing
‌Social media platforms like Facebook, YouTube, and Instagram give you valuable insights into your audience. With the available statistics, you can learn the best times to post, the type of content that performs best, and the essential characteristics of your followers that can help you target them better.
Showcase your expertise
Using social media for dentists can be an effective marketing strategy for building your reputation and expertise. When you consistently share your experience and knowledge on social networks, potential patients see you as a reputable expert worth visiting.
Social media best practices
Understanding social media starts with learning that every platform is different. Some networks are more image-focused, while others are text-heavy. Knowing the right content for the platforms you want to use, and limiting the number of networks you're posting on, will help you focus your efforts. This way, you're not diverting your attention from engaging with your audiences.
Use the best social media for your goals
‌The best social media chennel for you will depend on what you're trying to achieve. Facebook is great for advertising or connecting with people via groups to expand your reach. Instagram and TikTok are video-focused, where you can share impressive before-and-afters or even tell stories and share tips to show your expertise. And, YouTube is great for longer-length videos that you can use to educate potential patients.
Twitter is a place to share quick insights and thoughts that can spark discussion, sharing expertise and expanding your reach. It also allows you to enter others' conversations. Choose your goals and define which platforms you'll be using accordingly.
Understand the liability
‌Depending on the country where you work, sharing certain types of content may be illegal. Take Brazil, for instance, where sharing patients' procedures online is illegal. Before-and-after photos would be out of the question in places like this, though frankly, not all businesses are up to code online. When sharing content online as a medical business, you have to understand liabilities and limitations, and it's always good to consult a lawyer just in case.
Use analytics
‌Make the most out of your social media presence by using tools like Facebook for Business and the business accounts on Instagram and TikTok. By differentiating your account from a personal one, you'll not only be more authoritative, but you'll also get more tools at your disposal. These include analytics tools that show how your posts perform and the demographics of people you're reaching.
Schedule your posts
‌Sitting by the computer or your phone waiting to post isn't just dull — it's unrealistic. That's why several social media tools allow you to schedule posts ahead of time. These tools allow you to set aside time once per week or month to schedule all the posts you have planned for the week, month, or more. With this, you don't have to think about posting again until the schedule has been fully posted. This practice helps you to avoid burnout from content creation and brainstorming.
CALLOUT: No matter which social media channel you use, make sure that your posts not only add value but are also personable.
4 social media post ideas for dentists
Now that you have some background on general social media use and the different platforms available to you, let's look at how you can use social media for dentists in your new strategy.
1. Get feedback
If you already have an engaged audience with a community that knows your practice well, ask for their feedback on any upcoming changes you have. Changes can mean launching a new product, introducing a new staff member, announcing new opening hours, expanding to more locations, and more.
Stay in touch with followers and let them know that their opinion matters. They'll also be happy to hear what's new in your practice, how they can get involved, and if they should expect any changes or new additions that they might want to test out themselves. By reminding them via social media, you'll continue to be on their mind the next time they need a dentist.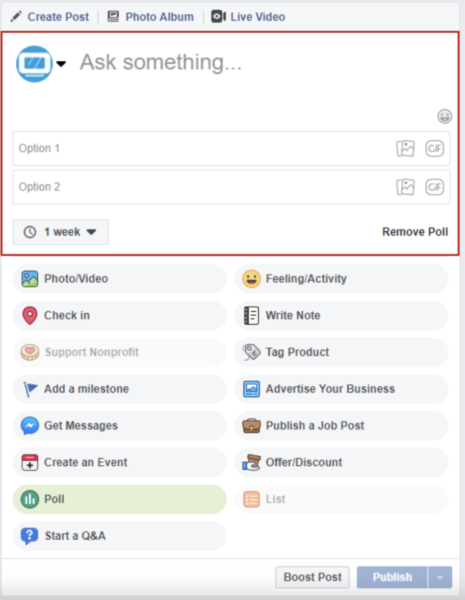 Facebook poll scripts for dentists
To run a poll on Facebook and get feedback, navigate to the area where you'd create a post and select "poll" in the options. Then, ask what you're looking to get feedback on. Here are some scripted options:
"How would you rate your experience with booking appointments?"

Excellent
Good
Not great
Terrible

"What other service(s) would you like to have available with us?"
Orthodontics
Oral and Maxillofacial Surgery
Periodontics
Other (specify)
2. Show a success story
While the dentist is a necessary visit, many avoid it because of fear of pain and discomfort. So, how can visiting the dentist be something patients look forward to?
Share success stories from patients who had a good experience. Whether it's an aesthetic transformation or a testimonial of why your patients trust you, these posts generate trust with potential patients.
Success story script for Instagram and TikTok
When sharing a patient's success story, use this basic script and change any details as necessary:
[insert photo with consent from patient]
"This patient came in with [insert condition or problem]. After a consultation, we were able to help by interfering with a [insert procedure]. Overall, the process took [duration] and the recovery should take another [duration]. After this, the patient can expect to go back to a pain-free and worry-free life.
If you have a similar problem or want to consult about a condition you are experiencing, book a consultation!"
3. Go live with a Q&A
Do you often get asked about certain procedures? Run a live Q&A event during which you answer viewers' questions on these topics. Prepare by bringing some FAQs and use them if viewer participation is low.
Live video is especially useful for dental Instagram post ideas. Live sessions on this platform will generate more notifications to followers, reminding them to tune into your content. If you invite guests to your live video, their followers will get an alert, too, hinting to them that you're someone to follow.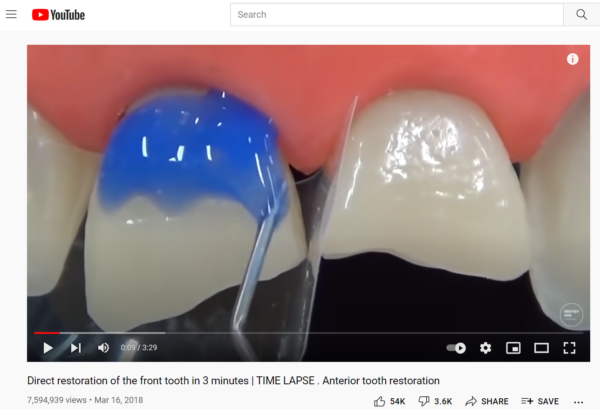 4. Break down the jargon
Any diagnosis can spark anxiety in a patient. Share information that breaks down the jargon often used to describe conditions, diseases, and dental procedures.
By demystifying dental visits, you contribute to people's trust in dentists overall. One way to do this is by discussing a process like a root canal and explaining which parts are uncomfortable and how dentists can make the process easier for their patients.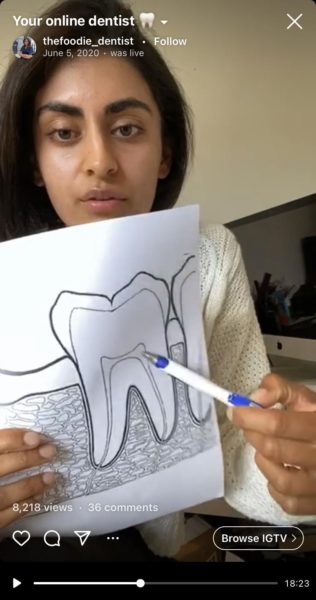 Social media explanatory post
To create your own explanatory post for social media, follow this script:
[add a photo, video, or illustration of the procedure. In this case, an implant placement]
"What is dental implant surgery and when do you need it? ????
Dental implant surgery replaces the roots of your teeth with metal posts. It also replaces damaged or missing teeth.
Before having an implant, you should have an extensive exam including X-rays and 3D images and models made of your teeth and jaw. You should also inform your doctor of your medical history and get a detailed treatment plan that includes recovery options and recommendations.
The entire process will take several visits and a few months. Why? First, your surgeon will evaluate your particular implant needs. This may include a sinus lift, a bone graft, or even a need to wear braces for a period of time. This is because an implant needs two things to be properly installed. The first is good bone for the post to be set into and the second is enough space for the crown of the implant to be set so it looks natural. Once room for the crown is established, the post is set. It takes several months for the implant to integrate with the bone in your body but once it's integrated, your dentist can take a molding of the new post in place and have a crown shaped. It usually takes about two to three weeks before the final crown is received which is then screwed or cemented onto your implant post.
While this procedure takes time, the results can be remarkable — restoring both the functionality of your teeth and your smile."
Draft your first 10 to 20 posts
Using social media for dentists isn't about just using one platform or producing one type of content. Depending on your goals, target market, and how you want to grow your community, use the social media platforms that best support your practice — whether visual or text-based. In your marketing strategy, you'll be able to apply the best practices discussed depending on your goals, the country you live in, and the content you prefer to create.

To take advantage of the benefits that come with social media marketing mentioned above, start by drafting your first 10 to 20 posts inspired by the examples seen in this post. For instance, you can schedule a weekly live video session on Facebook, Instagram, or TikTok or round up testimonials from happy patients that you can share weekly.

By planning a handful of posts in advance, you're more likely to commit and not give up. Finally, schedule those posts for later using a scheduling app, and watch your social media following grow over time.

Share with your network