Using social media marketing to its highest potential allows manufacturers to generate higher quality sales leads and build their brands. But the volume of social media channels and the variety of content that can be launched across them makes it daunting.
This article will help you more effectively understand social media and how to use it to your advantage, including these topics:
The benefits of social media for industrial companies
The best social media platforms
‌Paid posts
Where to start
Ready to get new manufacturing deals and repeat business — all in one place?
The benefits of social media marketing for industrial companies
‌According to Statista, over 3.6 billion people worldwide regularly used social media last year. Effectively using social media marketing for industrial companies puts your brand in front of these people. It can be used to bolster your reputation as an expert in manufacturing and attract new customers. These people can find you by searching hashtags or connecting with others in your network. 
Nailing your social media strategy also lets customers weigh in on your services, helping you improve. 
The best social media platforms
‌With new platforms regularly popping up, finding the right platform for your company can be challenging. Your best bet is to start with one platform and expand your social media strategy once you have gotten into the routine of creating free content that helps customers find you, known as organic posts.
Constant Contact offers social media tools for various platforms that can be used to schedule and monitor your posts, helping you better attract and engage clients. 
‌LinkedIn
‌Launched in 2003, LinkedIn is most commonly used for business. This platform is a good starter for industrial companies because it will connect you with professionals in your field. Using this tool will likely lead you to C-suite employees and sales professionals.
As part of your social media marketing for industrial companies, use LinkedIn to find new buyers and build your brand.
Join industry-related groups and regularly engage on the boards to build your credibility.
Build brand awareness by sharing company blog posts and other news on your LinkedIn page.
Keep your network informed about new product launches and other innovations to keep salespeople interested in your company.
This LinkedIn post from Goodman Manufacturing highlights an effective way to promote the company's presence at an industry conference. While the company is using LinkedIn to promote the conference, it's an invitation for others who may be at the conference to connect. It also encourages other industry professionals to attend the conference. 
‌YouTube
‌Videos offer another effective way to connect to buyers and end-users of your goods. YouTube is the largest video content platform, but it is often overlooked as part of a digital marketing strategy. Since YouTube's algorithms suggest similar content to viewers, this platform introduces your company to people who will likely be interested. Take advantage of YouTube by regularly posting educational and engaging videos.
Include keywords in your titles and video descriptions to help engineers find you.
Answer your customers' frequently-asked-questions with product demonstrations or other instructional videos.
Interview past clients to highlight the benefits of your products and celebrate successes.
Include your employees in the videos to build their trustworthiness.
‌IBM hosts a YouTube channel and regularly posts content ranging from its "What the Jargon" series to in-depth analysis of industry trends and topics. Most of its videos are short, yet informative. Ideally, you want to keep your videos between 7-15 minutes depending on the content. If you are making a video that is just for marketing, keep it under 2 minutes.  
‌Facebook
‌Facebook reports that 73% of members use the platform for business purposes. This social network lets you build a relationship with your existing and potential customers. You can react to client feedback by commenting on user posts, create satisfaction polls, and build brand awareness with curated posts.
For businesses whose customers primarily consist of other businesses, Facebook marketing can be tricky, because customers are also interacting with their own clients. But this platform is still a good place to promote your company culture and highlight your credibility within your market. 
Post company highlights and announcements to celebrate your employees and your culture.
Share articles and other content that highlights trends in your industry or other information that is interesting to your clients.
Celebrate your customers by liking their pages and sharing their success stories.
Bosch Global is a leading supplier of technology and other services. The company's Facebook page is regularly updated with interesting videos, blog posts, and other content. It also effectively utilizes hashtags to help generate page views.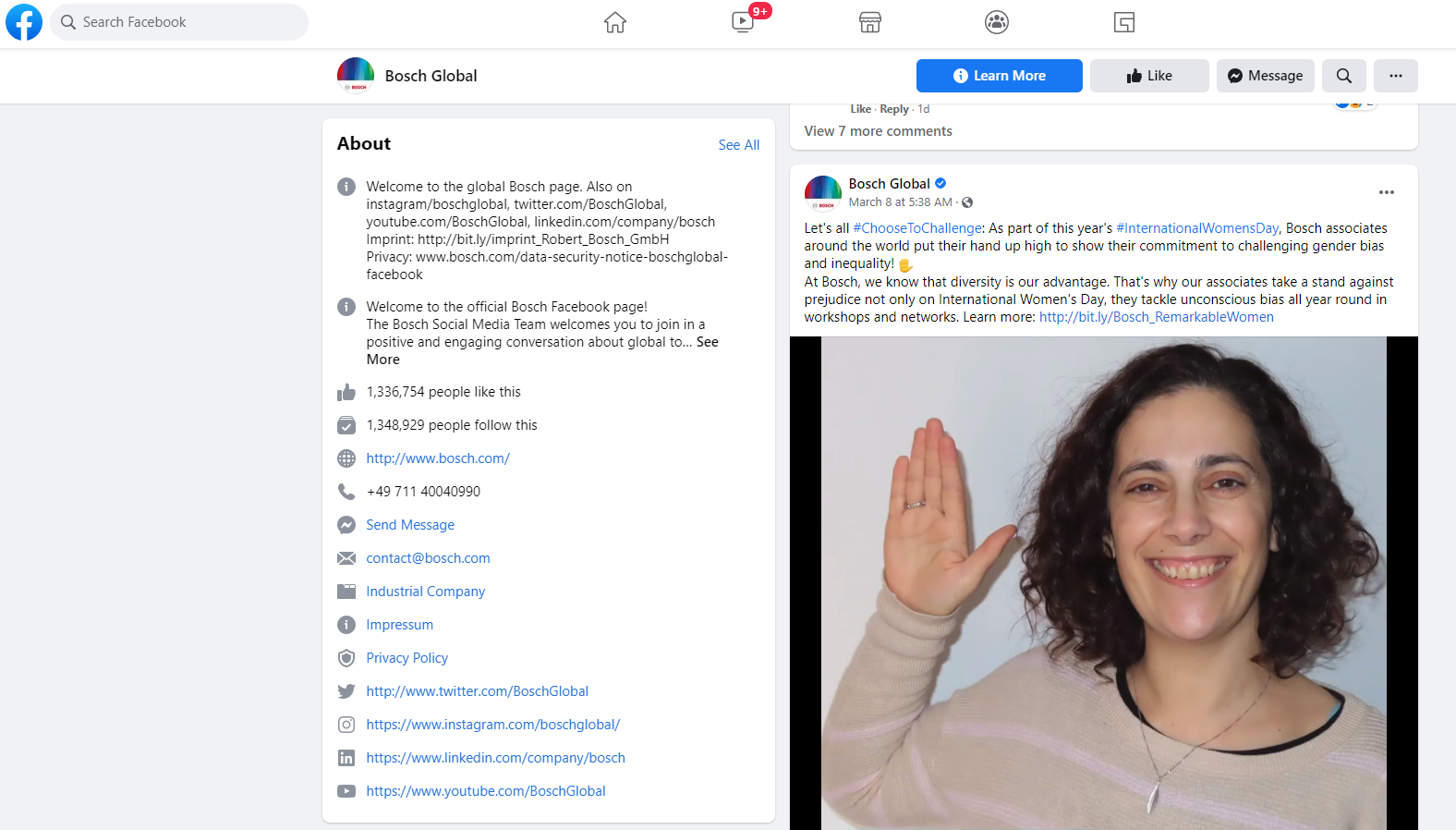 Instagram/Pinterest
‌Since Instagram and Pinterest are visually appealing and fun to scroll, they are popular with users. Pinterest lets you share your products with customers who can then share with people in their network. Creating interesting and artful content with your products and services is a good way to help people find you on the platform, which can then be used to drive people to your website. 
‌Use Instagram and Pinterest if you have products that are visually pleasing.
‌Drive people to your website with high-quality photos and Instagram stories.
‌Use these platforms to drive people to your booth at shows.
Airframes Alaska, an aviation product and outdoor gear manufacturer that has the benefit of the Alaskan landscape to add interest to its Instagram page. Along with photos and videos of its products in action, the company also regularly takes people into the factory on Instagram. This page effectively associates the brand with outdoor adventure.
Paid Posts
‌Facebook, Instagram, and LinkedIn all offer ad opportunities. While organic posts are free, they might not be as effective in driving traffic to your social media page as an ad. With paid ads, each platform will place your post in the feeds of people who may be interested but may otherwise not see your posts.
‌Facebook and Instagram ads are cost-effective. Both platforms let you set your budget based on your desired number of impressions, and you can cap your spending amount. They also offer targeting options, so you can choose who sees your ad based on geographical location or industry. Use Constant Contact to create targeted Facebook and Instagram ads that will be more likely to pop up in your buyers' feeds. 
‌LinkedIn ads are more expensive than Facebook and Instagram ads, but the platform targets professionals. Using LinkedIn ads is more likely to put your ad in front of decision-makers. Using targeted copy that highlights the benefits of your products can help you get a higher return on your LinkedIn ad.
‌Another benefit of paid posts is that you can run more than one and track the analytics to determine which messages are most effective. This will help you refine your messaging on other marketing channels as well.
Where to start
‌Social media marketing for industrial companies can be daunting. Starting out with one platform can help you tailor your strategy until you're comfortable regularly posting content. If you're using these tools as part of a B2B campaign, focus on building brand awareness and credibility. By creating high-quality posts, you can generate better leads and leverage your social media to turn them into customers. 
‌‌For more advice about how industrial companies can use social media, get The Download, a free guide to online marketing for industrial companies like yours.