When my friend Jennifer moved from Florida to Illinois with her boyfriend, she left behind a fairly successful cleaning business she built through her contacts and word-of-mouth. Because she moved during the pandemic, she was faced with a unique series of challenges in her new state. In many ways, she had to start her new house cleaning business from scratch.
In Florida, she had just started cleaning homes on the side for friends in need and quickly gained clients until her schedule was filled. She wanted to make that happen again in her new state, but she wasn't sure where to start.
One thing was for sure: She picked a great industry at a perfect time. Hourly prices across the nation for deep-cleaning rose to between $55 and $65 an hour post-pandemic, according to a report by commercial cleaners OneDesk. One study by Grand View Research suggests that these rates will continue to increase. The global commercial cleaning service industry was estimated to be $292.6 billion in 2019.
Even with the growing demand, Jennifer confided in me that she didn't know where to begin to start a house cleaning business. As someone who has worked as a small business marketing consultant for decades, I was happy to provide her — and you! — with house cleaning business tips to grow her customer base quickly.
Here is the checklist of must-dos and must-haves that I shared with Jennifer to fill her schedule once again.
Ready to find more leads and get expert home services and construction marketing advice, all in one place?
Know your customers
For any entrepreneur, the first thing to consider is who exactly you're looking to serve with your business. A common mistake is to answer, "Everyone!" Even though that sounds appealing, it's simply not true. Think of the answers to these questions:
Do you want to clean commercial buildings or homes?
Do you want to focus on a specific community so you don't have to travel?
Is there a particular kind of cleaning you enjoy more than others?
The key to starting is to create a narrow focus for your cleaning business marketing efforts and expand outwards later.
Consider the types of people who make up your target audience. Until you know their pain points and needs, you'll have trouble reaching them. With everything you do on this list and beyond, make sure it resonates with these people.
Know your competition
Who else is trying to start a house cleaning business in your region? Take an inventory of the competition by doing online research and talking to your contacts in the community. This is often a step that can feel disheartening. With so many people doing what you want to do, how will you know if there is room for you in the marketplace?
This is where you must learn to differentiate yourself. What are the values you have that set you apart? What are your competitors doing that you like and dislike? Look critically at the other professional cleaners but remember: They may be overwhelmed with clients and open to collaboration.
Create a business plan
So many small businesses fail because they just dive in without doing the foundational work that is necessary to succeed in the long run. It's vital to create a basic business plan even before you land your first customer. That way, you'll be ready to grow and hire employees when the time comes.‌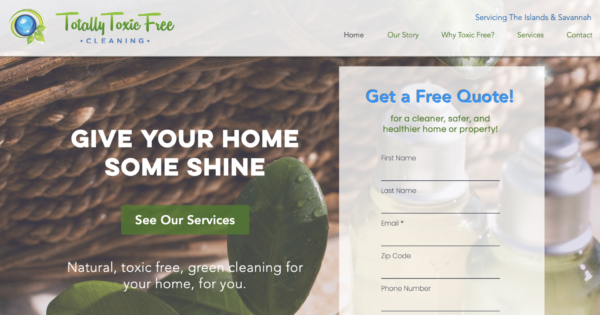 ‌‌This may take some time, but it's worth it. Think about how you'll respond when you happen to run into someone looking for a house cleaner. If you're prepared with a list of services that you offer and a pricing plan, you'll come off as a professional and be more likely to land the job.
Research start-up costs
You'll need to research the start-up costs before you can know what your time is truly worth. That's right — there's math involved in this house cleaning business checklist! You'll want to consider:
Will you be purchasing equipment, such as a vacuum, mops, and sponges?
What kind of cleaning products will you be using, and how much will be needed per square foot?
What is the cost per mile for commuting to each house?
Will you want to hire an assistant, and what will you pay them?
Will you need business insurance?
What will your uniforms cost?
How much do business licenses in your community cost?
Financial planning can feel overwhelming at first, but it's the most important part of any business. After all, you don't want to find yourself chipping away at your bottom line because you forgot a key cost of doing business.
Create your outreach plan
‌Word-of-mouth advertising remains a powerful way to gain new customers, but the reality is that today, it happens online. That means it's crucial to develop a strong online presence and a digital marketing strategy to keep your reputation strong.
Website
Even if you are just starting small, you need a website. Don't simply rely on social media, although that's also important. Having a website that's easy to navigate and mobile-responsive will help you look more professional. Include a menu with the different services you offer and your pricing sheet. Create a short bio for yourself and any employees you have, and be sure to include a page for testimonials. Most importantly, don't forget a Contact page so your future customers can reach out!
Social media
‌Create a Facebook Business page and ask your local contacts to connect to you. Keep it active with cleaning tips, funny comics, tips for locals, and anything else you think your target audience will appreciate. A word of caution: Steer clear of politics or topics that might seem controversial. Presume that every potential customer will be looking.
‌Email marketing
‌Perhaps the most powerful of my house cleaning business tips is to cultivate an email list of current and past customers. Create a simple intake form for people you work for and ask for their email addresses. Then, create an email marketing plan to keep your services top of mind.
Send discounts for holidays, provide tips and ideas for clearing clutter, and send news you'd like to share. Do your clients know about a particular deep-cleaning service you offer? Email is a cost-effective means of communication that helps you build a relationship that can last years.
Claim your business
‌Log on to Google and search for "house cleaning" in your area. What comes up? It could be you — especially if you claim your free Google My Business profile. Fill out everything completely, including photos and a link to your website. Include your services and your contact information. This helps you take control of the first impression many of your clients will get.
Don't forget to ask for reviews! You can even offer a small discount for clients who give you reviews on Google or Facebook. Respond professionally to each review, whether it's good or bad. A short note of gratitude goes a long way.
Start a house cleaning business and become your own boss
For my friend Jennifer, starting a house cleaning business was a step toward independence. And you can enjoy the same freedom.

Start with any clients you already have. Think about who they are, what needs do they have that you fill, and what do you like or dislike about working for them. Getting to know your ideal customer will get you started. Then, go step-by-step through this checklist and you'll be on your way to a thriving house cleaning business before you know it.

Share with your network