Let's face it — getting your marketing right isn't easy.
With so much bad marketing out there, how can you stay above the fray and create messages your audience actually enjoys?
Even more challenging: how can your marketing efforts translate into real business results?
For art gallery founder, Anthony Schaller, successful email marketing comes from combining creativity with a guiding mantra: "Simplicity. Consistency. Stay the course."
Even in a niche market with discretionary spending, Anthony has built an engaged email list that consistently generates gallery sales.
Looking to try email marketing for your business? Test drive Constant Contact for free! Sign up for your free, 60 day trial.
Let's have a look at how Anthony's mantra ties into his art gallery's email strategy:
1. Simplicity
When it comes time to create a new email, Anthony focuses on clean design and concise copy. Anthony uses a professional email template to showcase new ceramics from the gallery and include links to his social channels, website, and exhibition calendar.
As you can see in the example below, Anthony uses a muted background and quality images to entice readers to click-through to his website.
Anthony sums his design strategy up well: "Minimal words, a lot of imagery, stick to the point, and get them to the website."
To drive action, Anthony limits the number of links he includes in each email and uses buttons to make his links stand out.
"We've noticed when we go back to look at all the click-throughs, it's really about sending that email about one thing. That's what works best for us," he says.
Tip: Use this infographic to create a creative call-to-action for your next email.
2. Consistency
Branding is another important element of Anthony' email design. Anthony is able to easily customize his emails to create consistency and reinforce his brand each time he hits send.
"Our branding stays the same, the font we use stays the same. We will match colors based on the images within the email itself, but not a whole lot. We really try to make it about the pieces in the imagery, and the backgrounds will be black, white, grey."
You can easily recognize the similar look and feel of each email: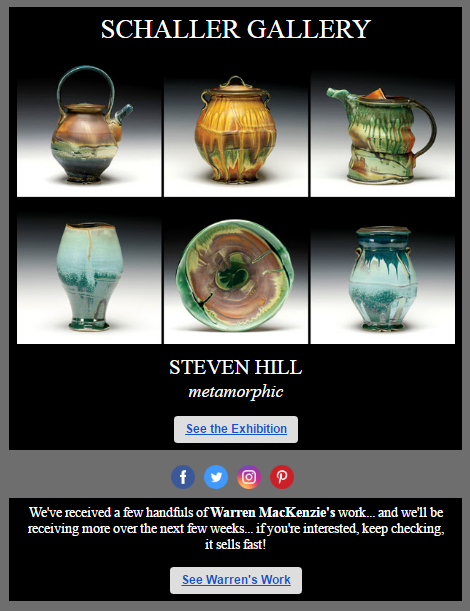 Consistency also plays into the frequency in which Anthony sends emails.
"We typically send out three or four emails a month based on when we have new works or a new exhibition," he says. "We have a show at the beginning of the month, the middle of the month, the end of the month. We space out the emails about seven to ten days apart so we don't overload people."
Tip: Not sure how often to email your subscribers? Use these tips to keep your subscribers updated, without overwhelming them.
3. Stay the course
As a business owner, you know your audience better than anyone. So when it comes to email marketing, stay authentic and speak directly to your specific audience.
"Make sure that what you're putting out there in an email and its presentation represents you," Anthony says. "Always use the same ways of speaking. Don't switch from casual to formal to funny to this to that…just stay the course and avoid trends."
A visit to the Schaller Gallery website or Facebook page shows how they use the same authenticity in their social media, as well:
That's not to say you should never make adjustments. When making small tweaks to his email strategy, Anthony always makes informed decisions, using his email reports and business metrics.
"We can look at one email campaign to another and see almost identical open and click-throughs, but our sales are completely different. Sales really help tell us if we're doing well or not."
Tip: Use this worksheet to help measure the business impact of your email marketing.
Can Anthony's mantra work for your business?
Anthony sticks with email marketing because he sees his efforts pay off with each new purchase.
"Years ago I had a business sales consultant for ecommerce talk to me about data," Anthony recounted. "He very point blank just said, you count sales. That's success."
Use Anthony's advice in your next email! Log in now to get started.
Brand new to Constant Contact? Try us out with a free 60-day trial.
Share with your network