Email marketing is one of the most important fundraising tools that social impact organizations use.
It's an inexpensive way to reach many people at a moment's notice. It's also an easy way to send out mass appeals. And with the click of a button, you can guide supporters directly to your donation page.
The trouble is, while email is a powerful communication channel it's also very crowded and transient.
Just as quickly as a donor might arrive at your donation page, they could lose interest or delete the message. Nonprofits must craft smart, engaging emails that their supporters open, read, and act on.
In this post, we'll walk through the mechanics and anatomy of a successful fundraising email — from the attention grabbing subject line to the call to action that inspires a next step.
Make your emails count by incorporating these email marketing best practices.
Subject lines that stick
Your fundraising email cannot be successful if the recipient never opens it. The subject line is your one chance to convince supporters to read your message, so its importance can't be overstated.
The two qualities you should aim for in writing subject lines are accuracy and intrigue.
A subject line should pertain to and be informed by the content of your email. The purpose of a subject line is to tell people what the email is about. If your subject line is completely unrelated to your message, the reader can feel confused or, worse yet, deceived.
The element of intrigue grabs the reader's attention and makes them want to see more. A question or surprising statement are the primary ways organizations add intrigue to their subject lines.
Last spring, Pencils of Promise reached out to supporters with the subject line: Mother's Day? We've got you covered.

The call and answer structure of the line is itself a little out of the ordinary, but the final words are what pique the reader's interest. The reader might wonder: They've got me covered? What does that mean?
When they click through and see the whole email, subscribers learn that Pencils of Promise is holding a Mother's Day fundraising campaign and donors who give $25 can send their mother an exclusive card commemorating the gift. The organization also partnered with a flower delivery service to give donors a discount. The subject line proves an accurate summary of the message.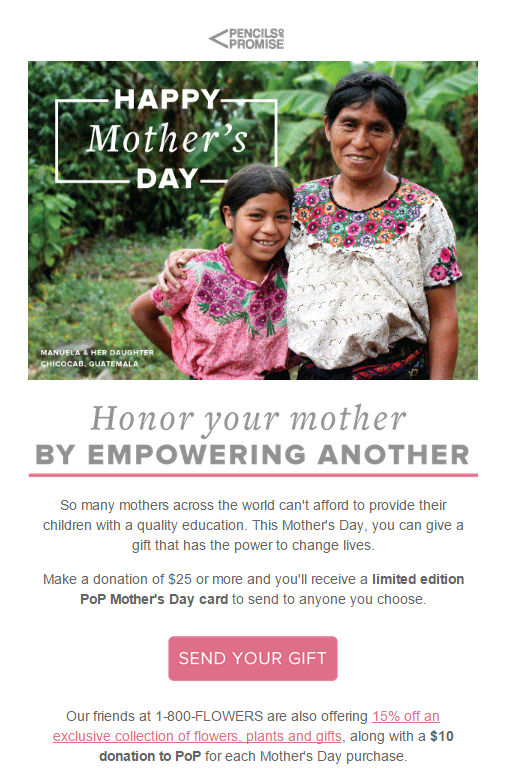 Before sending your fundraising email, brainstorm several subject line ideas. Try to create intrigue while accurately representing your email.
Concise, killer content
Once a reader opens your email, it means they've decided to give you a chance to tell them something and incite them to take action.
But keep in mind the reader still has the power to abandon or delete your message at any time. This is why the content of your email must be concise and engaging.
Organizations are sometimes tempted to write lengthy explanations about the background and purpose of their campaign, but a block of long text is more likely to scare donors away then inspire them to give.
Stick to the basics in your fundraising email by telling readers
What campaign or program you are promoting
What impact their gift will have
How to help
Tell your supporters what they need to know and link out to offer additional information. Some readers may want to do more research and learn about the details of this campaign, but there's no need to bombard your whole email list with that information.
You should also be conscious of the wording and tone of your email. Get rid of any jargon a casual supporter won't be familiar with. In general, fundraising emails should be inclusive and proactive.
Keep your organization's voice in mind when composing your message. If your voice is playful, this should carry over into your fundraising emails. If the campaign requires a more serious tone, reread your email to make sure you're treating victims and donors with respect.
The final important piece of content your fundraising email must include is a clear call to action (CTA). This is where you explicitly ask the reader to donate (or to create a peer-to-peer fundraising page).
A brightly-colored button, like the one in Heifer International's email, is ideal because it draws the reader's attention and is easy to click, even if you're using a touchscreen.
You can use a straightforward CTA like "Donate" or you can personalize the language to reflect your campaign. An organization that is fundraising to provide vaccines against a deadly disease might use a CTA like this.

CTA buttons should be large enough to stand out without overwhelming the page.
Design makes the difference
While we usually think of an email as something we write, the design and imagery is just as important as the text. The way your email looks has a huge effect on how long readers look at it and whether they click on your CTA.
Some basic rules for email design are:
Brand the message – Include your organization's logo and/or colors to give a sense of professionalism and personality.
Format text for readers – If the text in your email isn't readable, recipients won't bother to read it, let alone donate. Use a simple font and keep body text sized at about 14-16 pixels.
Include an image – A powerful picture can inspire a reader to take action. Don't overdo it, though. Most emails will look best with one high-quality image of your work.
The goal is to make your email pleasing to the eye and easy to read. As with the content of your message, it's a good idea to keep your email simple and clear.
Getting the most from your fundraising emails
The ease and efficiency of email makes it a great fundraising tool for nonprofit organizations. By now, most organizations have incorporated email appeals into their fundraising strategy, but many still need to refine their approach.
Take a look at your most recent email campaign and think about how you can make improvements.
Begin with an intriguing subject line to get supporters to click. Keep your messaging clear and concise and use design to express your brand, mission, and call to action.
Have any questions we didn't cover? Let us know in the comments.
About the author: Allison is a writer and marketing associate at Classy, the world's fastest growing fundraising platform for social impact organizations.
Share with your network