Whether you're a plumber marketing a solo business or the marketing pro working for a home services company, you probably know that plumbing services are in high demand. But a steady flow of leads keeps your team busy when many customers may need your service just once or twice a year.
The right digital marketing strategy can help you quickly and efficiently get your services in front of customers. Here is a comprehensive guide to plumbing marketing strategies.
We make it easy to find new customers and get repeat business with marketing tools and expert advice.
Market on the go by branding service vehicles
Take advantage of all the marketing options available to you. One of the most important opportunities you have is branding your service vehicles. Feature your logo, business name, and contact information on the cars or vans you drive when providing service. Not only is this cost-effective, but you also get your name in front of a wide range of customers as you drive around.
Options range from inexpensive stick-on decals to full-color wraps for each of your company vehicles. If this marketing method is effective, you can even consider partnering with a local firm that allows you to sponsor marketing wraps on other people's cars to help increase name recognition.
Reach out with direct mail
Direct advertising gets your name in front of consumers. Often, this involves sending fliers, postcards, or other marketing materials offering a promotion through the mail. One reason that direct advertising is popular is that it's a cost-effective way to get your name out there while targeting a local audience.
While digital marketing can help you rapidly scale your plumbing marketing plans, direct mail creates another channel to communicate with prospective customers and existing customers. Focus on discounts, exclusive events, and other high-value offers that will get people excited to call you.

Create an email marketing plan
Email marketing is a smart way to build and nurture relationships with customers and prospective customers alike. Invite customers to sign up for a list, and attract prospective customers with a giveaway in exchange for their email address.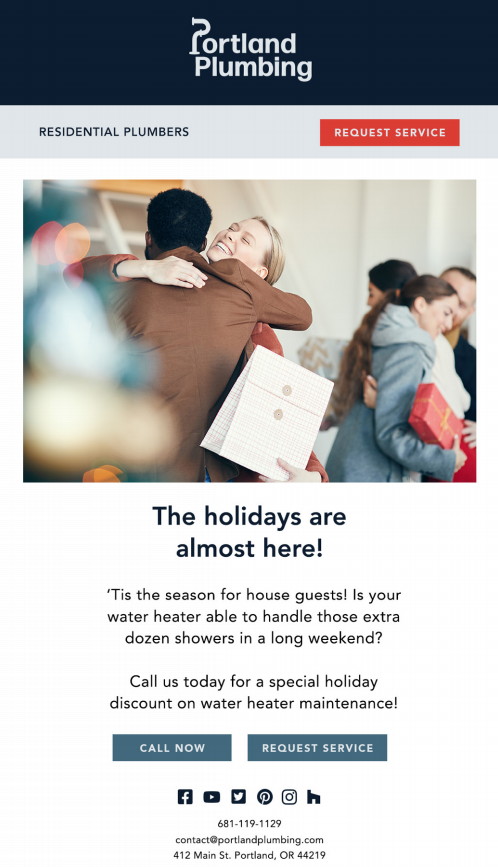 Using an email service such as Constant Contact can help you get connected, stay in touch, and share upcoming discounts and promotions. You can take a simple approach or even segment your list into prospective clients and returning customers to personalize the message. Focus on creating emails that address what customers want most, such as:
Helpful articles and suggestions
Q&As
Videos addressing frequently asked plumbing questions
Promoting sales and discounts
Reminding customers about seasonal maintenance
Prompting people to reach out with questions or concerns
Stake out your digital territory with a website
Today's shopping process begins online. Make sure customers can find you with a website. A good site highlights the geographic areas you serve, the services you offer, and what makes you unique.
For example, consider highlighting how long you've been in business or a specialty you may have, such as working on historic projects. Some helpful pages to consider for a basic plumbing marketing website include:
Your Homepage
An "About us" page that offers insights into your company and your story
A Services page, outlining the types of projects you do and services offered
A Product page, if you have partnerships with brands or offer any packages such as ongoing service retainers or warranties
A Testimonials page that can feature recommendations from satisfied customers.
A Projects page, which might offer a look into some creative or challenging projects you've taken on and how you solved them
A Contacts page that makes it easy for new customers to get in touch with you when they need a plumber
Launching a website doesn't have to be difficult or expensive. Constant Contact offers easy-to-use templates that you can customize for plumber marketing and easily update.
Create a simple, easy to navigate website that clearly explains your services and helps users quickly get to the information they need. Don't be afraid to state your mission right from the first page.
Generate leads from home services directories
One unique element of plumber marketing is the role that online directories play in creating leads and referring business. Angie's List, HomeAdvisor, and Thumbtack are just three sites that homeowners can use to find professionals to quote on projects. Create a profile on these sites. Many offer upgrades with additional marketing features.
Pay attention to the reviews you get and respond to requests for information in a timely way to build an excellent reputation on the site. Determine whether an upgrade could attract valuable leads to your business.
Command search with pay-per-click (PPC)
Search engines like Google are an important source of leads and traffic in plumber marketing. While your website and search engine optimization (SEO) strategy help attract organic traffic, it's possible to get to the top of search results with pay-per-click (PPC) ads.
With PPC ads, it's possible to quickly connect with potential customers who search for keywords relevant to your business. You'll choose your keywords and audiences that you want to target, and you can develop interesting ad copy that entices searchers to click on your ad. Examples might include terms such as "plumber" and your city name.
It can seem intimidating, but tools such as Google Ads help with keyword research, ad creation, and measuring success, so you always know that your efforts are generating results. By building on PPC ads, you can use strategies such as retargeting to engage prospects a second time or reach out on other channels.
Cultivate a social following
Social media isn't just for keeping in touch with family and friends. Actively posting on Facebook, LinkedIn, Twitter, and Instagram can help you generate business. Tools like Constant Contact make it easy to post content, monitor engagement, and see how much traction you're generating on a network. Ideas for marketing your home services on social media include:
Sharing quick tips
Providing brief answers to FAQs
Linking to articles you've written or read on plumbing topics
Sharing videos, images, or tasteful memes your audience might find funny
Asking questions to find out what information would help your audience the most
Gathering insights through a survey or poll
If a social platform is generating good results for you, it's possible to amplify it further by using advertising. With paid social media ads, you can reach a wider audience and generate awareness of your content and business.
Get new business with video
Video is a great way to build your reputation and attract new plumbing customers. Don't feel pressure for high production value or complex topics. Show how you're solving a common problem or answer a frequently asked question.
Video marketing for plumbers can be as simple as recording a one- or two-minute video with your smartphone and uploading it to a YouTube channel. Over time, you can attract followers and drive valuable traffic to your website and other online destinations.
Embrace content marketing
Content marketing is another strategy that can help improve your position in search rankings and serve valuable information to customers. With content marketing, you create assets like blog posts, articles, and longer e-books that appeal to people who could become customers.
Topics might range from seasonal upgrades homeowners should make to how custom builders can partner with plumbers to quickly get new developments in the market. Get creative and go after topics where you want to own the conversation.
Upgrade your plumber marketing strategy today
Marketing your business will help you continue to grow and serve the needs of more customers. Digital marketing solutions from Constant Contact can keep your pipeline of leads flowing smoothly. Contact us to learn more about the plumbing marketing solutions we can offer today.

Share with your network