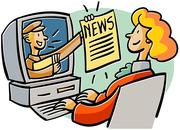 Yesterday, we featured the blogs of two businesses that had seen significant results that were driven in part by their engaging posts. 
Highlighting a successful blog or two is one thing, but writing one is something else entirely. However, yesterday's post did show that, if done right, blogging for your business or organization can be fun and productive.
The real challenge is to find out just what makes a professional blog tick. Beginning one can seem like a daunting task — the published post is visible to the world and some businesses and organizations may worry that they have nothing to write about.
That's why we took the conversation to two veteran bloggers: our senior content developer Dave Charest and managing editor Martin Lieberman.
If you had to sum it up in one word, what's the key to an engaging blog?

Dave: Useful.
Martin: One word?? Ha ha ha. One of the points of a blog — unlike, say, Twitter — is that you don't have to be brief. But I'll play along: I'd say authenticity.
Why?

Dave:  Creating useful content is the simplest way to make sure people engage with your blog. Useful can mean different things to different people, so it's important you know your audience and provide content they connect with.
Martin: I would argue that one of the most important aspects of a blog is that it's a way to share your views and expertise, and express your business or organization's personality. That's why authenticity should be the top priority. What you post on your blog is as important as how you write it. Your posts should give some insight, even if it's not overt, into who you are.
What common mistakes do you see when businesses and organizations start a blog?

Dave: The main one is that they focus only on themselves, rather than the audience. That leads to writing posts that the reader doesn't find useful (there's that word again). Focus on helping your readers or providing them with something they'll find entertaining. When you shift the focus to the reader, everything else will become a lot easier.
Martin: I'd take that a step back. Keeping a narrow focus isn't even a problem when companies are reluctant to write anything at all. A really common mistake is hesitation. Businesses and organizations think they have to write all the content themselves, or that every post has to be some kind of novel on solving the world's problems. Blog posts can be casual. Every business or organization has "friends" who would love to contribute, either on a one-off or a regular basis. Or, you can use a video as a blog post, with a short introduction. Same with an article or blog post written by someone else that you find interesting. Just weigh in on the article on your blog, then link to it.
What do you think the ideal schedule is for blog posts? Is it the same for everyone?

Dave: The ideal schedule is to have one and commit to it. It's not the same for everyone, so you just need to choose a schedule that works for you. It could be once a month, once a week or every day. Whatever it is, it's consistency that matters. Choose something you can manage and stick to it.
Martin: One of my favorite speaker-author-pundits is Scott Stratten. I like how he answers this question: Write when you have something to say, not to fill a schedule. Of course, for some folks, that could mean a very inactive blog. Like Dave says, you need to find your own schedule and stick to it, so you can get people in the habit of checking what's new on a regular basis. I'd say once a week is ideal, but I know not every business or organization can support that.
A lot of people have trouble writing about their own business or organization. What do you personally do to break blogger's block?

Dave: The trick for me is not writing about my own business. I focus on what the reader gets from what I'm writing. It becomes easier then, because you're out of your own head.
Martin: Well, I'll be less artsy and abstract than Dave, but I basically agree: Bloggers shouldn't be writing about themselves. They should be writing about topics that will benefit readers. I keep a running list of blog post ideas by my keyboard. Every time I get an idea — whether by reading another website, sitting in a meeting, listening to a song on the radio, or speaking to a colleague — I jot it down. Businesses and organizations could try keeping a similar list by the cash register, the host stand, the phone, or some other place where staff come in contact with people, and write down the questions that are being asked. Those questions are all great sources of inspiration for blog posts.
How do you keep readers coming back for more?

Dave: Technically, you can create a series of posts around one topic so people anticipate the next installment. But I'm bringing back the word I used at the start of this discussion: useful. That's the trick on the most basic level. If what you're creating is useful, people will come back.
Martin: You write good blog posts. It's just that simple — although I realize it's easy for a writer like me to say that. If your posts help people and are not just self-promotional, then people will come back for more, and may even share your blog posts with other people.
What do you think makes a blog stand out? Let us know in the comments section below.