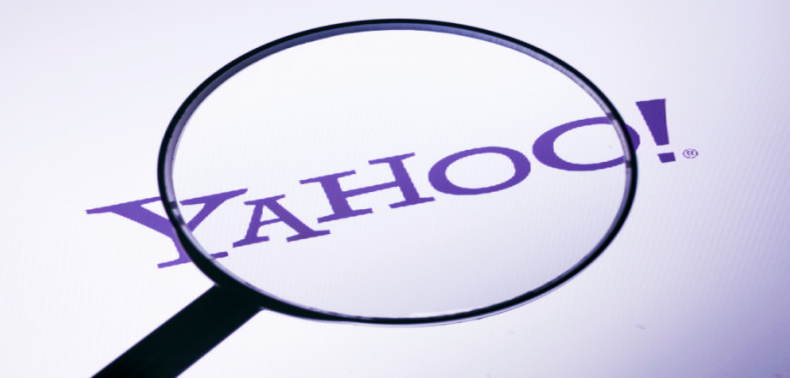 On July 15th, Yahoo will be closing down inactive accounts (accounts that have not been logged into in the last 12 months) and releasing them to the public to claim.
That means that if you (or more importantly, customers on your email list) have not logged into your Yahoo account in the last year, then that Yahoo ID will become available and could soon be used by a completely different person.
Why you should care?
As a marketer, the change could have an immediate impact on the deliverability of your next email.
Say for example, johnsawyer@yahoo.com has been on your email list since 2010 but hasn't logged into his account in the last 12 months. His email address could soon be claimed by another John Sawyer who is unfamiliar with your business, unsure why he is receiving your email, and quite frankly annoyed.
He will either unsubscribe or mark your email as spam. The latter can negatively affect whether ISPs such as Gmail and Outlook deliver your emails into the inbox, the junk box, or block it all together.
And what if no one claims johnsawyer@yahoo.com?
The account will still be closed and all emails sent to that address will bounce. This can also negatively impact your deliverability.
What should you do?
To avoid running into any deliverability problems after July 15th, send an email to all of your subscribers who use a Yahoo email address with a winning subject line and a request for them to update their preferences including their preferred email address.
This process is known as "cleaning" your list and is something that all email marketers should get in the habit of doing regularly. While this process may end up removing people from your list, they are inactive contacts that bring down your open rate and potentially prevent your emails from getting delivered to the contacts that are active and interested.
Start by creating a new list for all of your contacts using a "@yahoo.com" email address.
Here's how to do it in your Constant Contact account:
Step 1: Login to your Constant Contact account and go to your Contacts page
Step 2: Under Search Contacts, search for all email addresses including "@yahoo.com"

Step 3: Click "Save as a List" and name your new list (Yahoo Email Contacts)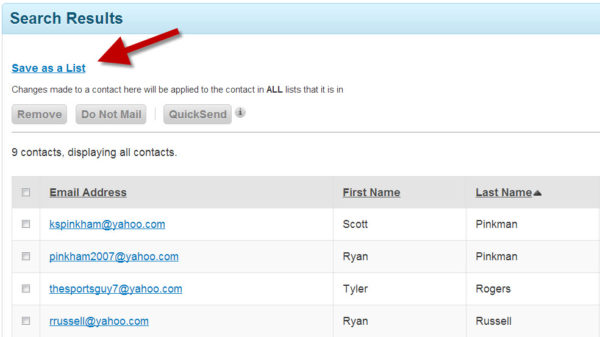 Once you have your new list, you can create your email.
The goal of the email is to find out which contacts are actually using their Yahoo email address and gain the best email address for them.
In the email, make sure to direct your reader's attention to the "Update Profile" link automatically included in the footer of every email. This will give them the option to change their email address and update their email preferences in the process.
Here's an example of what your email might look like:
Subject Line: Action Required: Confirm Your Interest
We want to make sure you're still interested in receiving our emails.
To continue to receive our emails, click on the Update Profile link in the footer of this email to confirm your preferences. It's really important that you click the link so that we don't remove you from our email list if you're still interested.
We value the relationship we have with you and want to make sure we're offering the best experience possible. If you have any specific questions, feel free to hit the reply button and let us know what's on your mind.
As always, thanks for reading!
After sending your email, you'll be able to clean your list of all inactive Yahoo accounts.
If someone decides to change their email address, that change will be made to your list automatically.
You will also want to remove contacts who did not open your email, as they are likely inactive and could be shut down by Yahoo on July 15th. Wait 7-10 days after sending, and then take the following steps to clean your list.
Here's how to remove inactive Yahoo email addresses from your Constant Contact account:
Step 1: After logging into Constant Contact, click Email > Reports.
Step 2: Go to the "Sent" column of the email listing and click the hyperlinked number.
Step 3: Click the "Save as List" button at the bottom of the page and name the category "Unopened."
Step 4: Click the "Add Contacts to List" button.
Step 5: Go back to the "Reports" link and click the hyperlinked number under "Opens" to display the Opened Contact Email screen.
Step 6: Click the "Export" button at the bottom of the page and export as CSV on the next page.
Note: Your email must be less than 90 days old to export this information.

Step 7: Click the "Activity" link on the page that displays.
Step 8: After a few moments, click "Refresh" to verify that the "Export Unique Opens" has a status of complete (some lists may take longer to complete than others.)
Step 9: Once the export is completed, click the "Export Opens" link.
Step 10: Scroll to bottom of the screen and click "Download Export File."
Step 11: Save this file to your desktop as "opens.csv"
Note: Are you experiencing delays when exporting your list from Constant Contact?
Step 12: Go to Contacts > Manage Contacts and select the "Remove List" option on the right-hand side.
Step 13: On the page displayed, go to Step 1 and select the "Unopened" list.
Step 14: Then scroll down to Step 2 and browse to the "opens.csv" file.
Step 15: Click "Remove."
The value of cleaning your list
While updates like this can be frustrating, they also serve as a great reminder of the importance of keeping up with your contacts. Their email address and preferences change over time. People will be signing up, opting in; switching email addresses, and even changing their minds about when and why they want to receive emails from your business.
Don't wait for announcements like these to stay on top of cleaning your email list. Remember, tomorrow's success starts today. By scheduling regular check-ins with your readers, you'll have more opportunities to keep up with these changes, stay in touch and relevant, and achieve your email marketing goals.
Still have questions or concerns about the latest Yahoo announcement? Post them in the comments below!