A new Constant Contact survey of more than 1,500 small businesses finds that social media marketing has surged to be a top contender in small businesses' marketing tool kit.
73% of small businesses report using social media to market their business, and this appears to be a growing trend.
Of those who are not currently using social media marketing, 62% expect to begin using social media marketing in the coming year.
Further, 81% of those currently using social media marketing expect to increase their efforts this year.
This is in addition to, rather than instead of, other efforts, with small businesses still relying heavily on email, website, and event marketing, as well as advertising, to drive business.
For additional survey results, including small businesses' perceptions of the current economic situation, their challenges, and what they are doing to address those challenges, please see the key findings and our official press release.
Additional graphics available upon request.
Success Stories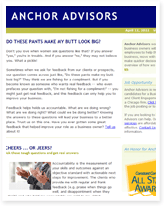 I really credit my newsletter for much of our success the last 10 years. Getting started was hard! But once I met my first 200 people it got easier, and the newsletter is my #1 way of keeping those contacts 'live' so that they send me things that I might need (leads, employees, freelancers, etc.) and I can call them when I need them without feeling like I haven't talked with them in 2 years (which I might not have). Many times I'll call someone and the first thing they'll say is, 'Thanks for sending those newsletters, that's some really great content!'

Anchor Advisors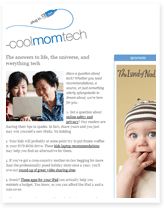 Our social media presence is almost exclusively editorial. That is, while we do promote our gift guides and subscriber incentive sponsorships via Twitter and Facebook (both of which include advertising), we use Twitter and Facebook primarily to promote features on our site, share useful links and information (like deals, discounts, and special offers) with our readers. It's also a way for us to connect with them on a personal level. We do find that social media is an effective way to drive subscriber sign ups, which is an important, if not the most important part of our email program.

Cool Mom Picks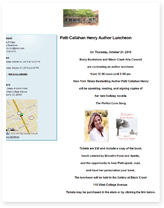 These events are important because they generate a sense of community. It drives people into the store who are looking for that special, unique event. We get people coming in from Columbia, which is 60 miles away. That makes our store visible in ways that wouldn't be possible if we didn't have these events.

Burry Bookstore