Email marketing provides an opportunity for businesses to create a bridge of communication with their customers. Sending valuable information and updates, tailored to meet personal needs right to their inbox, is a surefire way to get noticed and do more business with them.
The key to writing a marketing email is to follow the 3 Cs — Clear, Concise and Compelling.
But how do you write powerful emails? How do you write the right message? How do you make each email stand out, and drive action? Writing strong emails is not always easy, especially when you are sending out emails regularly (which is what you must do!).
If you are like the many small business owners and marketers looking for ideas and inspirations on how to write effective emails and are constantly asking yourself, 'What do I write in my emails?' — we've created some great examples to get you started.
Ready to do more business with email marketing?
Learn more
.
The email content examples in this post can simply be picked up, tweaked to match your needs, inserted into your template, and they are ready to send. We have chosen the four must-have email types that every business needs to send. They each feature a simple yet strong message that allows for personalization without a lot of 'writing.'
Let's get started.
Four Email content templates every business needs
Marketing emails allow you to maintain an ongoing relationship with your customer. The four email templates that you definitely want to include in your email marketing calendar are: a Welcome email for when someone joins your list; an Invitation to Connect on social media channels; an Event Invitation series that you can customize throughout the year; and a Holiday email that you can use to send greetings and appreciation to your customers.
To get started, build a master email template for your brand that includes your logo, your brand colors, and matches all your marketing assets. Then use the content ideas below to fill them in.
1. Welcome email
As the name suggests, a welcome email is one you send soon after someone signs up for your newsletter, registers on your website, makes the first purchase, or shares their contact information in exchange for an incentive, like a discount code. People are more excited to sign up for an email list when they receive something in return. For example, people are more likely to respond to an ad that says 'Sign up and get 50% off your first purchase', than a simple 'Sign up now.'
The most important thing to keep in mind is that the welcome email you send must always fulfill the incentive you promised. In addition, you can use this email to introduce your business, your products and services, and you can set expectations with your new subscriber about what type of information they will get and often they will hear from you.
You can personalize, the headline, message body, and call-to-action to cater to your brand tone, and add more information accordingly. You can vary the call-to-action texts, based on the email message or incentive you are offering:
2. Invitation to connect
To keep communication flowing right from the start, send an email that invites your customers to connect with your organization on social channels within two days of sending the welcome email. This email is important as it creates more ways for you to stay connected and stay top of mind. Additionally, when customers start engaging with you outside their inbox, on social media, you also have the chance to be exposed to people within their networks. Here's a template inviting customers to connect with you on social media:
You can personalize the invitation to connect by adding all the ways customers can connect with you. Let them know which social channels you are available on, your physical address, phone numbers, customer support email information, and any other way a customer can reach out and connect. This demonstrates that your business is willing to connect and communicate, whenever and however a customer wants.
3. Event invites
Whether you're hosting an event online, like a webinar or a Facebook live chat, or offline like a pop-up sale or a business conference, you can use email to invite people, and get RSVPs to boost attendance for the event. Promotion for an event is typically broken down into a three-email series — the first invite, a sneak-peek, and a reminder.
The first invite email is sent out three weeks before your event to everyone you want to invite, and its purpose is to introduce the event. The email could read something like: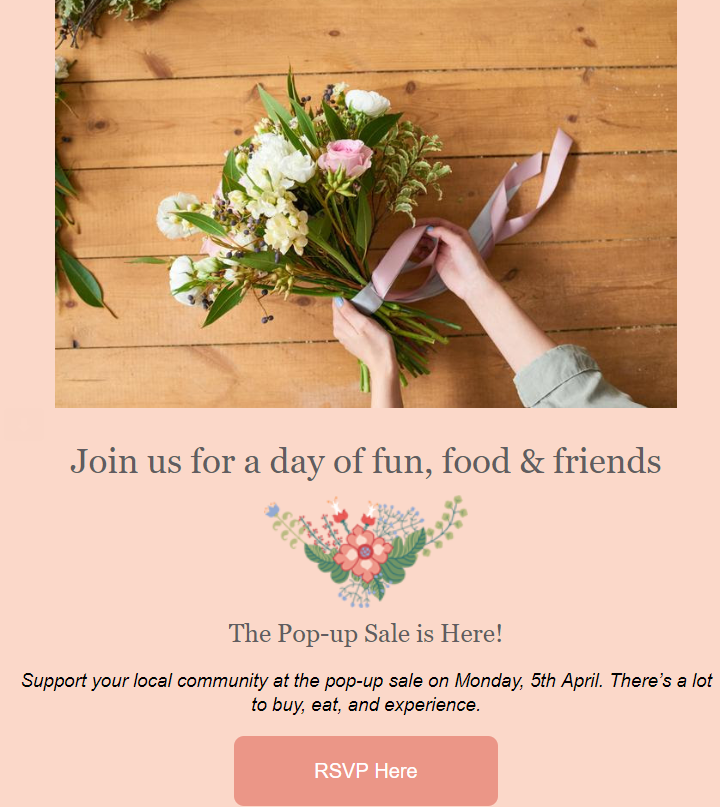 Send a confirmation email to those who RSVP immediately after the first email thanking them for showing their support. The email could read: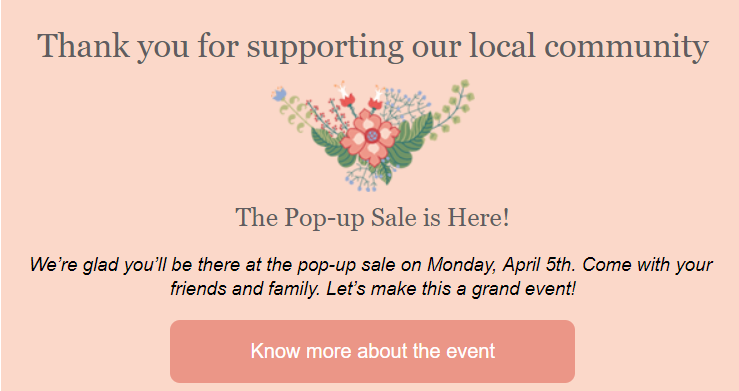 If people haven't responded after the initial email, send a second email, a week later to give them a sneak-peek into the event details to pique curiosity and boost attendance. The email could be something like: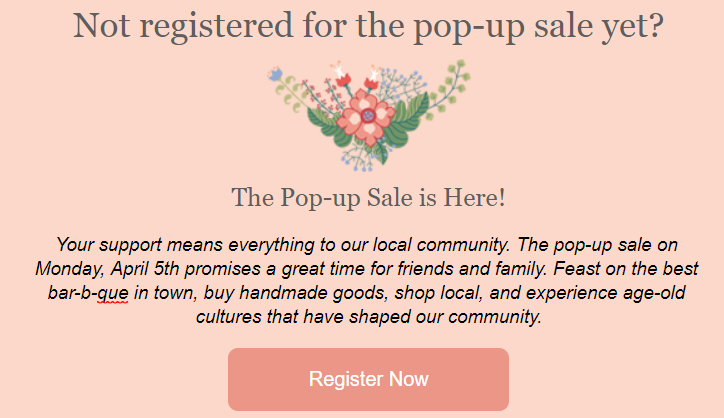 The second email could also include images from previous similar events, a trailer video, or snippets from social media conversations around the event to generate curiosity.
Three or four days before your event, send the third email as a reminder. There are two versions — one you send to everyone who has registered for the event and one that serves as a 'last call' for people who still haven't registered. The email for registrants should receive an email that says: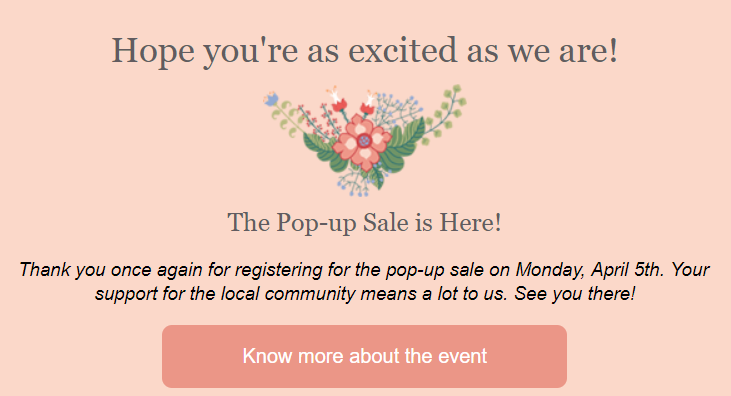 The email content for people who still haven't registered could read something like this:
The objective of the event email series is to tell what the event is about, generate some excitement, and create a sense of urgency for people to attend.
4. Holiday emails
Holidays are an excellent time to get your customer's attention with emails promoting holiday sales, events, and other offers that ensure a good holiday season. People are looking for gift ideas, shopping for gifts, making reservations at restaurants, planning vacations, and engaging with brands that can give them holiday inspiration. Plan your holiday emails to promote your products and services, and create content that evokes emotions, and compels customers to act. Here's a holiday template to drive more sales:
Here's another holiday email template that offers a downloadable gift guide: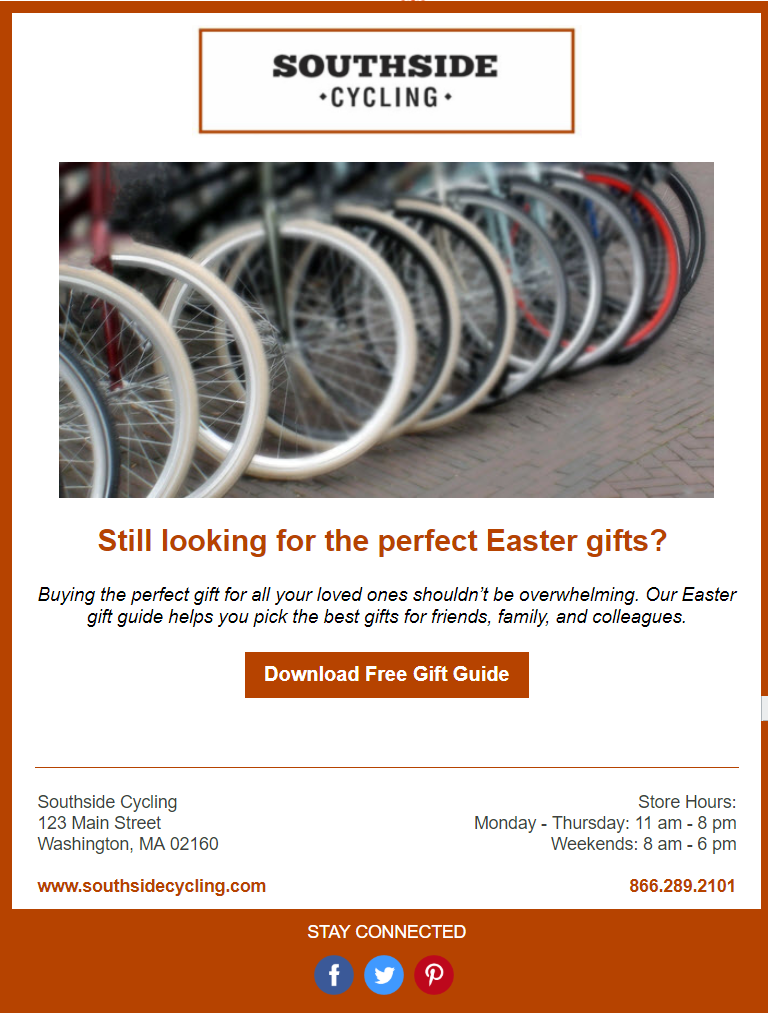 Inspire action and build communication with email marketing
Email marketing allows you to stay in touch with your customers and offer them relevant and personalized content. Thinking about all the types of emails and messages might seem overwhelming. Relax. We have done the work for you. You can use the templated email examples above to build out your marketing campaigns.

Send welcome emails and an email that invites customers to connect on social media channels to build a long and fruitful relationship. Use emails to offer free downloadable guides, ebooks, or other relevant content to show your customers the value of receiving your emails and staying in touch.

Host online or offline events is another good opportunity to offer more value to your customers, generate revenue for your business, and bring people together to learn more about your organization. Send a three-email series to introduce the event, generate curiosity, and boost attendance for your events. Finally, use email to maximize holiday excitement throughout the year and boost sales and engagement for your business.

Start creating clear, concise and compelling email content that inspires action, and builds communication with those who matter the most — your customers.

Share with your network